Complete Profile & Latest Information About Streams of Joy International Church
Streams Of Joy International fondly called Streams of Joy (SOJ) is a Pentecostal and charismatic church, located in Nigeria. The Ministry is presided by Pastor Jerry Uchechukwu Eze (JERRY EZE). Streams of Joy International is a church made up of people from many ethnic background and nationality with over 5,000 worshippers on Sunday mornings and her expressions in different parts of the world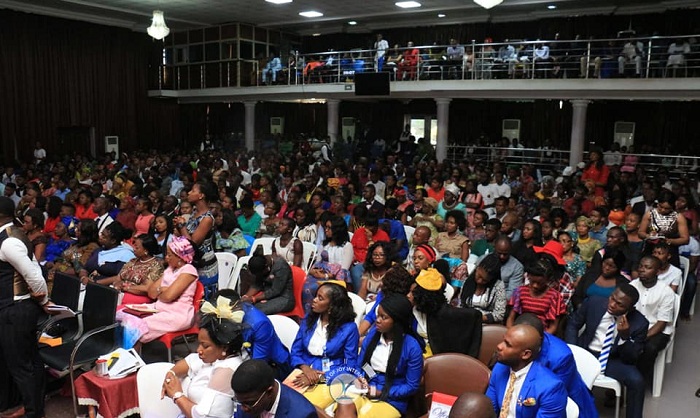 The Church has her headquarters in Umuahia, Abia State Nigeria.
HISTORY OF THE STREAMS OF JOY INTERNATIONAL CHURCH (SOJ).
The Church operated as a fellowship in 2008 until December 15, 2013, when the first church service was inaugurated after it had completed its state-of-the-art facility in Umuahia, Located at KM 4 Ikot-ekpene road, Umuahia, Abia State.
The church which started as a fellowship with only 7 members has since then grown in leaps and bounds with thousands of members within and outside Nigeria, and have impacted various individuals, organizations, government and groups.
SOJ is known to be an international light house, seeing the presence of committed and responsible disciples of Jesus Christ who are ready to give joy, hope and peace to everyone who walks through their doors. They are committed to showing the love of Christ to everyone the church comes in contact with as well as the maturity of the saints, with efforts driven towards equipping them to become who God wants them to be.
FOUNDING DAY: SOJ was founded on 15th December 2013
NUMBER OF MEMBERS : 5,000
LOCATION/HEADQUARTERS: The Headquarters is located at KM 4 Ikot-ekpene road, Umuahia, Abia State, Nigeria.
BRANCHES: The Streams of Joy International church has branches in two continents of the world. Her branches are those founded in Houston-USA, Nottingham-Uk, Abuja, Owerri, Aba and Old Umuahia (Satellite Church), Nigeria. Her The Refreshing point – Youth and Singles church is located in Abia.
FOUNDER: The founder of SOJ Int. Church is Pastor Jerry Uchechukwu Eze.
CURRENT LEADER: The founder of the church is still the current leader in person of Pastor Jerry Uchechukwu Eze.
SOJ Programme / Event Calendar
These are Special Programs that takes Places at the Streams Of Joy International Church. Please click on each programme/event to find details about them.
New Season Prophetic Prayers and Declaration [NSPPD]
RUN Conference
General Prayers
Singles Timeout with PJ
Sunday service Livestream
Recovery Class
The Refreshing Point
Wordshop
SOJ Academy
Note: The Church runs 6 services on Sunday with time (GMT+ 1) as follows: 6:30am, 7:45am, 9:15am, 10:45am, 12:15pm and 1:30pm.
AFFILIATE MINISTRIES OF STREAMS OF JOY INTERNATIONAL CHURCH
Real Men (Men of SOJ)
A platform that affords all married men in church opportunities to engage, interact and establish rewarding relationships. They are expected to be good mobilizers for noble causes.
Pillar of Grace (Women of the Ministry)
A forum where all the married women in church come together to edify one another, share experiences, equip themselves on issues of common interest. They are equally expected to be great mobilizers for kingdom causes.
Singles' Fellowship (Age 18 – Marital Age)
The Singles' Fellowship of Streams of Joy is a unit that is geared at equipping Young individuals to developing a deeper relationship with Christ through fellowship with other Young believers. It is an umbrella body for three(3) classes of Singles; Jewels of Grace(The Single Ladies in Church), Brains and Brawns(All The Single Men in Church) and The Working Singles(A platform for All Working Singles). Through the pivotal Saturday Singles' Timeout Program with our Lead Pastor; Pastor Jerry Uchechukwu Eze and several other weekly, monthly and quarterly programs, capacities are built and these Young believers are empowered with an all round Wisdom, Knowledge and understanding for the bigger life ahead of them be it in their academics, businesses, careers and marital lives.
The Trail Blazers (Age: 12-17yrs)
The Trail Blazers are the teenagers of Streams of Joy. It is a forum where they are particularly guided in the way of wisdom and righteousness. These are the ones transitioning from the foundation they have received as Mighty Arrows to a life as a born again Young Adult in our Singles' Fellowship.
Mighty Arrows (Age 0 – 12)
2000 years ago, Jesus said 'Let the little Children come unto me" and we believe he continues to say it today. By the Leading of the Holy Spirit and Through the skilful guidance of our Volunteers, these little ones have so much to offer. In Streams of Joy, We refer to our children as the "Mighty Arrows" and We value them as a key part of the Body of Christ.