Streams of Joy Run Conference 2023 Live Broadcast With Pastor Jerry Eze
Watch the Run Conference 2023 here. Please scroll down to find more details on the event.
Click the play button to join the live service
 You are watching RUN CONFERENCE 2023 Day 5 Live Broadcast
What is Run Conference all About?
The Run conference is an annual gathering of believers, convened by Streams of Joy International. The conference holds for 7 days and sees the presence of anointed ministers of God from across the nation.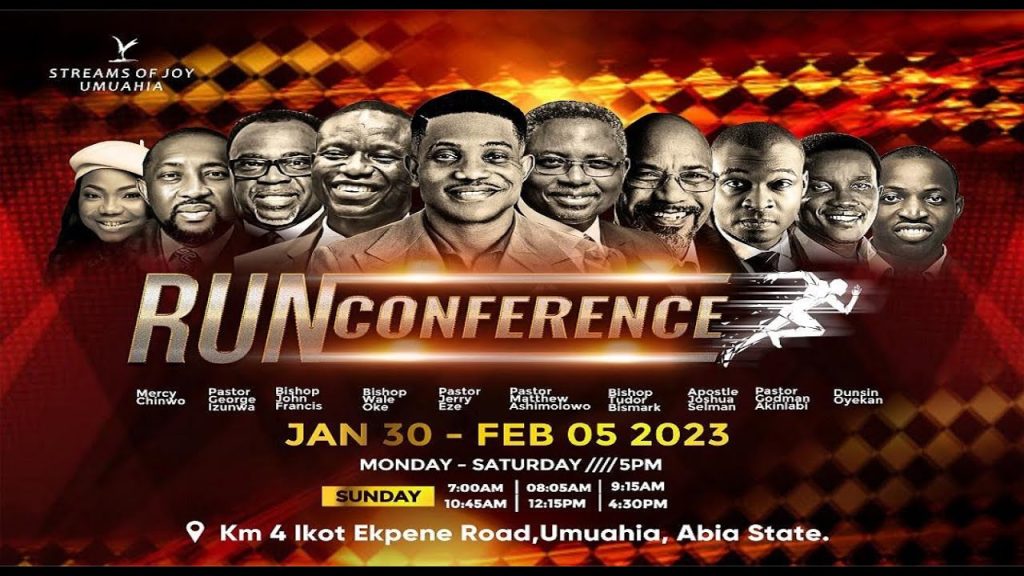 RUN CONFERENCE 2023 PROGRAMMES AND SERVICE TIMES
DATE: Monday 30th January to Sunday 5th February 2023
VENUE: The Run conference 2023 will hold at at Km 4, Ikot Ekpene Road, Umuahia, Abia State, Nigeria.
TIME: Monday to Saturday = 5:00 pm (GMT+1)
Sunday ( 6 Services) = 7:00 am; 8:05 am; 9:15 am; 10:45 am; 12:15 pm and 4:30 pm
RUN CONFERENCE 2023 HOST AND GUEST MINISTERS.
Below is the list of people who will be ministering at the conference:
HOST MINISTERS: Pastor Jerry Eze. (Lead Minister – Streams of Joy International)
GUEST MINISTERS:
MUSIC MINISTER:
Mercy Chinwo
Dunsin Oyekan
Remember you can always get information on the Run conference and other Christian events like this on CHRISTIAN EVENTS website.