The Potter's House of Dallas Complete Profile & Latest Information
All important details about The Potter's House of Dallas. The church is a megachurch that was ranked by the Outreach Magazine as the 10th largest in the US as of 2008 based on a weekly attendance of 17,000 and auditorium capacity of about 8,000. The Potter's House is a non-denominational, multicultural church led by Senior Pastor and Bishop, Thomas Dexter Jakes. With more than 30,000 members on its rolls, The Potter's House is consistently ranked among the largest and most influential churches in the U.S.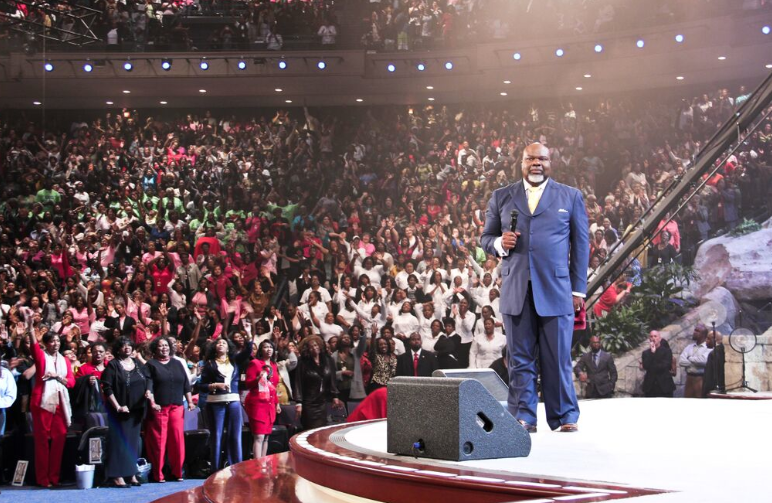 The Potter's House of Dallas, being a non-profit organization, employs nearly 400 people in positions such as finance, human resources, information technology, materials distribution, public relations, publications, and television production.
The Church is headquartered in Dallas, Texas, United States.
History of The Potter's House (Dallas, Texas)
Who is the founder of The Potter's House?
The church building was established by televangelist W. V. Grant as the Eagles Nest Family Church. It is located in the Oak Cliff area of Dallas right next to Dallas Baptist University. After Grant was convicted of tax evasion in 1996 he sold the facility to T. D. Jakes, a fellow televangelist. Jakes renamed it and relaunched it as The Potter's House.
The early congregation consisted of 50 families, who had moved from West Virginia with Jakes. To handle expansion, the church built a 191,000-square-foot (17,700 m2) sanctuary at a cost of $45 million, paying off the debt in four years. The auditorium was completed in August 2000 and features cascade seating, a large stage, a choir loft that can seat 450 and a state-of-the-art audio-visual system.
The sanctuary seats about 7,600 people and is also used for non-church events such as graduations, concerts and corporate presentations. By 2000 Jakes was holding three services every Sunday, with attendance of over 23,000 in the sanctuary and the overflow room.
In December 2009 the church held its New Year's Eve Watch Night service at its main worship center, but also let people watch the service by satellite at the Fort Worth Convention Center and the North Church in Carrollton.
As of 2010 the church had 30,000 members and five campuses in Dallas, Fort Worth, North Dallas, Denver, and Los Angeles.
The Fort Worth campus was opened in March 2010, initially meeting at the Fort Worth Convention Center. The campuses are linked by Satellite video. The Denver campus, formerly the Heritage Christian Center is led by Bishop Jakes' daughter, Lady Sarah Jakes Roberts, and her husband, Pastor Toure' Roberts, who is also the senior pastor of The Potter's House One Church location in Los Angeles.
The Church has no support for gay marriage within the church and has reportedly insisted that marriage is a union between a man and woman as stated in the Bible.
The church runs a program for ex-offenders trying to find their feet after being released from jail, helping them to find jobs and housing and to deal with substance abuse problems. She also has programs for teenage mothers, abused women and the homeless, runs a GED literacy program and an outreach for substance abusers, and has an AIDS ministry.
In July 2010 the church began collaboration with the Palmer Theological Seminary in Pennsylvania, through a program under which seminary students would gain practical experience at the Potter's House as part of their studies.
The church has promoted non-profit corporation that fosters economic growth in un-derserved communities, a school and a housing project for single families and seniors. The church has provided aid and sent missionaries to places such as Belize, Mexico, Guyana and Kenya.
In December 2016, the church hosted the Joyous Celebration choir, a praise and worship group from South Africa where the recording of the group's live DVD titled "Joyous Celebration 21" took place.
Potter's House of Dallas Statistics
FOUNDING DAY: Potter's House of Dallas was founded in the year 1996
NUMBER OF MEMBERS: The church has over 30,000 members spread across its campuses in the US, and millions of followers online, across the world.
HEADQUARTERS: The headquarters is sited in Dallas, Texas, United States.
BRANCHES: The potters house has 4 other campuses aside the main campus. The one church Los Angeles, Denver, Forth Worth and North Dallas.
FOUNDER: The founder of the Potter's House church is W.V. Grant.
CURRENT LEADERS: The current leader of the Potters House of Dallas is T. D. Jakes, who happened to be the Pastor that named it so.
Potter's House of Dallas Leadership
The leadership structure of The Potters House of Dallas (TPH) is a strong chain as a healthy organization should have.
Senior Pastor – Bishop T.D. Jakes
Bishop T. D. Jakes is an influential figure known for his charismatic leadership, visionary mindset, thought-provoking ideas, and entrepreneurial spirit. He holds the esteemed position of senior pastor at The Potter's House, a thriving church with a membership of 30,000, situated in Dallas, Texas. Furthermore, Bishop T. D. Jakes is actively engaged in various endeavors that align with his mission, which is accomplished through four key avenues: global humanitarian initiatives, inspiring conference series, media and entertainment ventures, and forums for sharing insightful leadership perspectives.
Serita A. Jakes – First Lady
Patrick E. Winfield II – Pastor – Fort Worth
Sheryl Brady – Pastor – North Dallas
Touré & Sarah Jakes Roberts – Pastors – Denver & One LA
Cora Jakes – Associate Pastor
Cynthia James – Associate Pastor
Pastor Andrew Castillo – Associate Pastor
Pastor Venshard Dobbins – Associate Pastor
Valerie Crumpton – Associate Pastor
Pastor Lawrence Robinson – Associate Pastor
The Potters House Church Programme / Events Calendar
Stay- up-to-date with The Potters House events and programmes calendar for this year.
International Leadership Summit
Woman Thou art loosed
God's Leading Ladies Life Enrichment Program
Bishops Speaking Engagement
Distinctively Debs Program
Operation Restoration
Sunday Services
Wednesday night Bible Study
How to be a Member of The Potters House?
Discovering the process of becoming a member at The Potter's House is open to all individuals. We extend a warm invitation to everyone to join and participate in the vibrant community at our church. We value the presence of visitors who come to worship and experience the Lord alongside us. In alignment with scriptural teachings, we emphasize the significance of committing to the local church and fostering a sense of unity among members
Visit any of our campuses today to begin your membership journey.
echurch Membership
If you are currently seeking a church community and find yourself without a home church, we extend an invitation for you to join our eChurch fellowship. While we understand that we cannot replace your original church experience, we offer a temporary solution to help you stay connected with like-minded believers.
Our eChurch provides a supportive environment where you can join with others who share similar beliefs and values. While you continue your search for a physical church home, we offer a virtual space where you can engage in worship, participate in online services, and connect with fellow members of our eChurch community.
Please note that our eChurch is designed to provide temporary covering and support during your transition. We encourage you to continue seeking a local church to establish a more permanent spiritual home.
⇒ Click here to Join the e-church
THE POTTERS HOUSE CHURCH VISION, MISSION AND BELIEVES

The mission, Vision statements and beliefs of the Potters house of Dallas, is outlined below, as is reported on the Church's website.
Vision
Our vision at The Potter's House (TPH) is for God to mold you into a purpose-filled vessel, pointing all grace and glory back to Him. It's our prayer that His Spirit will fully illuminate you on this heaven-bound journey, through every trial and victory. And as He empowers you to persevere through life's struggles, may you confidently communicate God's vibrant hope to others — shining His eternal light on the lost.
Mission Statement
"We are the voice and the hand that encourages people to change their lives with hope, comfort and peace."
"For the Lord shall comfort Zion: He will comfort all of her waste places; and He will make her wilderness like Eden, and her desert like the garden of the Lord; joy and gladness shall be therein, thanksgiving and the voice of melody." – Isaiah 51:3
Our Mission
The Potter's House and T. D. Jakes Ministries seek to become a global voice, along a lifelong journey of spiritual and economic hope, encouragement and empowerment to people locally, nationally and around the world.
Belief Statement
"The Bible, the Scriptures, both Old and New Testaments, are the inspired Word of God without error in the original writings, and are the complete revelation of His will for the salvation of men, and the divine and final authority for all Christian faith and life."
God
There is one God, Creator of all things, infinitely perfect, and eternally existing in three manifestations: Father, Son and Holy Spirit.
Jesus Christ
Jesus Christ is true God and true man, having been conceived of the Holy Spirit and born of the Virgin Mary. He died on the cross, the complete and final sacrifice for our sins according to the Scriptures. Further, He arose bodily from the dead, ascended into heaven, where, at the right hand of the Majesty on High, He is now our High Priest and Advocate.
The Holy Spirit
The ministry of the Holy Spirit is to glorify the Lord Jesus Christ and during this age, to convict men of sin, regenerate the believing sinner, indwell, guide, instruct, and empower the believer for godly living and service. Man – Man was created in the image of God but fell into sin and is therefore lost, and only through regeneration by the Holy Spirit can salvation and spiritual life be obtained.
Salvation
The shed blood of Jesus Christ and His resurrection provide the only ground for justification and salvation for all who believe, and only such as receive Jesus Christ by faith are born of the Holy Spirit and thus become children of God. The Return of Jesus Christ – The personal, pre-millennial, and imminent return of our Lord Jesus Christ is our hope and has a vital bearing on the personal life and service of the believer.
Future Events
There will be a bodily resurrection of all the dead; of the believer to everlasting blessedness and joy with the Lord, and of the unbeliever to judgment and everlasting conscious punishment.
The Church
The true Church is composed of all such persons, who through saving faith in Jesus Christ, has been regenerated by the Holy Spirit and are united together in the body of Christ of which He is the head.
Baptism and Communion
Water baptism by immersion soon after accepting Christ as personal Savior, is a testimony of death to sin and resurrection to a new life. The Lord's Supper is a memorial service setting forth in sacred and symbolic manner the death of the Lord Jesus Christ; all true believers and only believers should share in it.
Our Commitments
Influencing generations by the power of our vision and by modeling the way.
Being accountable for our every word and action.
Treating each other with dignity and respect.
Encouraging personal growth by developing and empowering our people.
Improving the organization by improving ourselves.
Capitalizing on our strength of ethnic diversity and teamwork.
Leaving a legacy of hope and promise to future generations.
Our Focus
Be the industry leader in what we do.
Operate the business professionally and efficiently.
Have a competent, responsible people building a strong team.
Support our partners and members to achieve their potential.
Provide the best servant leadership programs.
Increase communication and information.
Social Media Handles and Contacts
Stay connected with The Potter's House of Dallas through our vibrant social media platforms. We believe that everyone deserves a supportive group of friends and a spiritual family to call their own. At The Potter's House, we strive to be that kind of church for individuals seeking a home where they can grow, learn, and love one another.
Through our active presence on social media, we offer avenues for spiritual inspiration, personal growth, and community outreach. You now have the opportunity to stay informed and engaged with The Potter's House of Dallas through our various social media channels. Join us as we share uplifting messages, encourage one another, and make a positive impact in our local and global communities.
THE POTTERS HOUSE OF DALLAS AFFILIATE MINISTRIES
Man power (Men's ministry)
Woman to woman (Women's ministry)
Children's ministry
Chosen and Committed
Single life -Marriage ministry
Fire house youth ministry
Boys to M.E.N.D
Acts II Evangelism
Destiny World
IDD Outreach
Ministerial Affairs
TPH School of Ministry
Volunteers
Counseling Ministry
G3 Living Life
International Language Ministry
Music And Fine Art
The Potters House of Dallas in Photos
[ngg src="galleries" ids="46″ display="basic_thumbnail" thumbnail_crop="0″]