Christ Embassy Complete Profile & Latest Information.
All important details about Christ Embassy. Christ Embassy, Also Known as Love World Incorporated or Believers' Loveworld, Is a Megachurch and a Christian denomination founded by Pastor Chris Oyakhilome in 1987. The Church, with headquarters in Lagos has since become a global network of churches with congregations in many countries, and approximately over 200,000,000 followers all over the world. The Church has ministries in Canada, Nigeria, South Africa, the United States and the United Kingdom. The church has 145 branches of on five continents.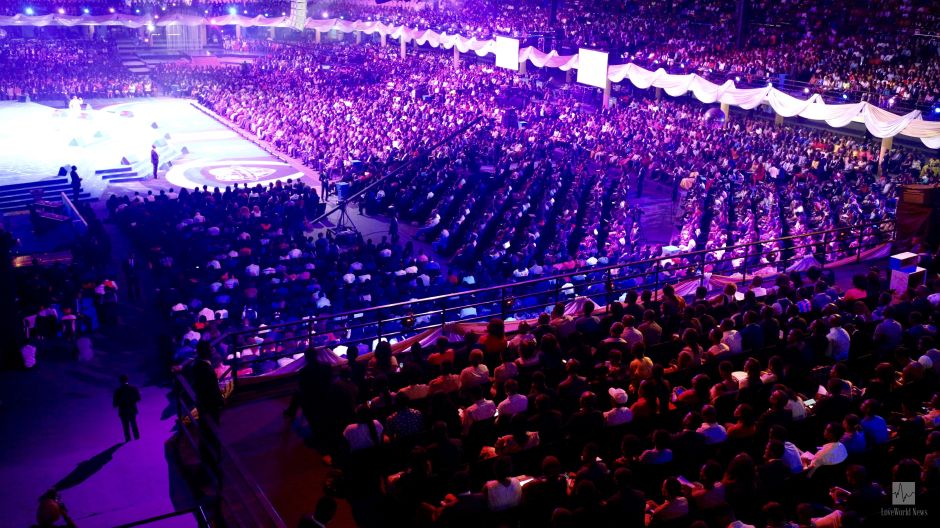 Love World Bible Church Also Known as Christ Embassy Church is one of the largest churches in Nigeria and the world at large. It currently has over 13 million members across the globe.
In this post, you will find
History of Christ Embassy Church
Who is the founder of Christ Embassy?
The origins of Christ Embassy trace back to Pastor Chris Oyakhilome's university years in 1987. From its humble beginnings as Believers' Loveworld Fellowship, initially named Youths For Christ (YFC), during Pastor Chris Oyakhilome's time at Ambrose Ali University in Ekpoma, Nigeria, the ministry has evolved into a multifaceted entity hosting significant programs that attract audiences of varying sizes.
In 1989, the ministry took on its enduring identity as Christ Embassy, having initially flourished under the name Believers Loveworld Inc. (BLW). Pastor Chris Oyakhilome's wedding to Anita on February 2, 1991, marked a pivotal moment in the ministry's history, further solidifying its presence in Lagos. Through Anita's guidance and her "Atmosphere for Miracles," BLW gained substantial popularity through Nigerian television broadcasts.
Pastor Chris Oyakhilome has emerged as a prominent religious leader in Nigeria, lauded for both his influence and his stewardship of Christ Embassy. Established in 1987 in Lagos, Nigeria, Christ Embassy, also referred to as LoveWorld Inc., now spans across more than 100 international locations, including the United Kingdom, South Africa, the United States, and Canada.
The ministry encompasses various arms, such as The Healing School, Rhapsody of Realities, LoveWorld Books, and Innercity Missions for Children—an NGO. It oversees three Christian television channels—LoveWorld Plus, LoveWorld SAT, and LoveWorld TV—through which faith healings, miracles, and spiritual gatherings unite over 2.5 million participants in a single night across diverse nations.
Pastor Chris Oyakhilome's journey commenced at Ambrose Ali University in Ekpoma, Edo state, Nigeria, where the roots of Believers' Loveworld Fellowship, originally known as Youths For Christ (YFC), were sown. This initial seed blossomed into Believers Loveworld Inc., a global ministry uniting a vast community of followers and associates.
A pivotal milestone emerged in 2003 when Pastor Chris spearheaded the groundbreaking 24-hour Christian Network from Africa, extending its reach to a global audience. This innovation led to the establishment of satellite stations on multiple continents, including Loveworld USA in America, Loveworld TV in the UK, Loveworld SAT in South Africa, LXP in Nigeria, and others like Loveworld Mena, Loveworld India, and Loveworld Persia. This expansion facilitated the widespread dissemination of the message of salvation and ignited transformative change, impacting millions of lives. Accessible through the LiveTV App, these stations transcend conventional boundaries, exemplifying the ministry's unwavering commitment to global outreach.
FOUNDING DAY: The Christ Embassy church was established in 1987
NUMBER OF MEMBERS: Christ Embassy as at 2018 has over 13 Million Members
HEADQUARTERS: Christ Embassy LCA, 8 billings way, Oregun, ikeja, Lagos, Nigeria.
BRANCHES: 145 Branches in 5 Continents
FOUNDER: Pastor Chris Oyakhilome is the founder of Love world ministries.
CURRENT LEADER: Chris Oyakhilome is still the leader of the Christ Embassy Church.
Pastor Chris Oyakilome also writes the Christian daily devotional named Rhapsody, which has numerous translation in various countries and continents.
Christ Embassy Church Programme / Events Calendar
This Are Special Program that Takes Places in Christ Embassy Church;
International Pastors and Partners Conference (IPPC)
Healing Streams Live Healing Services With Pastor Chris
Pastor Chris Live Pray-a-thon.
Atmosphere for Miracles
The International Cell Leaders' Conference (ICLC)
International Heaven Convention
Christmas Eve
Global Communion Service
Your Love World Specials.
Christ Embassy Sunday service Livestream
Our Vision
To take the divine presence of God to the nations and peoples of the world; and to demonstrate the character of the Spirit.
Pastor Chris is a man of God and a healing minister, who has by the help of the spirit of God, liberated many from the oppressions of the devil, healing many that are sick. The Healing Streams Live Healing Services with Pastor Chris is a special online program designed by the Holy Spirit to bring divine healing to everyone that requires healing for their bodies. It is reported that Over 7 Billion People Participate in Healing Streams Live Healing Services with Pastor Chris.
Pastor Chris is also the host of "Atmosphere for Miracles", a program airing on major television networks in the United States of America, the United Kingdom, Asia, Europe, and around the world, which brings God's divine presence right into the homes of millions around the world. With a burning desire to bring God's word to all men in simplicity and with the power of the spirit, the man of God.
Rev. Dr. Chris Oyakhilome Dsc. DD, established the International School Of Ministry, specifically to train and equip ministers of the gospel of Christ, building in them the realities of God's word and empowering them to carry the message of eternal life in Christ Jesus to their world, with a great demonstration of the miraculous power of God.
Pastor Chris also pioneered the establishment of the Inner City Mission of Christ Embassy, a ministry to children living in the inner cities of our world, to give them hope and a future.
Pastor Chris has celebrated 25 years on Television
See the profiles of top Churches in Nigeria and their event dates here