Skip to content
WATCH THE COVENANT NATION (WAFBEC 2022) LIVE ONLINE WITH PASTOR POJU OYEMADE
You are on to the live stream for the WEST AFRICAN FAITH BELIEVERS CONVENTION (WAFBEC 2022). It is time to start the new year on a richer level of faith like never before. Please find details of this event below.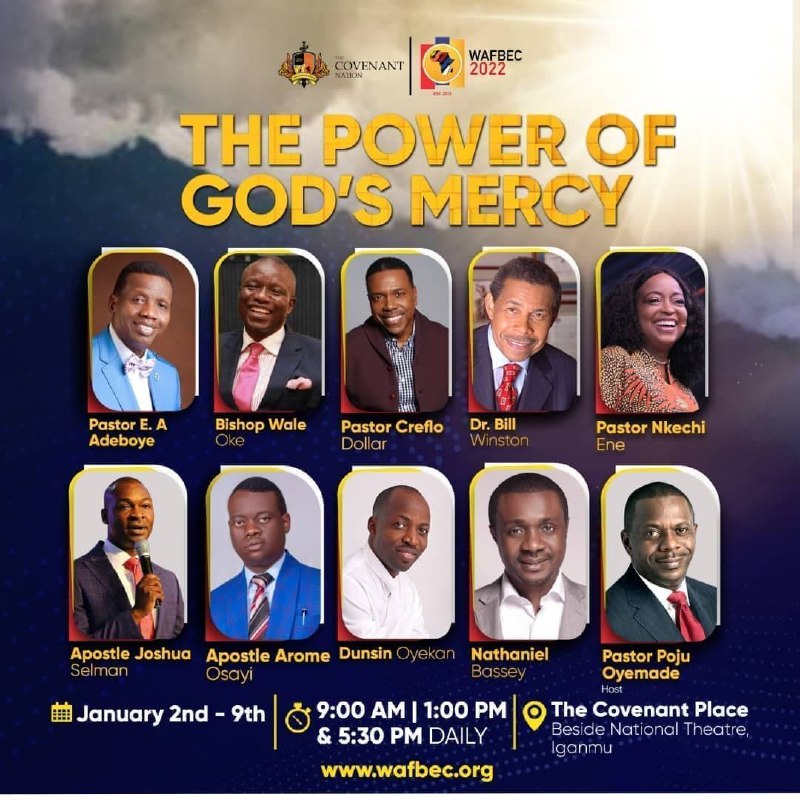 Click the play button below to join the event
 You are watching the WAFBEC 2022 Day Six
Previous Sessions – Watch
All Sessions Of
WAFBEC 2022 
You can watch Previous broadcast as follows:
Day Four Afternoon Session
Day Four Evening Session
Day five Morning Session
Day Five Afternoon Session
Day Five Evening Session
Find more about the WAFBEC January 2022 here
This event is organized by the Covenant Nation Church. 
ABOUT THE CHURCH
The Covenant Nation Church was formerly known as the Covenant Christian Centre . The Church is a large and growing Pentecostal ministry. The Founder and senior pastor of the church is Pastor Poju Oyemade. Read more…
Remember you  can always get information on Salvation ministries crusade and other christian events like this on CHRISTIAN EVENTS website.