THE EXPERIENCE 16 DECEMBER 2021 WITH PASTOR PAUL ADEFARASIN
The Experience 2021 with Pastor Paul Adefarasin is set to premeir on Friday 3rd December 2021. Find details of the event below.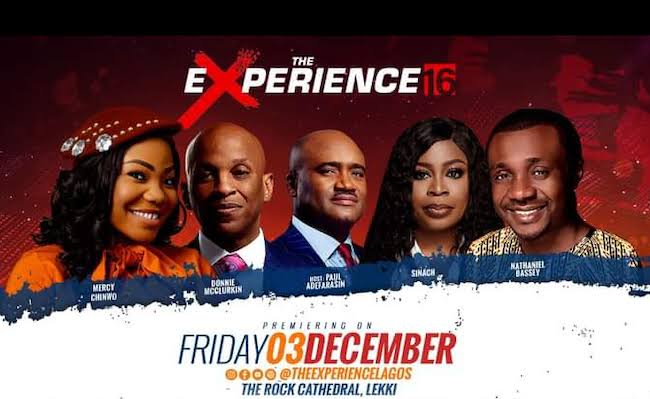 The House on the Rock church holds her annual The Experience event with Pastor Paul Adefarasin.
The life-transforming event is scheduled to Premeir on Friday, 3rd December, 2021 at the Rock Cathedral, Lekki, Lagos Nigeria.
THE EXPERIENCE 2021 PROGRAMME
DATE: 3rd December, 2021.
VENUE: The Experience 16 (2021) will be holding at the Rock Cathedral, Lekki, Lagos, Nigeria.
TIME: To be updated as soon as the event draws nearer.
THE EXPERIENCE 16 NOVEMBER 2021 HOST AND GUEST MINISTERS
Below is the list of people who will be ministering at the convention:
HOST MINISTERS: Pastor Paul Adefarasin
GUEST MINISTER:
Nathaniel Bassey
Donnie Mcclurkin
Mercy Chinwo
Don Moen
Sinach
Dunsin Oyekan
Chandler Moore
Sidney Mohede
Planet Shakers
Lots more
When will The Experience 16 (2021) be premering?
The Experience 2021 will be premering on December 3rd, 2021.
Save the date. Tell a friend. Anticipate!
Remember you  can always get information on the Experience 16 and other christian events like this on CHRISTIAN EVENTS website.