THE ELEVATION CHURCH CORPORATE AND BUSINESS DINNER JULY 2021 WITH PASTOR GODMAN AKINLABI.
The Elevation Church corporate and business dinner July 2021 with Pastor Godman Akinlabi is set to take place on Saturday 31st July 2021. Find details of the event below.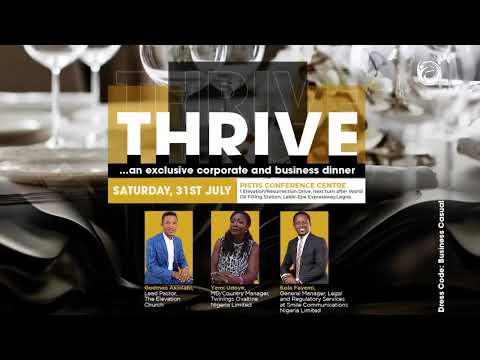 The Elevation Church holds her Business dinner 2021 with Pastor Godman Akinlabi.  The exclusive corporate and business dinner will feature success tips for career and business advancement, prayer for jobs, business and organizations as well as other side attractions. The dress code is Business Casual.
The Business developing and growth oriented event is scheduled to hold on Sartuday 31st  July 2021, at the Pistis conference centre, Lagos. The convention will be filled with the shout and sounds of joy.
THE ELEVATION CHURCH BUSINESS DINNER JULY 2021 PROGRAMME
DATE: Sarturday 31st July 2021.
VENUE: The July 2021 Elevation Church Business dinner will hold at the Pistis Conference centre, Lagos Nigeria.
NOTE: Please register for FREE at bit.ly/thrivedinner
TIME: 5PM.
THE ELEVATION CHURCH BUSINESS DINNER JULY 2021 HOST AND GUEST MINISTERS.
Below is the list of people who will be ministering at the convention:
HOST MINISTER: Pastor Godman Akinlabi
GUEST MINISTERS:
Yemi Udoye
Kola Fayemi
Alawusa Adewuyi.
Save the date. Tell a friend. Anticipate!
What is the theme of Elevation Church Business dinner 2021?
The theme for Elevation Church business dinner 2021, is "THRIVE ".
Remember you  can always get information on The Elevation Church Business dinner and other christian events like this on CHRISTIAN EVENTS website.