Complete Profile & Information About THE COVENANT NATION CHURCH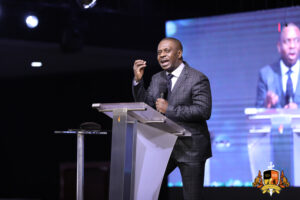 The Covenant Nation was dedicated in March 30, 1994 formally as Covenant Christian Centre, a.k.a (Insights for Living) by the Senior pastor and founder, Pastor 'Poju Oyemade,  and was consecrated by Bishop David Oyedepo and exists to bless the local community, city and nation in which she is planted.
As a member of the larger body of Christ, the Covenant Nation heeds the call to 'go make disciples of all nations' (Matt 28:19) through its events and programs. The vision of INSIGHTS FOR LIVING is to teach Christians who they are in Christ Jesus, and how to live a victorious life in their covenant rights and privileges.
The Ministry places strong emphasis on a personal relationship with Christ and communion with Him through the Word (the Bible) and this is consistently communicated from the pulpit. Practical insights on how to live and grow in the Christian faith is taught and encouraged in daily life, which makes an impact and difference in the world.
DATE OF ESTABLISHMENT: March 30, 1994
 MEMBERS  statistics: Thousands of worshippers
LOCATION/HEADQUARTERS: The Covenant Place, Iganmu, Lagos .
BRANCHES: Yaba, Iganmu, Lekki, Maryland, Festac, Sangotedo, Ikorodu, Isolo, Igando, The Palms, Ikeja, Abule-Egba, Ibadan I, Abuja I, Abuja II.
FOUNDER: Pastor 'Poju Oyemade
CURRENT LEADER: Pastor 'Poju Oyemade
INSIGHTS FOR LIVING Church  Event Calendar
This Are Special Program that Takes Places @Insights for Living
 The West African Faith Believer's Convention (WAFBEC)
International Conference for Pastors, Ministers, Leaders and Workers (ICPLMW)
The Platform (a National Development conference)
Covenant Capital Business School (CCBS)
Sunday service Livestream
If you have any other information or require to know more about The Covenant Nation , please get in touch with us by leaving us your comment below.
See the profiles of top Churches in Nigeria and their event dates here