AGAPE CHRISTIAN MINISTRIES INTERNATIONAL CONVENTION AUGUST 2021 WITH BISHOP FELIX ADEJUMO.
Agape International Convention August 2021 with Bishop Felix Adejumo is set to begin on Sunday 1st August 2021. Find details of the event below.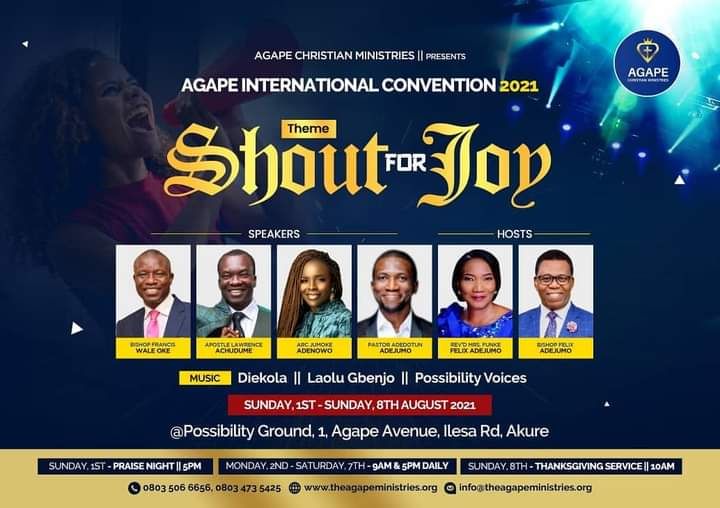 The Agape Christian Ministries holds her Annual International convention 2021 with Bishop Felix Adejumo.  The convention is a divine setting where lives would be filled with testimonies of joy, and the supernatural empowerment to move from glory to glory.
The life-transforming event is scheduled to hold from Sunday 1st  August 2021, to Sunday 8th August 2021 at the Possibility ground, Akure. The convention will be filled with the shout and sounds of joy.
AGAPE INTERNATIONAL CONVENTION AUGUST 2021 PROGRAMMES
DATE: Sunday 1st August 2021 – Sunday 8th August 2021.
VENUE: The August 2021 Agape International Convention will hold at the Possibility ground, 1 Agape Avenue, Ilesha road in Akure, Nigeria.
NOTE: This event will also be broadcast at all Agape Christian ministries across the world.
TIME: SUNDAY-1st AUGUST (Praise night-5pm).
MONDAY 2ND – SATURDAY 7TH AUGUST (9am & 5pm daily).
SUNDAY- 8TH AUGUST: THANKSGIVING SERVICE (10am)
AGAPE INTERNATIONAL CONVENTION AUGUST 2021 HOST AND GUEST MINISTERS.
Below is the list of people who will be ministering at the convention:
HOST MINISTERS: Bishop Felix Adejumo & Rev'd Mrs. Funke Adejumo.
GUEST MINISTERS:
Bishop Francis Wale Oke,
Apostle Lawrence Achudume,
Arc. Jumoke Adenowo and
Pastor Adedotun Adejumo.
Music by the Possibility voices.
Save the date. Tell a friend. Anticipate!
What is the theme of Agape International Convention 2021?
The theme for Agape International convention August 2021, under the leading of the Holy Spirit, is proclaimed by Bishop Felix Adejumo to be "SHOUT FOR JOY ".
Remember you  can always get information on Agape International convention and other christian events like this on CHRISTIAN EVENTS website.