The Hour of visitation is a word feast session that features topical teachings, to bring you to the point of an encounter of a lifetime, in the direction of your miracle. About 3 to 4 annointed Word ministers of God, brings God's word your way, as you sit and learn intentionally. You can find details of the Shiloh 2022 Hour of Visitation below;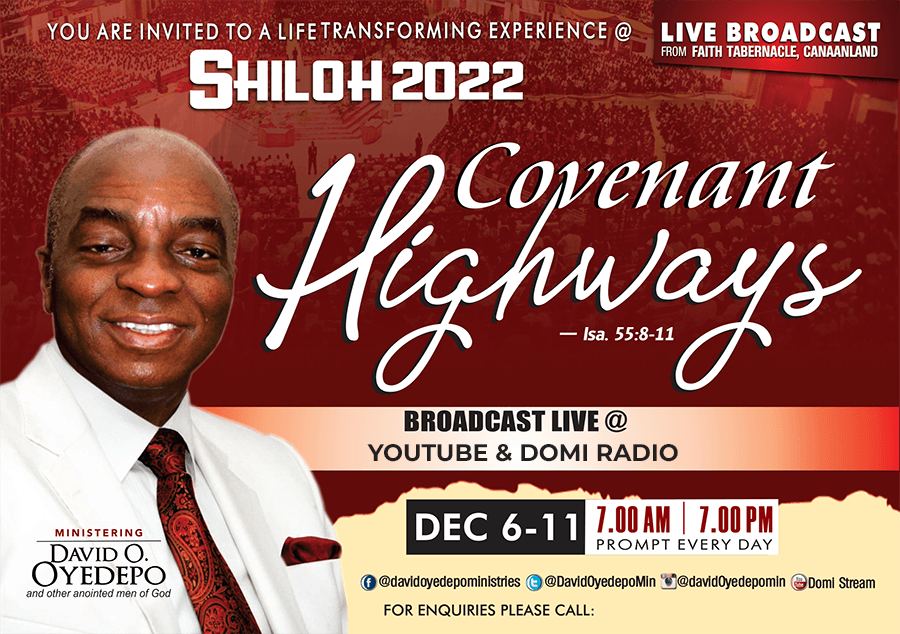 The Hour of Visitation is transmitted live from the Faith Tabernacle, Canaanland, Ota, Ogun State, Nigeria. The time for the session is as follows;
Time: 7:00 am – 11:00 am (GMT+1).
Date: Wednesday 7th – Friday 9th December 2022.
With faith in your heart, you can expect to have a definite encounter via the Hour of visitation. Below is the video for the service. You can now be a part of the service.
Please click the play button below to watch the Hour of Visitation.
You are watching Shiloh 2022 – Business and  for today 9th December 2022 
The lunch and break period follows the Hour of Visitation. You are encouraged to remain in tune with the Spirit of God, even as you eat and rest. If you're engaging in a fast, you are encouraged to remain focused. To help you stay tuned with the sessions from Shiloh 2022, kindly bookmark this page. Immediately succeeding your break is the Specialised Sessions. Kindly use the links below to join your desired session;
Time: 1:00 pm – 3:00 pm (GMT +1).
Business and Career Breakthrough
Marital Breakthrough
Fathers and Mothers of Nations
Healing and Deliverance
Breaking Generational Curses
Academic Breakthroughs
See the Shiloh 2022 prayer guidelines
The living Faith Church aka Winners' Chapel is an international church with branches across over 4 continents. The Ministry is presided over by Bishop David Olaniyan Oyedepo. In 1999, the BBC reported that Faith Tabernacle was the largest church in the world with respect to how many worshipers it can seat. It has a seating capacity of over fifty thousand people. The largest church in terms of size is the Basilica of Our Lady of Peace…Read more