Complete Profile & Latest Information About SCOAN.
The Synagogue Church of All Nations (SCOAN) is a Pentecostal mega-church which is internationally recognized as the homed of the blessed people. The Church is known to attract huge number of foreign pilgrims. It is founded by Prophet T B Joshua, who went to rest in the Lord, in the year 2021.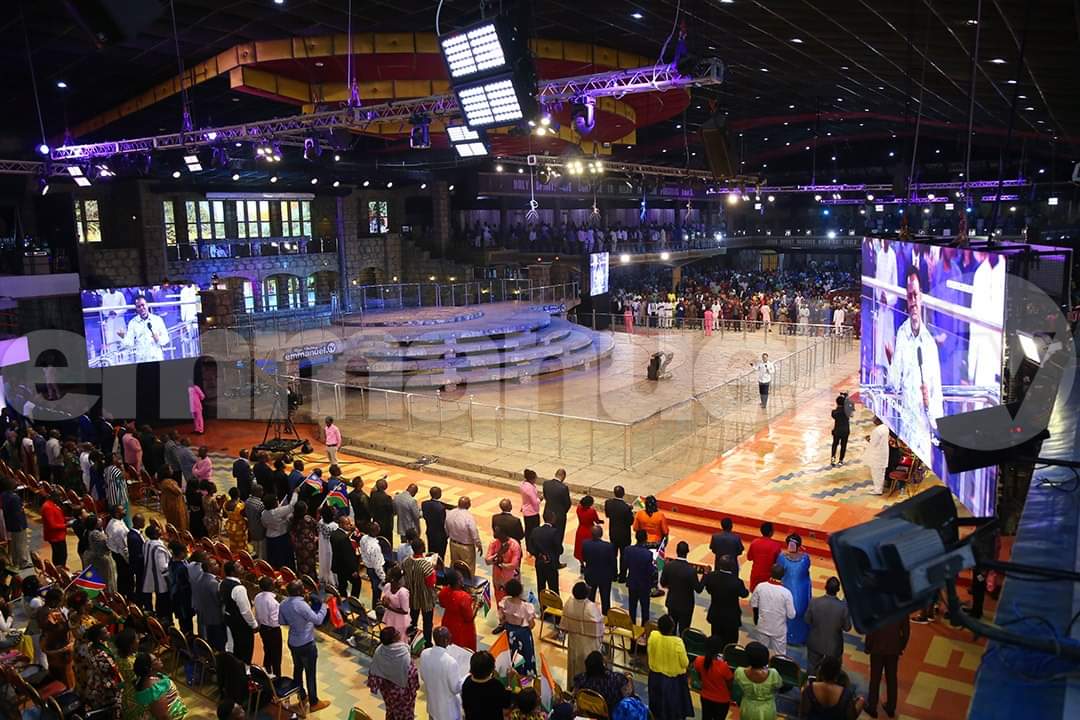 The Synagogues church of All Nations is headquartered at Ikotun-Ebge, Lagos, Nigeria. The Church which started with a handful of members, has since become one of Nigeria's most influential churches, attracting over 50,000 people to its weekly Sunday services.
HISTORY OF SYNAGOGUE CHURCH OF ALL NATIONS
Many years ago, a small gathering of eight members came together to hold their first meeting in a humble shelter in a squalid, swampy jungle, in the location of Agodo-Egbe in Lagos, Nigeria.
The church started in the year 1987.
SCOAN has been described as "Nigeria's biggest tourist attraction" and "the most visited destination by religious tourists in West Africa.
Another prominent feat of the church is the report of diverse divine miracles. Spiritual healing at SCOAN has been the subject of several media reports, including a mention in Time Magazine, an Associated Press interview and an article by Foreign Policy.
The church's weekly services are broadcast live on Emmanuel TV as well as on SCOAN's social media platforms.
FOUNDING DAY: 1987

NUMBER OF MEMBERS: The SCOAN records over 50,000 weekly attendance in her services.
HEADQUARTERS: Synagogues church of All Nations is headquartered at Ikotun-Ebge, Lagos, Nigeria.
BRANCHES: the church has branches in different parts of the world., such as Nigeria, UK, Greece, Ghana etc.
FOUNDER: Prophet Temitope Balogun Joshua
CURRENT LEADER:The Wife of the Late Prophet T.B. Joshua, Mrs Evelyn Joshua, is now the current leader of the church
SCOAN Programme / Events Calendar
THE FOUNDER AND HIS HUMANITARIAN WORK
Prophet T B Joshua was reported by Forbes blogger to have spent an estimated $20 million on "education, healthcare and rehabilitation programs for former Niger Delta militants". There is also a rehabilitation programme for militants from Nigeria's volatile Niger Delta region, repentant armed robbers and sex workers who came to the church for 'deliverance'.
Community support
He has made landmarks in communities home and abroad. Prophet Joshua provided two electrical transformers to a local community after theirs was burned beyond repair. He donated over N26m to help restore electricity and put an end to over two years of power outage in four councils in the Akoko area of Ondo State. he has also made several large donations to police forces in Nigeria, Ghana and Colombia.
Scholarships
SCOAN is known to cater for the academic needs of students in their thousands, ranging from primary to tertiary education through their 'scholarship program'. In 2012,  a Nigerian student doing a PhD in Oxford University, was sponsored, with Nigerian media reporting she received £100,000 from the church. Similarly, scholarship was given to a young Motswana to study at Harvard Law School in America.
Disaster relief
After the 2010 Haiti earthquake, 'Clinique Emmanuel' a field hospital , was established by a team of medical personnel and humanitarian workers  sent to the affected area.
He additionally sent support to nations such as Philippines, India and Ghana in the wake of varying natural disasters. The 'Emmanuel TV Team' also assisted victims of the earthquake that struck the nation of Ecuador in April 2016, providing over $500,000 worth of humanitarian aid.
Education
The funding of the building and running of a school in Lahore, Pakistan named 'Emmanuel School' and the rebuilding of a school in a rural area destroyed by the 2016 Ecuador earthquake, was done by Prophet Joshua. He travelled to Ecuador for the opening of the school in June 2017.
Support for migrants and deportees
Several groups of Nigerians attempting illegal travel to Europe through Libya have been supported at SCOAN following their deportation from the North African nation with only the clothes on their backs. Stories of the harsh conditions they encountered and Joshua's subsequent assistance made headlines in several local newspapers.
Sports
In 2009, My People FC began as a football club, being part of efforts to help the youth. Two members of the team played for Nigeria's Golden Eaglets in the 2009 FIFA U-17 World Cup. Sani Emmanuel, who apparently lived in SCOAN for several years, was Nigeria's top-scorer and the tournament's MVP. Emmanuel and his colleague Ogenyi Onazi signed professional contracts with SS Lazio, Onazi a key player for the Nigerian Senior Team, the Super Eagles.
WBO International Light Middleweight boxing champion King Davidson Emenogu said that Joshua has financially supported him throughout his career and purportedly prophesied that he would be a world boxing champion.
Humanitarian awards
In recognition of his humanitarian activities, he was awarded a National Honour by the Nigerian government in 2008 as well as receiving a letter of appreciation from the United Nations .He was further honoured as an Ambassador of Peace by the Arewa Youth Forum, a predominantly Muslim organisation, as well as being recognised with an 'award of excellence' by ZAKA, Israel's primary rescue and recovery voluntary service.