RCCG Day 48 Fasting Prayer Points as Released by The Redeemed Christian Church of God Directorate of Prayer.  50 Days Fasting & Prayer Guide for RCCG 2023 Fasting and Prayer is here.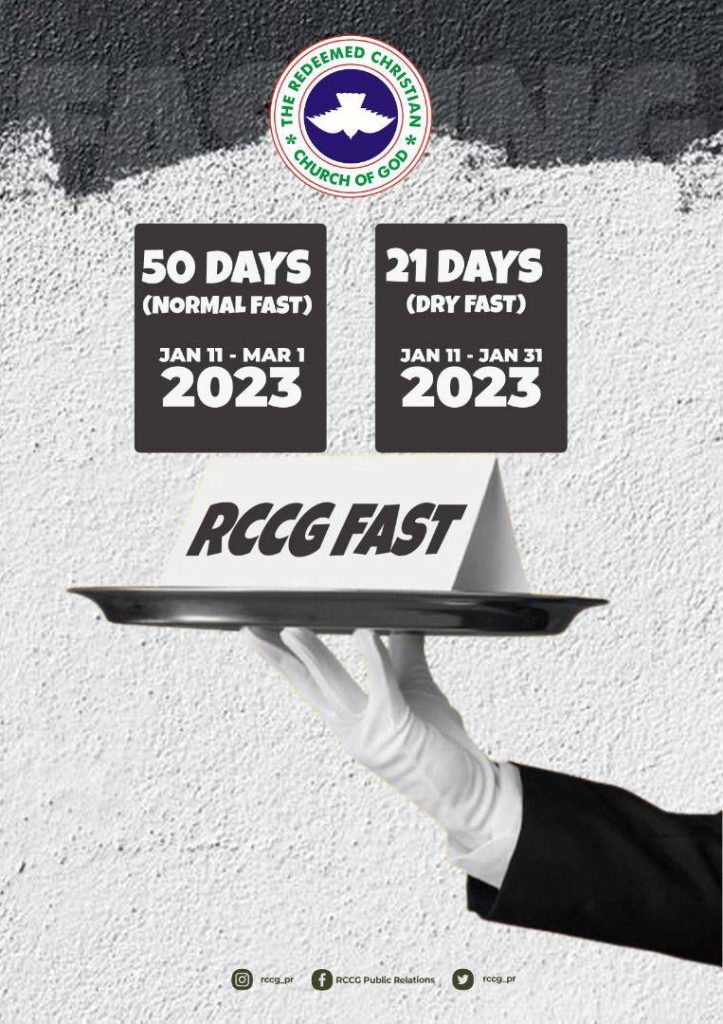 ⇒Click here to see Day 49 Prayer Points.
Find out more about the RCCG Annual Fasting and Prayer Here
RCCG 50 DAYS FASTING AND PRAYER GUIDE
TOPIC: FAILURE AT THE EDGE OF SUCCESS
DAY 48 – Monday, February 27th, 2023
Bible Text: Deuteronomy 32:51-52, Numbers 20:7-12 
INTRODUCTION:
Failure at the edge of success is a bad spirit that is assigned to truncate the destinies of the children of God. A case study is that of Moses in Deu 32:51-52, because of the sin of anger that he committed at the wilderness of Zin at Kadesh when he smote the rock instead of speaking to it. He only saw the promise land but did not enter into it.
⇒ Click here to watch the Fasting and Prayer Evening service @ 5:00 pm
1. Father, I thank you for the gift of life through the death of our Lord Jesus Christ. Joh 10:10
2. Father, I repent of the sin of disobedience and anger in Jesus name. 1Joh 1:9
3. I overcome the spirit of failure by the blood of Jesus, in Jesus name. Rev 12:11
4. Father, by the authority in the name of Jesus, I command every evil force that will cause me to fail at the edge of my breakthrough to be paralyzed in Jesus name. Phil 2:9
5. Let every provocation that will cause me to fail at the edge of my success be cut off in Jesus name. Num 20:7-12
6. Father, give me the grace to be at the right place at the right time in Jesus name. Psa 31:15
7. Father, frustrate and disappoint every enemy of my success in Jesus name. Job 5:12
8. Let my enemies be caught by their own nets that they have set for me, and fall into the pit of failure that they have dug for me in Jesus name. Ecc 10:8
9. Father, I receive the anointing to finish well and finish strong in Jesus name. 1 Cor 2:9-14
10. I command every walls of Jericho before me to be demolished in Jesus name. Joshua 6:20
11. I shall succeed; nothing shall pull me down in Jesus name. Phil 4:13
12. I refuse to be a fool in the hands of the devil in Jesus name. Eccl 7:9
13. Father, break every curse of failure at the edge of success in my life in Jesus name. Gal 3:13
14. Father, please roll away the reproach of failure from my life in Jesus name. Jos 5:9
15. Father, every good thing that begins in my life shall be completed in Jesus name
⇒ Click here to find out more about the RCCG Annual Fasting and Prayer