The 12 Days of Glory 2022 is set to begin on Sunday 2nd January 2022. Find details of the event below.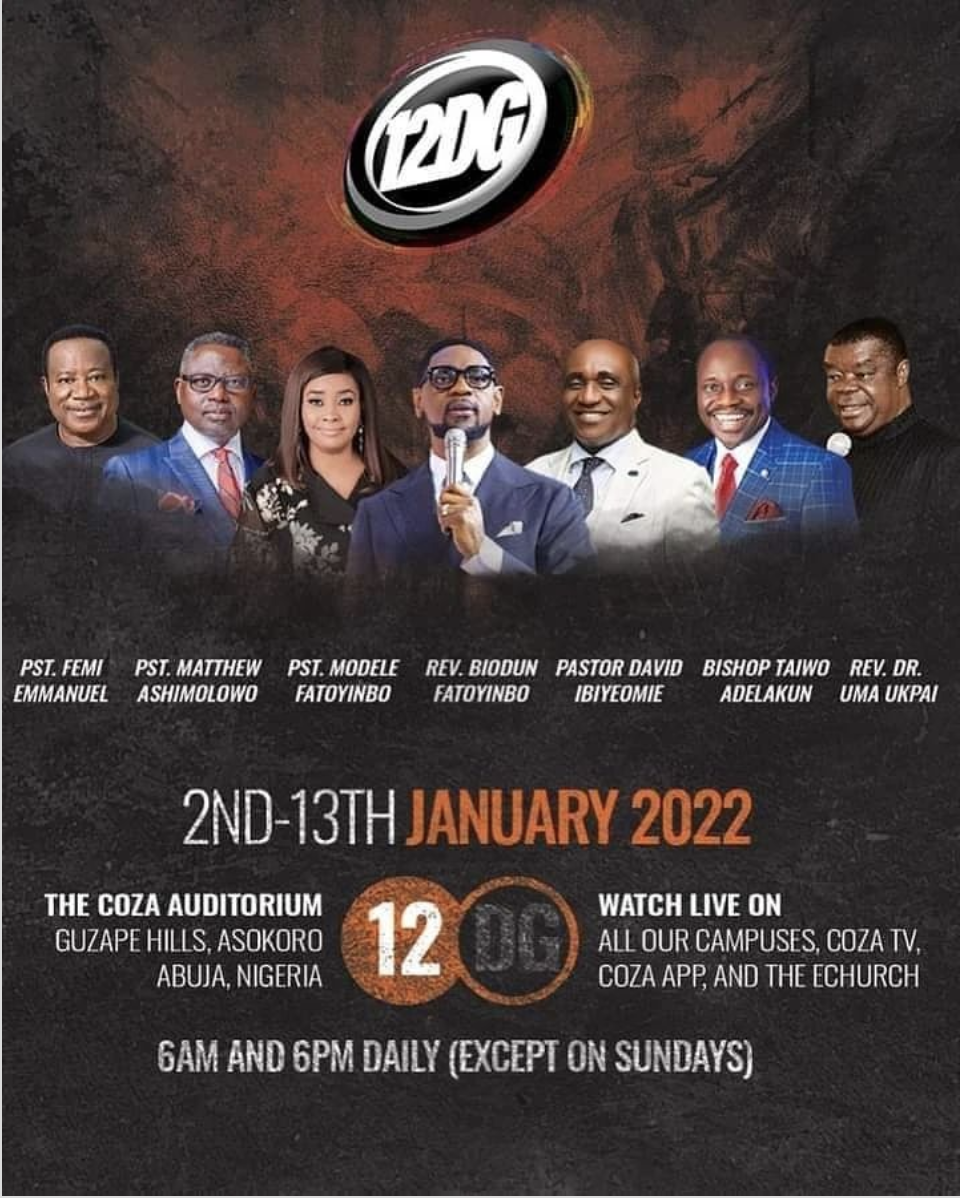 The Commonwealth Of Zion Assembly sets to begin her annual 12 days of prayer and fasting event, 12DG2022.  The event is a period where everyone globally engages on the altar of prayer and fasting for a period of 12 days in order to prevail over life circumstances and get direction for the new year.
The life-transforming event is scheduled to hold from Sunday 2nd January 2022 to Thursday 13th January 2022 at COZA, Guzape Hills, Abuja Nigeria, and campuses of the Commonwealth of Zion Assembly. Please Take note that the live broadcast will be streamed on this website.
DATE: Sunday 2nd January 2022 – Thursday 13th January 2022.
TIME: 6:00 am and 6:00 pm Daily (GMT + 1) *except Sundays
VENUE: The COZA 12 Days of Glory will hold at COZA Auditorium, Guzape Hills Abuja, and on all COZA virtual platforms.
The live stream of the event will be available across all COZA Campuses in Abuja, Lagos, Ilorin, Portharcourt, Dubai, 
Ministering: Ministering live at the 2022 12 Days of glory are anointed servants of God across the nation; Pastor Femi Emmanuel, Pastor Matthew Ashimolowo, Pastor Modele Fatoyinbo, Rev. Biodun Fatoyinbo, Pastor David Ibiyeomie, Bishop Taiwo Adelakun, Rev. Dr. Uma Ukpai
Save the date. Tell a friend. Anticipate!
Remember you can always get information on COZA 12 Days of Glory and other Christian events like this on the CHRISTIAN EVENTS website.
About COZA ( Commonwealth of Zion Assembly ).
The Commonwealth of Zion Assembly is an international church sent to reach out to the unreached in our generation. We are quite excited by your interest in our church and sincerely hope that your experience with us will inspire you into a deeper sense of purpose and walk with God.