DAILY PRAYER AND SCRIPTURE FOR TODAY.
When we pray, God hears and answers! Engaging in Daily Prayer and Scriptures is our unfailing platform for bringing to God all that pertains to us, while we watch restfully as he steps into situations to bring out beauty and colour in our lives. Today, as you commune with God, we urge you to know that God has settled all that concerns you, Just believe and pray with faith in your heart. Remain blessed in Jesus name, Amen.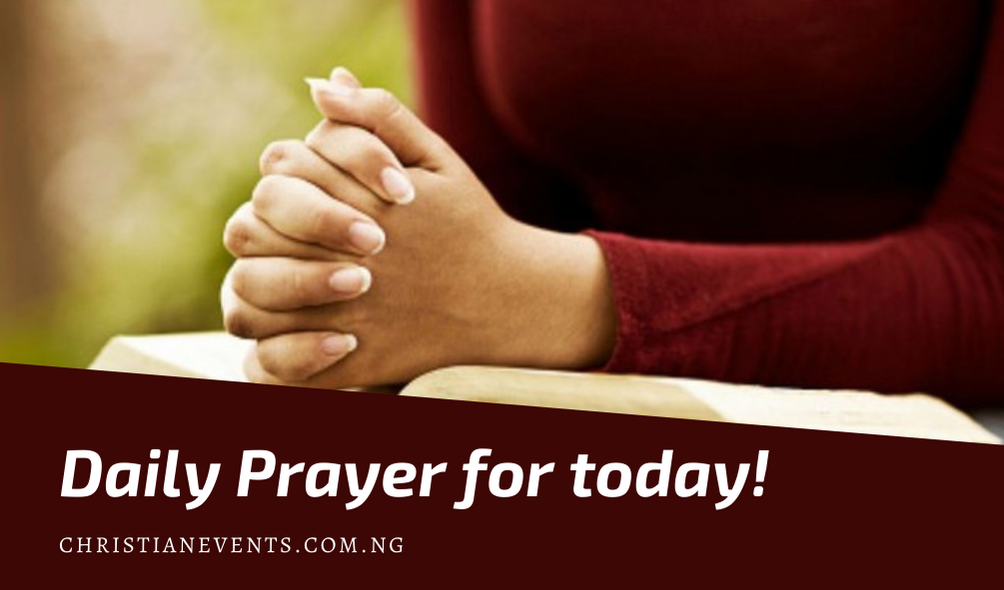 Today's Prayer is written by: Meg Bucher
Prayer Focus For Today 21st July 2022: A Prayer to Keep Doing Good
"Do not neglect to do good and to share what you have, for such sacrifices are pleasing to God." – Hebrews 13:16
Salty tears dampened my knees as I sat paralyzed in the spot I land in when things fall apart. This day, it wasn't just my world unraveling and upending, it was the entire world. Together and all at once, everything started to come to a screeching halt, as the pandemic virus, COVID-19, began to sweep into the corners of our everyday lives. Those first days felt akin to a roller coaster ride, simultaneously rallying to carry on individually while pushing the limits of innovation to reach out to others.
Hebrews 13:16 commands us, "do not neglect to do good and share what you have." Suddenly, the way we help each other drastically changed. The need expounded, while our ability to physically help and hug each other was rapidly stripped. When hard pressed, we can simply allow ourselves the grace to give up and hunker down, or we can embrace the impossible things God has purposed us to do.
What does it look like to help and hold people when we must stay six feet apart? We look to God's truth as a guide and trust in His providence, faithfulness, and goodness.
"Share what you have," today's verse implores. This pandemic has put the resilience of the human spirit on display. From our homes, we have utilized technology to stay connected, rally in support, and raise funds for those who fuel food banks. We've lit up our neighborhoods with lights and donned windows with rainbows as signs of hope and togetherness.
Jesus makes it possible for us to tap into the goodness of God. Everything He does is good …because He is good. He sees us, He hears our prayers, and His heart is moved. His care is unequivocal. We can trust Him, in times of plenty, and it times of pandemic, to be all we need. He goes before us, preparing the way.
Each of us is created to glorify God with our lives, and so we must not neglect to do what is good and share what we have. This obedience brings glory and honor to God.
PRAYER FOR TODAY.
Let's pray to not grow weary in welldoing:
Father,
This is the day you have made, so let us rejoice and be glad in it. You know what today will bring, and what tomorrow's needs will be. If we awake to breathe today, we can be assured it is with great purpose, in order to bring glory and honor to You, the One True God. Jesus, our Savior, Friend, and Redeemer, it is through You we come to the Father, and spread the love of the Gospel. Remind us, through Your Spirit who convicts and comforts us, of your truth.
In moments when we find ourselves slumped into the places we land when things unravel, we know you meet us there in comfort and to supply the strength we need to stand again. Use our lives as vessels of love and truth. Let us see ourselves through the lens of faith, and the Father's purposeful perspective. The author of Hebrews reminds us not to neglect to do good and share what we have, because such sacrifices are pleasing to You, Father.
We know all good things come from You, and You make good, all things. Let us share in the good works you have prepared for us, by the outflowing of our faith in Christ, to the people You have placed in our lives. We pray for Your favor, God, and Your protective embrace, as we look out into the world to do good and share what we have.
In Jesus' Powerful Name we Pray,
Amen.
This Is the Assurance of Answers to Your Prayers – Matthew 7:7-11
Ask, and it will be given to you; seek, and you will find; knock, and it will be opened to you. For everyone who asks receives, and the one who seeks finds, and to the one who knocks it will be opened.

Or which one of you, if his son asks him for bread, will give him a stone? Or if he asks for a fish, will give him a serpent? If you then, who are evil, know how to give good gifts to your children, how much more will YOUR FATHER WHO IS IN HEAVEN GIVE GOOD THINGS TO THOSE WHO ASK HIM!
Please pray with faith in your heart and remember to lead someone to pray with these prayer points!