New Season Prophetic Prayers and Declaration – watch NSPPD here now. It's time for New Season Prophetic Prayer and Declaration (NSPPD) With Pastor Jerry Eze. Join this powerful morning prayer today. (Please scroll down for live NSPPD and also for Streams of Joy Devotional for today)
Click the Play Button below to join The Live Service for today
 You are watching NSPPD Live Stream Now With Jerry Eze.
NSPPD, New Season Prophetic Prayer and Declaration just as its names, is a daily morning prayer and worship service With Pastor Jerry Eze. It holds every Monday to Friday.
Time: 7:00 AM – 8:00 AM Each day. Ministering: Pastor Jerry Eze and other Ministers of God. Please click the play button below to watch NSPPD for today live now.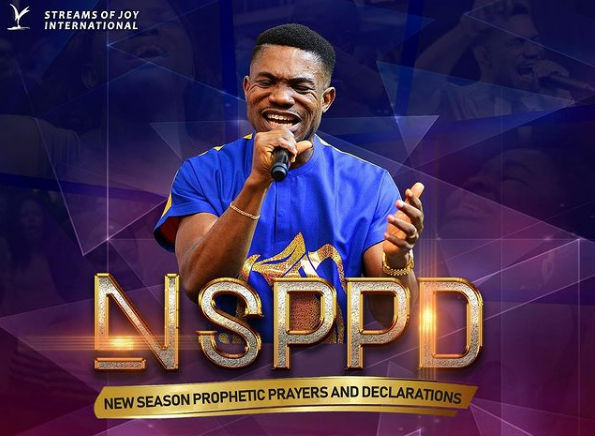 ⇒ Click Here to read Streams of Joy Daily Devotional 23rd March 2023.
Nsppd Topic for Today 23rd March 2023 Is: Day 1: It Is My Time and My Turn
Focal Scripture: Exodus 14:13-14 paraphrased
"Fear not NSPPDIANS, stand firm, and see the salvation of the LORD, which HE will work for you. For that NEGATIVITY you see today, you shall never see again. The LORD will fight for you, and you have only to be silent."
THE BATTLE BELONGS TO THE LORD.
Today on NSPPD FIRE ALTAR at 7am Nigerian time begins 2Days of operation stop the stoppers. Now you have carried your glorious evidence, it will not be tampered with, ever again!
THE BATTLE LINE HAS BEEN DRAWN!
THIS MEANS WAR!
There will be:
– A creation our own atmosphere in time. The time of men will no longer regulate your destiny
-Transition prayers
-Uncommon Healing and Deliverance prayers. Expect Creative Miracles.
-Destruction of hidden battles
-Empowerment for men and women with God's presence
-Shutting up voices of evil
-Prayers for congratulations especially for marital settlement and baby conception
-Grace for business and career
-Grace to hear clearly the voice of God
Get two sheets of Paper
Write out everything that MUST STOP in your life.
On another sheet, write the opposite of what you wrote on the first sheet.
Come with holy brutality.
Intentionally call up at least 3 new persons to join you LIVE .
Watch LIVE please, atmospheres aren't easily recreated.
WHAT THE GOD CANNOT DO DOES NOT EXIST.
Declare With Us: MY VICTORY IS SURE FOR THE BATTLE BELONGS TO THE LORD.
Send your prayer requests to: [email protected]
Streams Of Joy International fondly called Streams of Joy (SOJ) is a Pentecostal and charismatic church, located in Nigeria. The Ministry is presided by Pastor Jerry Uchechukwu Eze (JERRY EZE). Streams of Joy International is a church made up of people from many ethnic backgrounds and nationalities with over 5,000 worshippers on Sunday mornings and her expressions in different parts of the world. Read more…
Remember you can always get information on the NSPPD and other Christian events like this on the CHRISTIAN EVENTS website.