New Season Prophetic Prayers and Declaration – watch NSPPD here now. It's time for New Season Prophetic Prayer and Declaration (NSPPD) With Pastor Jerry Eze. Join this powerful morning prayer today. (Please scroll down for live NSPPD and also for Streams of Joy Devotional for today)
Click the Play Button below to join The Live Service for today
 You are watching NSPPD Live Stream Now With Jerry Eze.
NSPPD, New Season Prophetic Prayer and Declaration just as its names, is a daily morning prayer and worship service With Pastor Jerry Eze. It holds every Monday to Friday.
Time: 7:00 AM – 8:00 AM Each day. Ministering: Pastor Jerry Eze and other Ministers of God. Please click the play button below to watch NSPPD for today live now.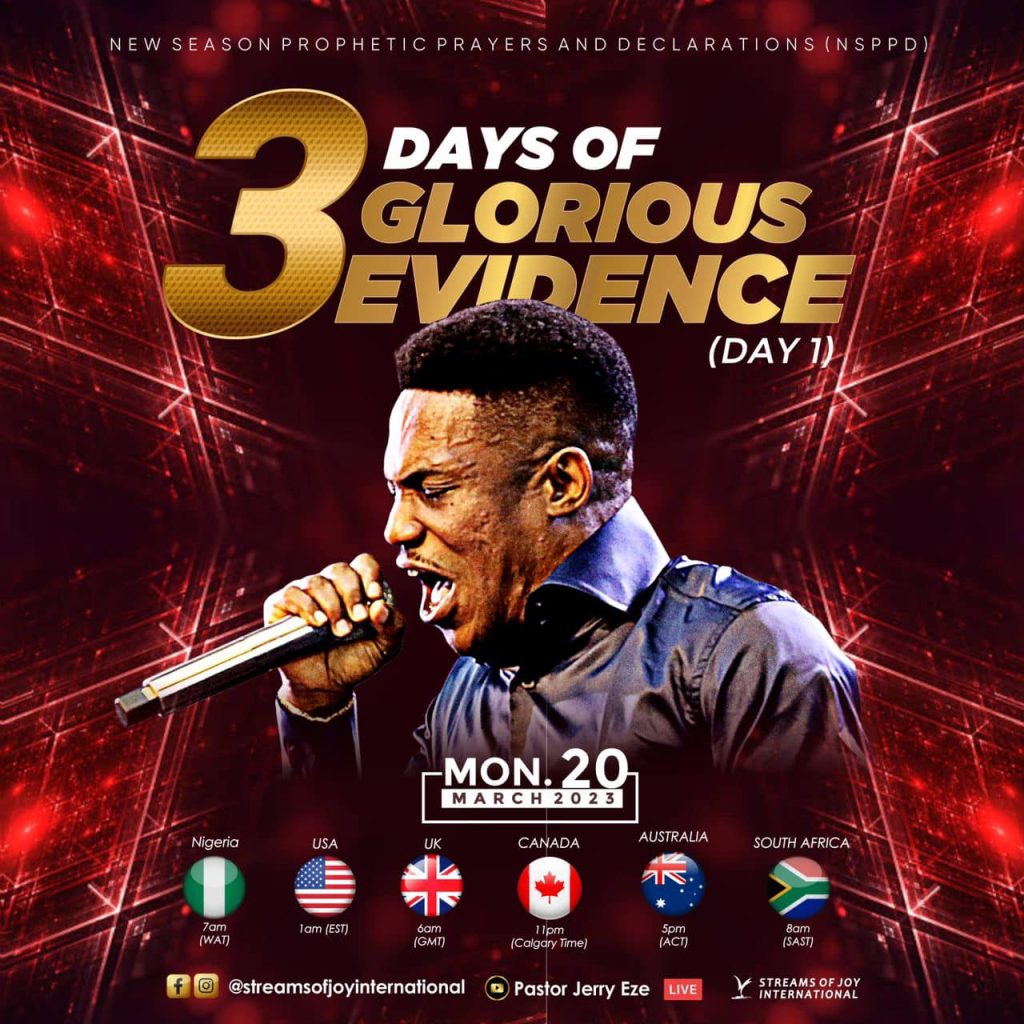 ⇒ Click Here to read Streams of Joy Daily Devotional 20th March 2023.
Nsppd Topic for Today 20th March 2023 Is: 3 Days of Glorious Evidence!!
Focal Scripture: Isaiah.54:2-3
NSPPDIANS, Enlarge the place of your tent, and let the curtains of your habitations be stretched out; do not hold back; lengthen your cords and strengthen your stakes. For you will spread abroad to the right and to the left, and your offspring will possess the nations and will people the desolate cities.
WELCOME TO ANOTHER WEEK OF RAW FIRE!
WE ARE THREE YEARS OLD NSPPDIANS!!
THREE YEARS OF FAITH RISING!
THREE YEARS OF GOD'S UNIMAGINABLE WONDERS
GET READY THIS WEEK FOR:
3 DAYS OF GLORIOUS EVIDENCE!!
Today on NSPPD FIRE ALTAR at 7am Nigerian time, begins 3 days of GLORIOUS EVIDENCE. Make room, enlarge and stretch out your borders because that long-awaited EVIDENCE is about to drop into your hands.
Expect:
●Miracle Monday
●Release of 7 Mantles
●Ordinances will be rewritten
●Special grace for project
●Special prayers for males, females and children
Write an EVIDENCE NOTE- your expectations with specifics and dates and send to [email protected]
Call up at least 3 new persons to join you LIVE
Watch LIVE please, atmospheres aren't easily recreated.
WHAT GOD CANNOT DO DOES NOT EXIST
Declare With US: I CARRY MY GLORIOUS EVIDENCE
Send your prayer requests to: [email protected]
Streams Of Joy International fondly called Streams of Joy (SOJ) is a Pentecostal and charismatic church, located in Nigeria. The Ministry is presided by Pastor Jerry Uchechukwu Eze (JERRY EZE). Streams of Joy International is a church made up of people from many ethnic backgrounds and nationalities with over 5,000 worshippers on Sunday mornings and her expressions in different parts of the world. Read more…
Remember you can always get information on the NSPPD and other Christian events like this on the CHRISTIAN EVENTS website.