The Commonwealth of Zion Assembly (COZA) set to begin her annual 12 Days of Glory event.
UPDATE: COZA 12 DAYS OF GLORY 2022 – ALL DETAILS ( 12DG2022)
God is so ready to unveil the year 2021 to you on a personal note as we begin the 12 Days of Glory 2021. In 2021, God wants you living in Heaven on Earth and He is set to show you the 'How'.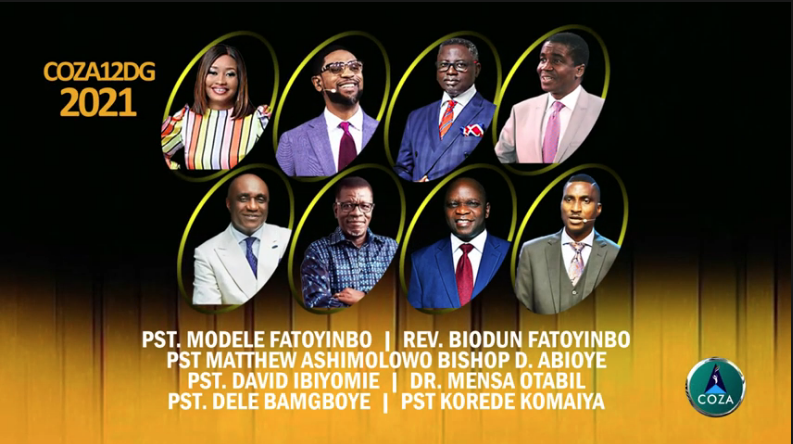 The 2021 Edition of COZA "12Days of Glory" ( 12DG2021)  is a spiritual event that is scheduled to commence on the 2nd of January to 13th January 2021. The event will be held at the COZA Auditorium in Abuja, Lagos, Ilorin , Dubai, and the E-church.
Pastor Biodun Fatoyinbo, the Senior Pastor of The Common Wealth Of Zion Assembly has announced prominent ministers like Pastor Matthew Ashimolowo, Bishop David Abioye, Pastor David Ibiyomie will be impacting participants at the event.
WATCH COZA 12 DAYS OF GLORY LIVE BROADCAST
Worshippers all across the globe who want to be a part of the 2021 12 Days of Glory of the COZA family can watch the events live online via COZA TV Youtube channel, please press play below to watch.
COZA 12DG 2021 Live Stream
You can also watch COZA 12DG 2021 via DSTC, TSTV, Startimes, and at any of COZA Campuses in Abuja, Lagos, Ilorin, Portharcourt, Dubai, Coza E-church.
About COZA ( Commonwealth of Zion Assembly ).
The Commonwealth of Zion Assembly is an international church sent to reach out to the unreached in our generation. We are quite excited by your interest in our church and sincerely hope that your experience with us will inspire you into a deeper sense of purpose and walk with God.