YOUTH ALIVE FELLOWSHIP YOUTH AFLAME PRAYER SESSIONS
The Bible says to "Remember now thy Creator in the days of thy youth, while the evil days come not, nor the years draw nigh, when thou shalt say, I have no pleasure in them; – Ecclesiastes 12:1". Find out more about the Youth Aflame below.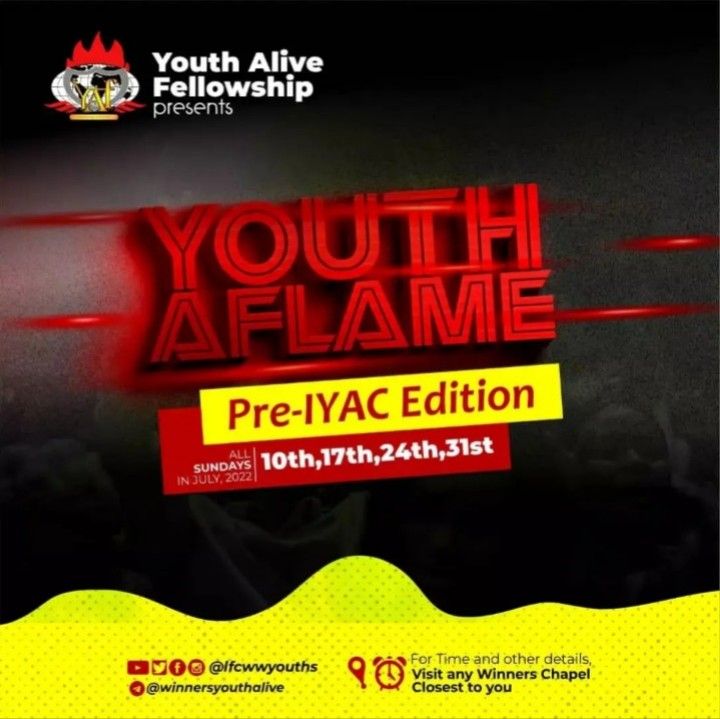 WHAT IS YOUTH ALFAME?
Youth Aflame is an event where youth gather in the spirit of a revival to seek the face of God, and to build capacity for the delivery of God's agenda. The strength of the youth lies in God. The more you seek God, the more the Strength.
Isaiah 40: 31 NIV
"but those who hope in the LORD will renew their strength. They will soar on wings like eagles; they will run and not grow weary, they will walk and not be faint."
Towards taking maximum delivery of all that God has ordained for the youth, the Youth Alive Fellowship of the Winners Chapel International, always presents a specialized youth aflame prayer session before every event to seek God's face, and after the event to thank God for the full delivery.
This event is convened by the YOUTH ALIVE FELLOWSHIP, which is the youth arm of the Living Faith Church International.
YOUTH ALIVE ANNUAL EVENTS AND PROGRAMMES
Remember you can always get information on the Youth Alive Fellowship and other Christian bodies like this on the CHRISTIAN EVENTS website.