WEEK OF SPIRITUAL EMPHASIS FOR THE MONTH OF OCTOBER 2021 WITH BISHOP DAVID OYEDEPO.
This is the live broadcast of Winners Chapel Week of Spiritual Emphasis for the month of October 2021
Click the Video below to watch the October 2021 Week of Spiritual Emphasis live stream from Faith Tabernacle, Canaanland, Ota, Nigeria.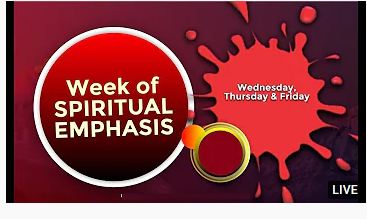 Ministering live is Bishop David Oyedepo, the apostle over the Living Faith Church worldwide.
TIME: 5pm
Click play to watch the video below.
You are watching Winner's Chapel Week of Spiritual Emphasis October 2021- Day 1 (Wednesday).
WHEN IS THE WINNERS CHAPEL WEEK OF SPIRITUAL EMPHASIS
The Winners Chapel Week of Spiritual Emphasis is a monthly service that takes place every first week of the month from Wednesdays- Fridays. And it also includes fasting and prayer and a feast of the holy communion at each service. It is an avenue for worshipers to start the new month by laying down their heart desires and concerns before God, while He empowers them to go through the month triumphantly.
THEME AND THE BOOKS FOR THE MONTH OF OCTOBER 2021
The theme for the month of October at Winners Chapel worldwide, has been declared by Bishop David Oyedepo to be "God's Word Still Works Wonders Today – Psalm 119:18 ".
The books for the month of October 2021, authored by the Bishop are as follows;
Turnaround Power of The word
The Force Of Freedom
Satan Get Lost
Born To Win
Please be informed that all these titles are also available on www.domionliestore.org , Amazon store and Apple online store.
ABOUT WINNERS CHAPEL INTERNATIONAL

Living Faith Church Worldwide (also known as Winners Chapel) an Evangelical charismatic Christian denomination and a megachurch. The headquarters is located in Ota, Nigeria. The organization has since become a global network of churches with congregations in 65 countries.