LIVING FAITH CHURCH(WINNERS CHAPEL) SPECIAL LIBERATION SERVICE MAY 2022
LIVE ONLINE WITH BISHOP DAVID OYEDEPO
You are on to the livestream for the Winners Chapel International 41st year anniversary. This kingdom milestone is a celebration of the Liberation mandate given by God to His servant Bishop David O. Oyedepo. Please find details below;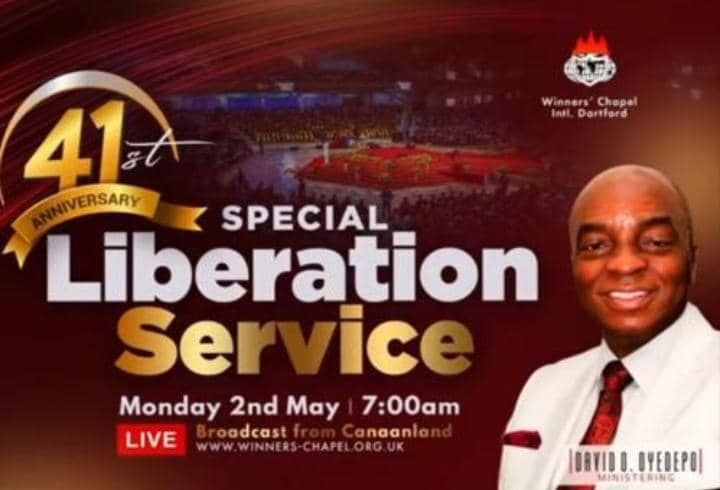 To God alone be the glory! The liberation Mandate of the WINNERS CHAPEL will be 41 years in progress this Sunday, 1st May 2022. To commemorate this milestone, a global liberation service with BISHOP DAVID OYEDEPO will be holding on Monday 2nd May 2022 and the service will be streamed live from the faith tabernacle, to all  Living Faith Churches around the World.
To join Winners chapel 41st Year Anniversry Service, please click the play button below.
Your Are Watching 41st Year Anniversary Service from Living Faith Church
ABOUT THE LIVING FAITH CHURCH WORLDWIDE
The living Faith Church aka Winners' Chapel is an international church with branches across over 4 continents. The Ministry is presided by Bishop David Olaniyan Oyedepo. In 1999, the BBC reported that Faith Tabernacle was the largest church in the world with respect to how many worshipers it can seat. It has a seating capacity of over fifty thousand people. The largest church in terms of size is Basilica of Our Lady of Peace.
Remember you can always get information on a variety of Christian events happening around you and globally on
CHRISTAINEVENTS.COM.NG