HARVESTERS WINEPRESS 2021.
Winepress is our annual spiritual encounter and renewal conference with the aim to stir your faith and give you direction for the year.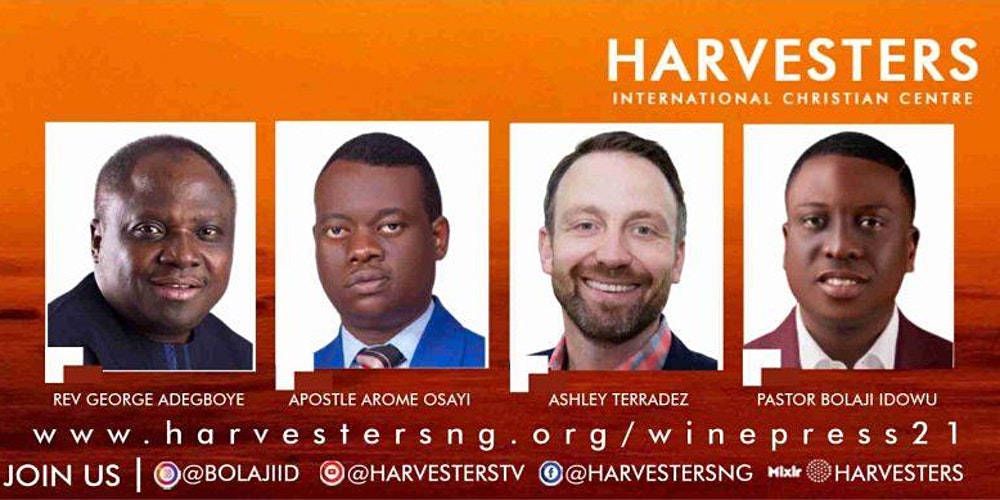 WINEPRESS 2021 DETAILS
We are glad to receive you at this year winepress which is prayerfully planned to change your life forever as we will have a great time of intense prayer sessions, teaching sessions that will bring you clarity and take you deeper in God and also bring you into an atmosphere of the supernatural where all things are possible.
At this year winepress, we are honored to host delectable and anointed men and woman of God:
Rev George Adegboye
 Apostle Arome Osayi
Pastor Ashley Terradez
Pastor David Hernandez
Pastor Mowunmi Idowu
Pastor Bolaji Idowu
WINEPRESS 2021  general sessions starts on Wednesday evening 27th January, 2021 by 4:00 pm held at our campuses and also online via all our available social media platforms and handles.
The conference will be rounding off on Sunday 31st January 2021 at all Harvesters' campuses in their different service times.
We are looking forward to a remarkable time hosting you.
Date And Time
Wed, Jan 27, 2021, 4:00 PM
Sun, Jan 31, 2021, 8:00 PM WAT
WINEPRESS 2021 EVENT CENTRES:
Harvesters International Christian Center
BAGADA CAMPUS: Plot 5-7 Gbagada Oshodi Expressway, Opp Mobil Filling Station, Gbagada, Lagos.
LEKKI CAMPUS: Block 94, Plot 22, Providence street, off Admiralty, Lekki phase 1, Lagos
IKEJA CAMPUS: Tyttlo Event Centre, Beside Esporta Suites, CMD Road, Magodo G.R.A Extension, Magodo, Lagos
ANTHONY CAMPUS: Northgate Arena. 308, Ikorodu Road, Beside Theodolite House, Anthony, Lagos
ABOUT HARVEST WINEPRESS
WINEPRESS is a Flagship Event in Harvesters where we help you become spiritually prepared for the new year by opening you up to receiving the fullness of what God has for you in the new year.
We believe the New Year brings with it new opportunities to explore and conquer new territories and reign in all aspects of life because we know that everyone is created by God to dominate, be fruitful and multiply!
And we know of a truth, that WINEPRESS 2021 will help set you on a path to becoming all that God has for you; all you just have to do is release your Faith for the Supernatural and believe that God's super interested in making you become all you're meant to be!