The Outpouring 2022 – Revival • Worship •Prayers
The 2022 and second edition of "The Outpouring" gospel outreach and concerts by Dunsin Oyekan holds this Sunday 22nd May 2022. Continue below for more details about the event.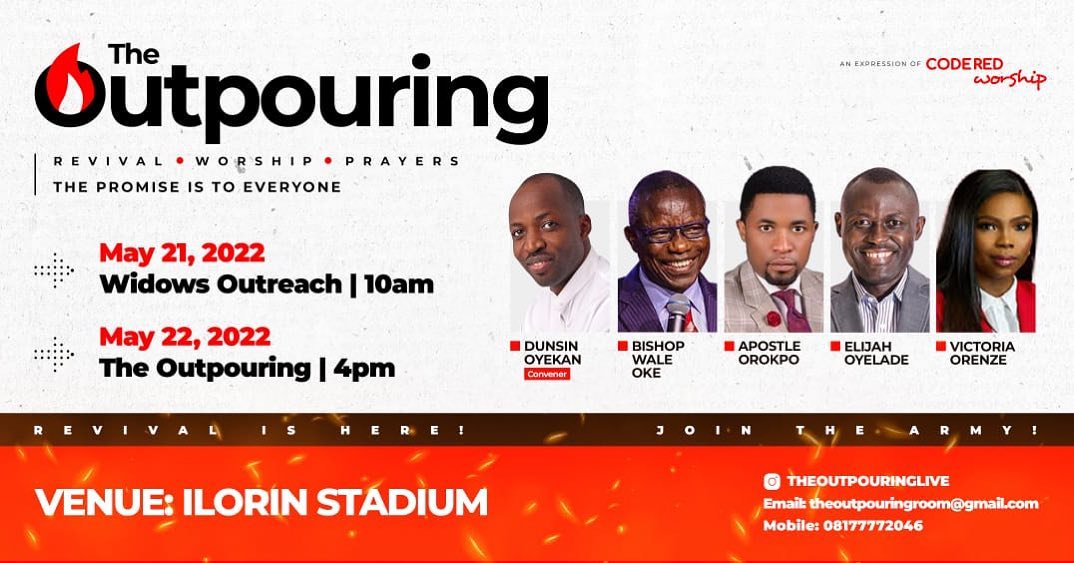 The second edition of "The Outpouring" hosted by the anointed music minister will be taking place at Ilorin Stadium in Kwara State on the  21st and 22nd of May, 2022.
The Convener of the event – Dunsin Oyekan also planned for a Widows Outreach which will take place a day before the main events at exactly 10 PM WAT.
Ministering live at the Outpouring 2022 are Bishop Wale Oke, Apostle Orokpo, Elijah Oyelade, Victoria Orenze.
Come experience the power of revival, worship, and praise.
THE OUTPOURING DETAILS.
Headline:  The Promise is to Everyone.
Date: Sunday 22nd of May, 2022
Time: 4 PM WAT.
Host: Dunsin Oyekan
Ministering Live: Bishop Wale Oke, Apostle Orokpo, Elijah Oyelade, Victoria Orenze