SHILOH 2022 – Covenant Highways, the annual word feast of the Winners family holds live from the Faith Tabernacle, Canaanland Nigeria with Bishop David Oyedepo. In this blog, you can watch all the sessions of Shiloh 2022. Please find details below.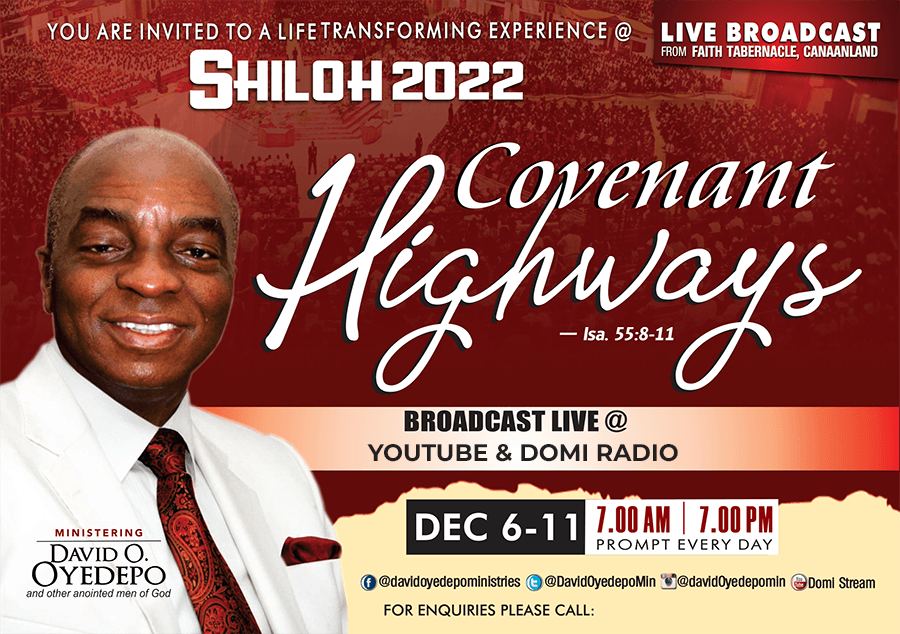 Shiloh 2022 tagged – "Covenant Highways" begins with an Encounter night on 6th December 2022. Worshipers across the world can now join the live event. According to the Bishop,
To gain access to the tables of the covenant at SHILOH 2022, one must:
Have a heart for God – 1 Sam. 13:14/ Jhn 15:15/ Act. 2:30
Engage the ministry of the Holy Spirit – Jhn 14:26/ Jhn 16:12-14/ 1 Cor. 2:12-14
Seek for access through prayer and coupled with fasting as may be prompted from time to time – Psa. 119:18/ Isa. 58:6/8
Engage in searching of scriptures– Psa. 19:7-8/ Psa. 119:97-100/ 1 Tim. 4:13/15
Seek access through those who have proofs of access to the tables of the covenant – Psa. 36:9/ 6:12/ Heb. 13:7
Please click the play button below to watch the ongoing session.
You are watching Shiloh 2022 – Covenant Highways
To position yourself for the full delivery of your inheritance at Shiloh 2022, you are advised to get acquainted with all the sessions, and resources of Shiloh 2022. Please do so by clicking on the links below;
Read the Official Declaration on Shiloh 2022 By Bishop David Oyedepo Here.
Shiloh 2022 prayer guidelines – Pray in Line with the Covenant using this guide.
Shiloh 2022 Specialised Sessions.
Shiloh 2022 Hour of Visitation.
Shiloh 2022 Encounter Night.

(Tonight's Session begins at 6:00 pm GMT+1)

Shiloh 2022 Prayer Hour.
Shiloh Testimonies.
Shiloh Messages.
Shiloh is an annual word feast convened by the Living Faith Church International. The scriptures establish that "In the last days the mountain of the Lord's temple will be established as the highest of the mountains; it will be exalted above the hills, and all nations will stream to it." – Isaiah 2:2. This prophecy has continued to materialize in our days, one of which is the influx of unprecedented multitudes into the Winners chapel annual Shiloh event… Read more.