RCCG Sunday School Teacher's Manual 3 October 2021 Lesson 5 – Integrity.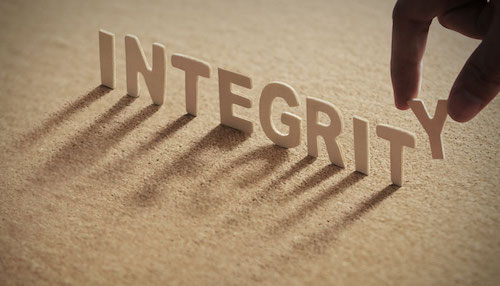 TOPIC: Integrity
OPENING PRAYER: Father, I receive the grace to be a Christian indeed.
MEMORY VERSE: Proverbs 20:7
The just man walketh in his integrity: his children are blessed after him.
BIBLE PASSAGE: Daniel 6:1-5 (KJV)
1 It pleased Darius to set over the kingdom an hundred and twenty princes, which should be over the whole kingdom;
2 And over these three presidents; of whom Daniel was first: that the princes might give accounts unto them, and the king should have no damage.
3 Then this Daniel was preferred above the presidents and princes, because an excellent spirit was in him; and the king thought to set him over the whole realm.
4 Then the presidents and princes sought to find occasion against Daniel concerning the kingdom; but they could find none occasion nor fault; forasmuch as he was faithful, neither was there any error or fault found in him.
5 Then said these men, We shall not find any occasion against this Daniel, except we find it against him concerning the law of his God.
LESSON INTRODUCTION: The Hebrew word translated "Integrity" means the condition of being without "blemish. It connotes completeness, perfection, sincerity, soundness, uprightness, wholeness". Integrity is a practise of being honest and showing a consistent and uncompromising adherence to strong moral and ethical principles and values.
It is standing for the truth regardless of its consequences (Job 2:9-10; Dan. 3:16-18). It is also when a person works his talk (1 Samuel 12:2-4). Although integrity comes with diverse challenge challenges, yet, it is so important and highly rewarding.
TEXT REVIEW:

A. There are lessons to learn from the story of Daniel in our text today:
i. King Darius decided to appoint one hundred and twenty princes over his kingdom, V1
ii. He also placed three presidents over the
one hundred and twenty princes. V2a
iii. Daniel was first of the three presidents. V2a
iv. The princes were to report directly to the presidents. V2b
v. Daniel was the most preferred of the three presidents and princes because………….v3a
vi. The king…………v3b
B. As a result of the favour Daniel found from the king,
i. The presidents and the princes
a. ………………………v4a
b. but………………….v4b
c. because……………v4c
ii. Then, these men said…………..v5
LESSON OUTLINES:
LESSON OUTLINE 1: IMPORTANCE OF INTEGRITY
Teacher should allow the students to mention some importance of integrity in their daily relationship with people.
A. Integrity should be the core quality of every believer's life.
i. It is a fundamental proof of one's belief in the Gospel of our Lord Jesus (2 Cor.5:17; Heb. 4:15)
ii. It is also a proof to others that one is a child of God (Luke 4:1-4)
B. Integrity is a character which makes a person not to waiver (Job 2:9)
C. Through integrity, a person becomes not just confident but also reliable to family members, subordinates and superiors.(1 Sam.12:3-4)
D. Integrity makes a person to be honest in character, honour their words, promises and be committed to responsibilities (Josh. 2:12-14: Josh. 6:22-23)
E. Integrity helps a person to recognise his/her weakness, take responsibilities for actions or inactions (2 Sam.12:13) and take necessary corrective action for failure without minding the cost. (Gen.26:9-11)
F. Integrity makes a person to be consistently truthful (Luke 16:10).
CLASS ACTIVITY 1: Class should discuss, how a believer should relate with a person who has no integrity.
LESSON OUTLINE 2: BIBLICAL INSTANCES AND REWARDS OF INTEGRITY
A. Teacher should allow the students to mention Bible Characters noted for integrity.
Searching through the Bible, we find characters that are classical examples of integrity. Below are some of them;
a. Abimelech, the King of Gerar (Gen.20:3-7)
b. Joseph (Gen.47:14)
c. Prophet Samuel (1 Sam. 12:3-4)
d. King David (1 Kgs.9:4)
e. Job (Job 2:3; 9-10).
f. Apostle Paul (Acts 20:32-33)
g. The Lord Jesus Christ (John 14:30)
B. Teacher should allow the class to mention some rewards of integrity.
Integrity, despite its challenges in the world we live in, has numerous rewards:
i. God will vouch for the person (Gen.18:19; Job 2:3)
ii. God will keep the fellow from falling into sin (Gen.20:5-6)
iii. The fellow will enjoy peace (Psalm 37:37)
iv. He will enjoy divine guidance (Pro. 11:3)
v. A person of integrity will enjoy unprecedented promotion, favour and good success (Gen.41:39-41)
vi. He will also enjoy divine provisions (Ps.84:11)
vii. God will preserve (Ps.25:21-22; Dan.6:20-22) and give him generational blessings (Prov.20:7).
CLASS ACTIVITY 2: Students should mention people around them who are known for integrity.
Teacher should award Ten (10) marks for every student that participates.
SUMMARY:
It is important for every believer to be known for integrity.
CONCLUSION:
It is impossible to have real integrity without Jesus as our Lord and Saviour. Therefore, we must be in Christ to exhibit integrity. It is highly rewarding.
EVALUATION:
How important is integrity to a believer?
SUMMARY:
It is important for every believer to be known for integrity
CLOSING PRAYER:
God, please make me a Christian worthy of emulation
ASSIGNMENT:
Identify five (5) areas of life where you can be known for integrity.