RCCG Day 25 Fasting Prayer Points as Released by The Redeemed Christian Church of God Directorate of Prayer.  50 Days Fasting & Prayer Guide for RCCG 2023 Fasting and Prayer is here.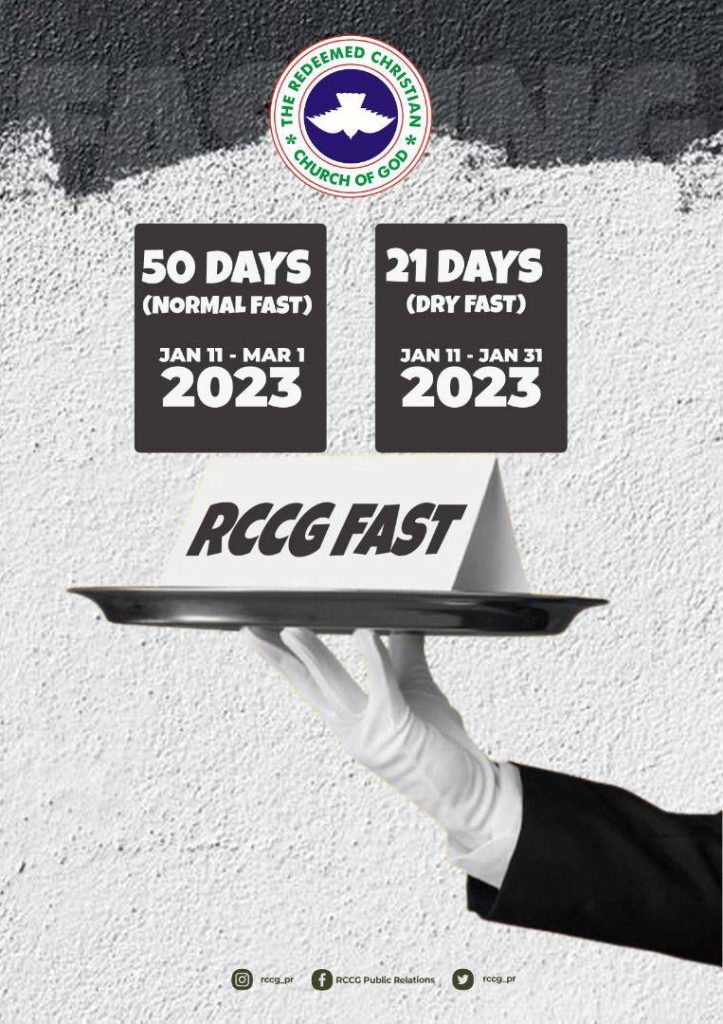 ⇒Click here to see Day 26 Prayer Points.
Find out more about the RCCG Annual Fasting and Prayer Here
RCCG 50 DAYS FASTING AND PRAYER GUIDE
TOPIC: MARITAL ISSUES
DAY 25 – Saturday, February 4th, 2023
Bible Text: Matthew 19:3
INTRODUCTION: 
Couple (Male and Female) in any marriage are two individuals with different background coming together as one, hence, occasional having differences is inevitable. Submission to scriptural principles, however, keeps the relationship strong and vibrant till the end.
⇒ Click here to watch the Fasting and Prayer Evening service @ 5:00 pm
1. Thank God for His faithfulness over every home that is maintaining their marriages. – Genesis 2:22-24
2. Thank God Almighty who is the originator of marriage in the garden of Eden. – Genesis 2:22-24
3. Father, please take away every spirit of barrenness in our lives. – Deuteronomy 7:15
4. Father, please uproot by the fire of the Holy Ghost every seed of bareness in our lives. – Matthew 15
5. Father, every satanic covenant that is going against Your covenant of blessing in our marriage, I command the Holy Ghost fire to consume them. – Revelation 20:19
6. Father, I come against every spirit of lack in my marriage to be destroyed now. – 2Corinthians 3:5
8. Father, I take authority over every outside influence that is polluting my marriage. – Matthew 19:6
9. Father, I command every seed of separation that has been sown upon our marriage be uprooted by the fire of the Holy Ghost. – Matt 15:13
10. Father, consume by the fire of Holy Ghost every garment of strife and violence that enemies have put on our marriage. – Matthew 12:16
11. Father, I decree every arrow shot to destabilize my marriage is broken into pieces. – Isaiah 54:17
12. Father, every oppressor of joy and peace in my marriage, break them into pieces. – Psalm 72:4
13. Father, please destroy every spirit of unforgiveness causing problems in our marriage. – Matthew 6:14-15
14. Father, I decree my marriage shall fulfill divine purposes, in Jesus name. – Matthew 18:18
15. I speak peace, unity and love into my marriage in Jesus name. – Job 22:28
⇒ Click here to find out more about the RCCG Annual Fasting and Prayer