Engage these Daily Prayer and Scriptures for today. Take to God all that you desire in prayers, while you watch restfully as he steps into situations to bring out beauty and colour in your live. Today, as you commune with God, know that God has settled all that concerns you, Just believe and pray with faith in your heart. Remain blessed in Jesus name, Amen.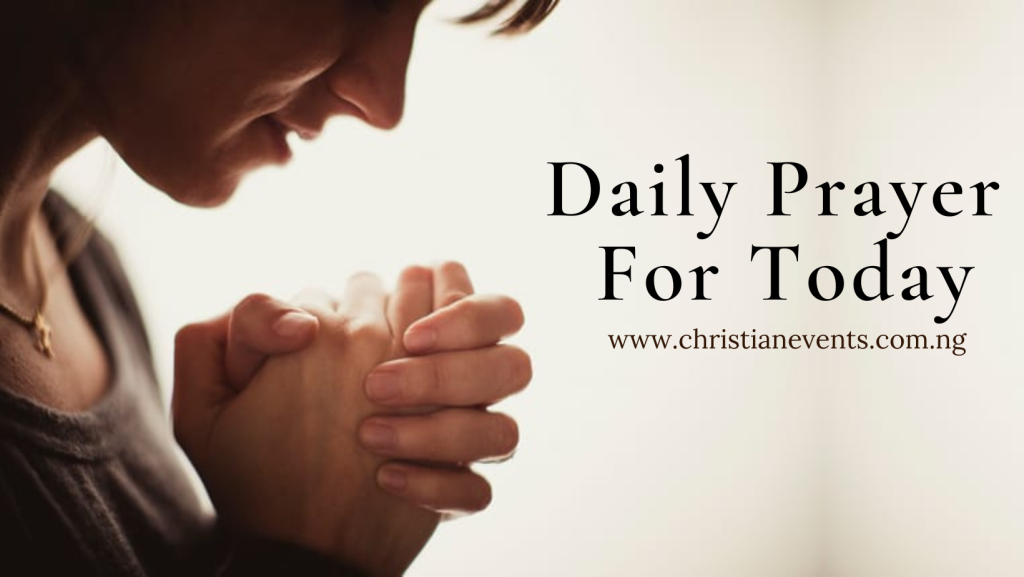 Today's Prayer is Authored by: Kristine Brown
"Be joyful in hope, patient in affliction, faithful in prayer." (Romans 12:12 NIV)
Let's be honest. No one wants to pray for patience. I may even cringe a little when I come across the word patience in Scripture. I'm tempted to skim right past it to get to the good part. Praying for patience? No thank you. Especially, when I'm not getting the answer I want, or my difficult circumstances never seem to end.
If you've found it hard to pray for patience, you're not alone. But I have good news for us today that just might change our perspective on patience. My apprehension in praying for patience has kept me from seeing the beauty of what God has to say on the subject. Maybe that's why I breathed a deep sigh of relief when I discovered the meaning behind Paul's powerful words in Romans 12:12, "Be joyful in hope, patient in affliction, faithful in prayer."
I can say with all confidence, this is not the verse you want to quote to someone facing a long-term health battle. Yet these Holy Spirit-inspired words hold so much hope for our hurt. The Greek word for patient in this context can mean "to stay behind; to stand firm, endure, or persevere." I love the NASB translation which reads, "rejoicing in hope, persevering in tribulation, devoted to prayer." (Romans 12:12 NASB, emphasis mine)
The word persevering gives us a broader picture of what it looks like to exhibit godly patience. God doesn't call us to simply tolerate the hurt; he expects us to trust him with it. The Believer's Bible Commentary says, "We are exhorted to be patient in tribulation—that is, to bear up bravely under it." To bear up bravely. What a call to action for us all! That's what Paul did, and what God admonishes us to do, too. Then, God's promise goes even further.
God not only refuses to leave us in our suffering, but He also goes before us. "The LORD himself goes before you and will be with you…" (Deuteronomy 31:8) By staying safely behind Jesus Christ— our guiding Light— we allow him to lead us through affliction. He will whisper a quiet, calming peace on even the most difficult days. In this way, he teaches us to persevere and draw strength from him. So, as we stand behind our Lord and persevere through the trials we face, let's rejoice in our new understanding of godly patience in affliction. We can do this, with Jesus leading the way. Let's band together today and commit to persevere and bear up bravely in affliction.
Let's Pray:
Dear Heavenly Father,
Thank you for your guiding presence. I know you are here in the midst of my suffering. It's hard for me to be patient and endure the trials I face. But you are a faithful God, and I trust you completely in the good times and the struggles of life. Your Word says in Romans 5:3, "Not only so, but we also glory in our sufferings, because we know that suffering produces perseverance." I don't always feel like giving praise when I'm sick or afflicted. Sometimes I try to understand why suffering exists on earth. But your truth reminds me that through the hardest seasons of my life, you are helping me "grow in the grace and knowledge of our Lord and Savior Jesus Christ." (2 Peter 3:18) In difficult times, I learn to persevere. Thank you, Lord.
When I get impatient, weary, or discouraged, help me remember you go before me. You are leading the way, encouraging me with every difficult step forward. You also stand right beside me, offering peace and comfort. My affliction will not last forever. As long as I keep my eyes on you, I have hope for tomorrow. May others be drawn to your perfect love when they see me following your ways. May they see patience and perseverance in me that draws them to you. In Jesus' name, I pray, Amen.
This Is the Assurance of Answers to Your Prayers – Matthew 7:7-11
Ask, and it will be given to you; seek, and you will find; knock, and it will be opened to you. For everyone who asks receives, and the one who seeks finds, and to the one who knocks it will be opened.

Or which one of you, if his son asks him for bread, will give him a stone? Or if he asks for a fish, will give him a serpent? If you then, who are evil, know how to give good gifts to your children, how much more will YOUR FATHER WHO IS IN HEAVEN GIVE GOOD THINGS TO THOSE WHO ASK HIM!
Please pray with faith in your heart and remember to lead someone to pray with these prayer points!
Click here to See More Prayers
Prayers for today is written by Believers from "ibelieve", a daily life audio podcast. Want to experience life-changing spiritual growth, then make use of these daily prayers. Read more.