Engage these Daily Prayer and Scriptures for today. Take to God all that you desire in prayers, while you watch restfully as he steps into situations to bring out beauty and colour in your live. Today, as you commune with God, know that God has settled all that concerns you, Just believe and pray with faith in your heart. Remain blessed in Jesus name, Amen.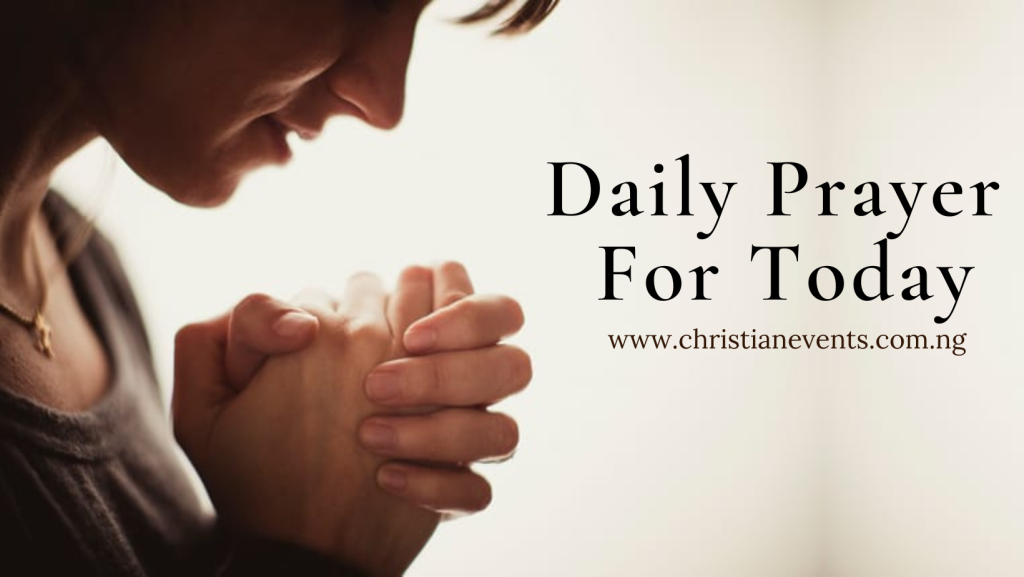 Today's Prayer is Authored by: Lynette Kittle
"When Jesus saw their faith, He said to the paralyzed man, "Son, your sins are forgiven" – Mark 2:5
Do you have friends who are in need of your faith? Maybe you haven't ever thought of it in that way or even considered it a possibility, but your faith can make an eternal life-changing difference in the lives of your friends. Still, maybe you're not sure if that's even possible. So let's look at the story in Mark 2:3 of friends helping a friend. "Some men came, bringing to him a paralyzed man, carried by four of them."
From the story, we know there were at least five men, four carrying one paralyzed man, but we don't know how many men there were all together.
Details, Details, Details
Although Scripture tells us a few details, it leaves many unanswered, such as whose idea was it to bring the paralyzed man? Was it his? Did he ask his friends to bring him? Or was it their idea? Did they talk him into it or bring him without asking him?
Whereas we're often left without all the details in various biblical situations, we trust Scripture gives us the most important ones to know and focus on. In this story, we see a man in need of healing receiving forgiveness for his sins when Jesus saw the faith of these men. Scripture doesn't tell us if only some of them had faith or whose faith exactly Jesus saw, but it does say the plural "their," so we know it was more than one person's faith being recognized.
As well it seems this story points out how important it is whom we hang out with on a regular basis. What if the man who needed forgiveness and healing had no faith, but because of his friends' faith in bringing him to Jesus that day, he received both? Sadly if he had hung out with faithless men, he would most likely have remained in his sinful, broken condition.
Who Are Your Friends?
Do you have friends who don't have a relationship with God because they've never received forgiveness for their sins through Jesus' death on the cross and resurrection? If so, your faith can make a difference in their lives. All of eternity lies ahead for them, whether they believe it or not. Without Jesus, they will face eternal death and separation from God.
But the good news is that you, their friend, have faith. Because you do, ask God to give you opportunities to share your faith with them like the men who carried their paralyzed friend to see Jesus. Like them, be willing to go the extra mile to help your friends receive Salvation in Jesus Christ.
When it comes to praying for your friends, be passionate, asking God to do whatever it takes for them to receive His gift of new life. This truly is a life-or-death situation, where nothing on earth is more important for them than having their sins paid in full by the blood of the Lamb. Without it, your friends will be lost forever.
Ephesians 1:7 explains, "In Him we have redemption through His blood, the forgiveness of sins, in accordance with the riches of God's grace."
Let's pray:
Dear Father,
We ask you to reach out and reveal Your truth to our unsaved friends. Intervene, O Lord, in their lives today. Free them from unbelief. Father, please soften their hearts towards You. Let their ears be opened to hear, their eyes to see, and their hearts to understand Your truth so that they might receive Your Salvation through Jesus Christ (Matthew 13:15).
Do whatever it takes in their lives, Lord, to bring them to faith in You. As Acts 4:12 reveals, "Salvation is found in no one else, for there is no other name under heaven given to mankind which we must be saved." Help them to understand that Jesus is the only way to You, Father (John 14:6), and is able to save them completely, living forevermore to intercede on their behalf (Hebrews 7:25). Free them from unbelief, dear Father, and give them a new heart and a new spirit within them (Ezekiel 36:26).
In Jesus' name, Amen
This Is the Assurance of Answers to Your Prayers – Matthew 7:7-11
Ask, and it will be given to you; seek, and you will find; knock, and it will be opened to you. For everyone who asks receives, and the one who seeks finds, and to the one who knocks it will be opened.

Or which one of you, if his son asks him for bread, will give him a stone? Or if he asks for a fish, will give him a serpent? If you then, who are evil, know how to give good gifts to your children, how much more will YOUR FATHER WHO IS IN HEAVEN GIVE GOOD THINGS TO THOSE WHO ASK HIM!
Please pray with faith in your heart and remember to lead someone to pray with these prayer points!
Click here to See More Prayers
Prayers for today is written by Believers from "ibelieve", a daily life audio podcast. Want to experience life-changing spiritual growth, then make use of these daily prayers. Read more.