DAILY PRAYER AND SCRIPTURE FOR TODAY.
When we pray, God hears and answers! Engaging in Daily Prayer and Scriptures is our unfailing platform for bringing to God all that pertains to us, while we watch restfully as he steps into situations to bring out beauty and colour in our lives. Today, as you commune with God, we urge you to know that God has settled all that concerns you, Just believe and pray with faith in your heart. Remain blessed in Jesus name, Amen.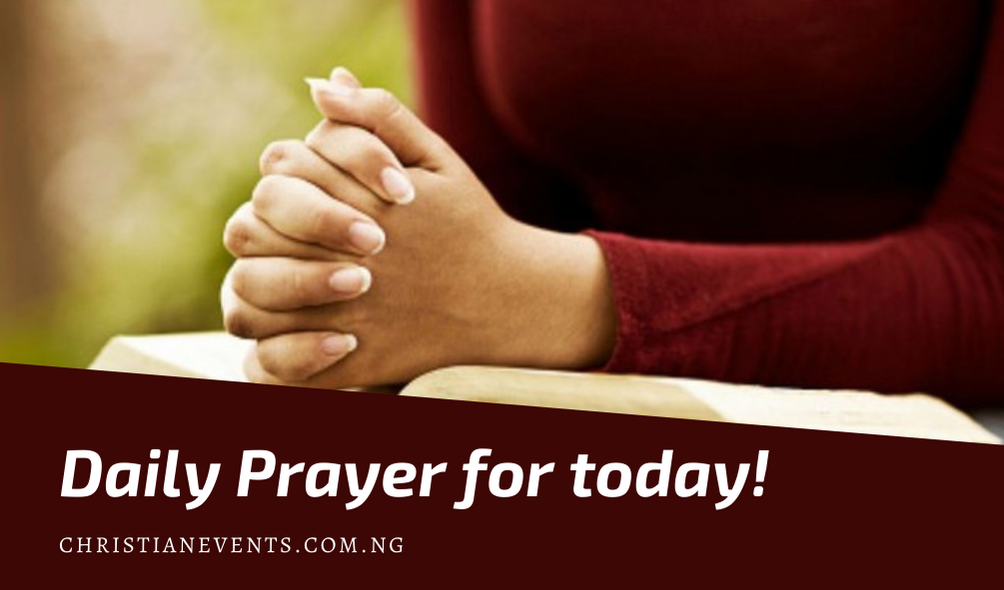 Today's Prayer is written by: Tiffany Curtis
Prayer Focus For Today 13th July 2022: A Prayer to Feel God's Nearness
"The LORD is near to all who call on him, to all who call on him in truth. He fulfills the desires of those who fear him; he hears their cry and saves them. The LORD watches over all who love him" – Psalms 145:18-20
Like many people out there, I live far away from my hometown and blood relatives. I grew up in northeast Ohio and now live in central Virginia, making the distance between myself and my parents, grandparents, cousins, friends, etc. about an 8-hour drive. I have one sibling who also resides in Virginia, but we live just over two hours apart. The distance between us all makes intentional communication extremely important. If we don't make an effort to reach out to each other, we could potentially go days, weeks, even months without ever speaking to each other.
Thankfully, the technology we have today makes it easy to stay in touch with people, no matter how close or far they are. If I want to talk to my parents, I can easily call or FaceTime them. If I want to check in on a friend, I just send them a text.
The issue then lies in the moments where I don't just want to call or text loved ones, but to be in their presence. To have that quality time and comforting feeling that we only get when we are physically in the same place. How great would it be if our technology went one step further, and we could not only call our loved ones, but transport them into our home, car, or coffee shop whenever we needed them.
NSPPD LIVE 13TH JULY 2022 – MIRACLE SERVICE
Though we may never have the ability to do this with our friends and family here on earth, we do have a Father who is able to meet us anywhere, anytime. All we have to do is call on Him, and He hears us and is present with us. Even when it doesn't feel like He is near, He is always watching over us, ready to be right at our side when we call on Him.
But just because He is always near, doesn't mean we should apathetically sit and wait for Him to show up. Every relationship needs communication in order to thrive, including our relationship with God. Just like with our loved ones, we must put forth the effort to intentionally communicate with the Father. If we stay in constant communication with our friends and family, shouldn't it be an even bigger priority for us to have this same communication with our Savior?
Make an intentional effort to speak to the Father today and every day. It doesn't have to be an elaborate, well-thought-out message; talk to Him about your day, your struggles, your triumphs. God desires to draw near to us just as much as we desire to feel the comfort of His presence.
As Psalms 145:18 says, "The Lord is near to all who call on him." This is His promise to us – that when we call on Him, He is near. No 8-hour drive, no connecting flights, and not just through a cell phone screen. He is right here, right now.
Call on Him today – He is already so much nearer than you think!
DAILY BIBLE VERSE AND PRAYERS FOR WEDNESDAY 13TH JULY 2022
PRAYER FOR TODAY.
Let's Pray:
Lord Jesus,
Thank you for hearing us when we call on your name! How reassuring it is to know that we serve a God who is all-powerful, yet still hears our faintest cries. Thank you that, even when we don't realize it, you are near to those who love you. You want a relationship with us, which is an amazing thing!
Help us to be intentional when it comes to communicating with you. It is so easy to become apathetic or negligent with our prayer lives, but prayer is our lifeline to your presence! Let us fully realize the importance of regularly talking with you. You are our greatest source of comfort and strength.
Lord, help us to feel your nearness today. No matter where we are or what we're doing, you have given us the ability to call on you and to feel your presence. Thank you for not being a distant God, but one who desires for us to draw closer and closer as you pursue our hearts.
In Jesus' Name, Amen.
This Is the Assurance of Answers to Your Prayers – Matthew 7:7-11
Ask, and it will be given to you; seek, and you will find; knock, and it will be opened to you. For everyone who asks receives, and the one who seeks finds, and to the one who knocks it will be opened.

Or which one of you, if his son asks him for bread, will give him a stone? Or if he asks for a fish, will give him a serpent? If you then, who are evil, know how to give good gifts to your children, how much more will YOUR FATHER WHO IS IN HEAVEN GIVE GOOD THINGS TO THOSE WHO ASK HIM!
Please pray with faith in your heart and remember to lead someone to pray with these prayer points!