DAILY PRAYER AND SCRIPTURE FOR TODAY.
When we pray, God hears and answers! Engaging in Daily Prayer and Scriptures is our unfailing platform for bringing to God all that pertains to us, while we watch restfully as he steps into situations to bring out beauty and colour in our lives. Today, as you commune with God, we urge you to know that God has settled all that concerns you, Just believe and pray with faith in your heart. Remain blessed in Jesus name, Amen.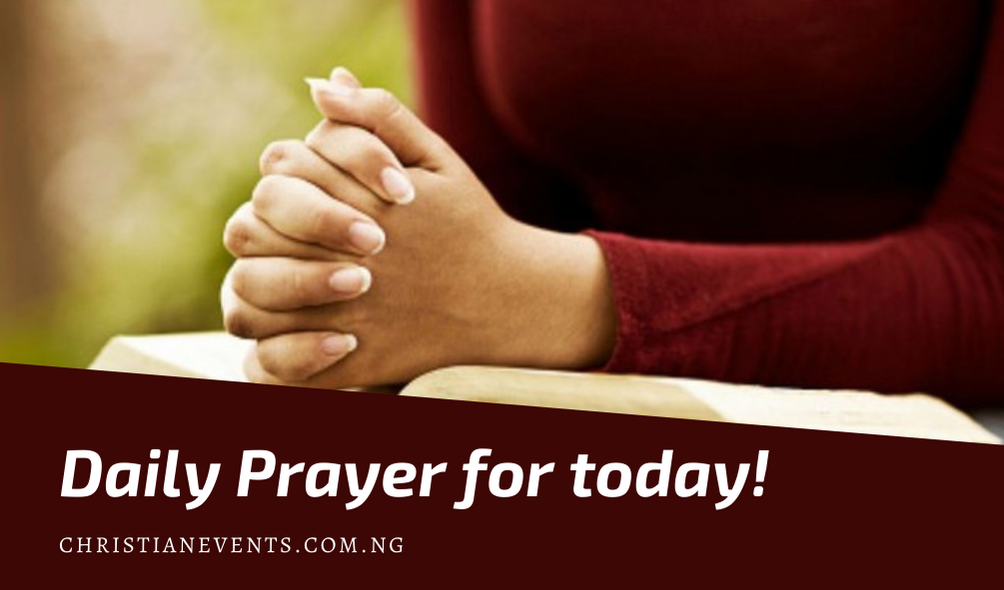 Today's Prayer is written by: Tiffany Curtis
Prayer Focus For Today 2nd August 2022: A Prayer to Give Up Our Need for Recognition
"He must become greater; I must become less." – John 3:30
Being raised in the church and going to a Christian school growing up meant that there were some questions that I always had an answer ready for. One of these classic questions was, "What's your favorite Bible verse?" to which I always responded, "John 3:30." I remember the first time I read that verse and how I thought to myself, "That's the one. That's my favorite verse." I remember liking the simplicity of it. Perhaps, as a child, it was just the easy memorization that drew me to it as well. It wasn't until years and years down the road that I would truly come to understand the gravity of this simple verse.
For many of us, it's safe to say that we enjoy receiving recognition for the things we do. We naturally desire to be recognized and praised for our accomplishments within our workplace, family, and friend groups. As a child, it was easy for me to look at this verse and think that allowing God to be greater than myself would be a simple task. But as we get older, it becomes easier and easier to justify praising ourselves for our skills and the good things in our lives rather than God.
For me, my top love language by far is words of affirmation. This, of course, isn't a bad thing; however, it can become a bad thing if I allow my need for affirmation to outweigh my need to glorify God. He calls us to humble ourselves before him (James 4:10) because it is God who works through us.
If we look at the context of this short verse, beginning in John 3:22, John the Baptist is baptizing people when his followers get into an argument with a Jew over ceremonial washing. John's followers questioned why Jesus was also baptizing people across the countryside. John says to them, "A person can receive only what is given them from heaven. You yourselves can testify that I said, 'I am not the Messiah but am sent ahead of him.' The bride belongs to the bridegroom. The friend who attends the bridegroom waits and listens for him, and is full of joy when he hears the bridegroom's voice. That joy is mine, and it is now complete. He must become greater; I must become less." (John 3:27-30)
John's response is humbling. He dedicated his life to baptizing others, but as soon as Jesus dove into his ministry, John was immediately prepared to take a backseat. He made it clear to everyone around him that his gifts and abilities all came from heaven – not from himself. He could have easily tried to attribute this power and recognition to himself, but he gave all the glory to God, where it belonged.
Let us not forget to attribute our skills, our accomplishments, and our blessings to the One who has given it all to us.
PRAYER FOR TODAY.
Lord Jesus,
Thank you for all the things that you give us. You are generous with your gifts and blessings on our lives. Even when we fail to realize it, you are the giver of every good thing we receive.
Help us to attribute all the praise, honor, and recognition to you rather than claiming it for ourselves. Just as John the Baptist did, let us make you greater and ourselves less so that all those around us can see that you are the one who deserves all the glory. Let our lives be a testimony to your greatness and show others that it is not I, but Christ through me (Galatians 2:20).
Forgive us when we take credit for the things that you give us and try to attribute the praise to ourselves. Help us to recognize this, even when we do it unintentionally. Give us the self-awareness to always look for your hand in all things. Let us not forget that every good and perfect gift is from above, coming from the Father (James 1:17).
You are a powerful, loving, and good Savior. Thank you for all the ways that you bless our lives, both in ways we can see and in the unseen. Thank you for accomplishing your good works through us. We love you, and we give you all the praise, glory, and honor.
In Jesus' Name,
Amen.
This Is the Assurance of Answers to Your Prayers – Matthew 7:7-11
Ask, and it will be given to you; seek, and you will find; knock, and it will be opened to you. For everyone who asks receives, and the one who seeks finds, and to the one who knocks it will be opened.

Or which one of you, if his son asks him for bread, will give him a stone? Or if he asks for a fish, will give him a serpent? If you then, who are evil, know how to give good gifts to your children, how much more will YOUR FATHER WHO IS IN HEAVEN GIVE GOOD THINGS TO THOSE WHO ASK HIM!
Please pray with faith in your heart and remember to lead someone to pray with these prayer points!