DAILY PRAYER AND SCRIPTURE FOR TODAY.
When we pray, God hears and answers! Engaging in Daily Prayer and Scriptures is our unfailing platform for bringing to God all that pertains to us, while we watch restfully as he steps into situations to bring out beauty and colour in our lives. Today, as you commune with God, we urge you to know that God has settled all that concerns you, Just believe and pray with faith in your heart. Remain blessed in Jesus name, Amen.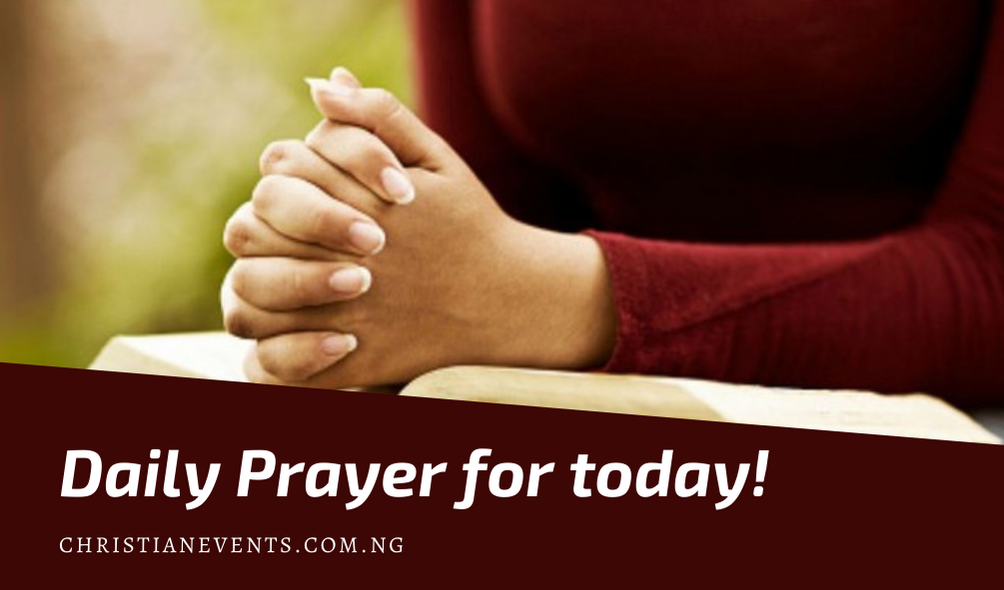 Today's Prayer is Authored by: Lynette Kittle
Prayer Focus For Today 27th December 2022: A Prayer for God to Reach Out through My Words
"Let your conversation be always full of grace, seasoned with salt, so that you may know how to answer everyone"—Colossians 4:6
Lately, it seems I've been spending more time online or on the phone with customer service people concerning orders or delivery gone amiss. It can seem like a big waste of time to many, a chore that steals away our minutes and hours from our days chalked up as a time-consuming and frustrating experience for most.
However, as Christians, we know the people on the other end of the line or chat are real individuals like us who have a soul and an eternal future, whether in Heaven or Hell. So instead of saying negative, upsetting comments to them, we can choose a better option. A truth God doesn't want me to lose sight of as a Christian is how my influence has the ability to extend even to customer service representatives.
So instead of my letting it feel like it's taking so much time to straighten things out, God's been showing me that it doesn't have to be a draining, negative experience but rather an opportunity to reach out to individuals on the other end of my conversations.
Yet it's still easy to underestimate how God can move and work in seemingly routine interactions with people we don't even know. It's wise to keep in mind how He is able to lead, guide, and connect us with just the right people to talk to in every situation, no matter how small or insignificant it may seem at the time.
What might be just another thing we have to deal with could be a turning point in another person's life. Maybe not, but what if we approach every opportunity as a possible life-changing interaction? Too dramatic, some may think? Possibly but isn't it better to err on thinking it may be a God opportunity rather than just a big waste of time?
There are so many things we don't know about the other person we're connecting and interacting with online or on a call, such as where they come from, what they've experienced in their life, do they have people who love and care about them, or even just how their day began.
These situations open the door for us to extend God's kindness, forgiveness, and compassion. Although some people believe the squeaky wheel gets results. Romans 2:4 explains, "Or do you show contempt for the riches of his kindness, forbearance, and patience, not realizing that God's kindness is intended to lead you to repentance?"
PRAYER FOR TODAY.
Dear Father,
Thank you that You are not slow in keeping Your promises to me but patient, not wanting anyone to perish but everyone to come to repentance (2 Peter 3:9). Because You are so patient with me, help me, Lord, today and every day to be patient with those I speak to in various situations, often conversations I may find inconvenient and disruptive to my daily schedule. So Father, please help me to "Be kind and compassionate to one another, forgiving each other, just as in Christ God forgave you" (Ephesians 4:32).
I ask for Your kindness, patience, and longsuffering to be present in my interactions with strangers on the other end of conversations rather than being curt and irritated. Help me, Lord, to let the light You put within me shine so brightly they will see it and be led to glorify You in Heaven (Matthew 5:16). If people misunderstand, discount my words, or even respond rudely to me, please let Your Holy Spirit lead and guide me in how to respond and what to say. I thank you because Luke 12:12 assures me, "For the Holy Spirit will teach you at that time what you should say."
Also, Father, open my eyes to not miss an opportunity to encourage a customer service person through my words and attitude, even offering to say a brief prayer with them if led by your Spirit to do so. As Ephesians 6:18 urges, "And pray in the Spirit on all occasions with all kinds of prayers and requests. With this in mind, be alert and always keep on praying for all the Lord's people."
Likewise, let me be open and ready to share Your truth as 2 Timothy 4:2 encourages, "Preach the word; be prepared in season and out of season; correct, rebuke and encourage—with great patience and careful instruction." I look to you today to work within me to cleanse me from all unrighteousness and wrong attitudes to those I exchange words with on a daily basis. Like Psalm 51:2 directs, Lord "Wash away all my iniquity and cleanse me from my sin." In Jesus' name, Amen
This Is the Assurance of Answers to Your Prayers – Matthew 7:7-11
Ask, and it will be given to you; seek, and you will find; knock, and it will be opened to you. For everyone who asks receives, and the one who seeks finds, and to the one who knocks it will be opened.

Or which one of you, if his son asks him for bread, will give him a stone? Or if he asks for a fish, will give him a serpent? If you then, who are evil, know how to give good gifts to your children, how much more will YOUR FATHER WHO IS IN HEAVEN GIVE GOOD THINGS TO THOSE WHO ASK HIM!
Please pray with faith in your heart and remember to lead someone to pray with these prayer points!