Engage these Daily Prayer and Scriptures for today. Take to God all that you desire in prayers, while you watch restfully as he steps into situations to bring out beauty and colour in your live. Today, as you commune with God, know that God has settled all that concerns you, Just believe and pray with faith in your heart. Remain blessed in Jesus name, Amen.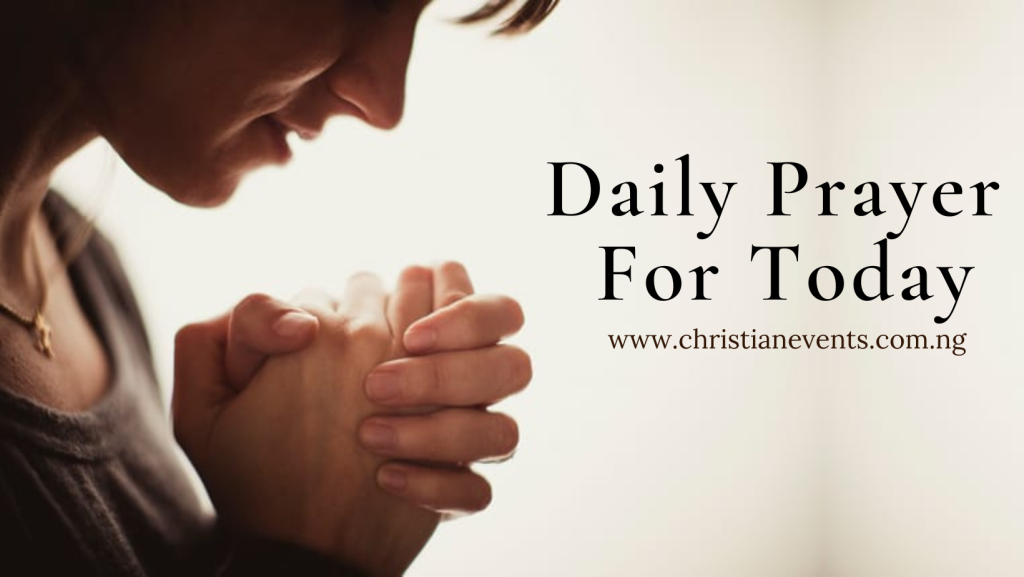 Today's Prayer is Authored by: Tiffany Thibault
"But you, O Lord, are a shield about me, my glory, and the lifter of my head. I cried aloud to the Lord, and he answered me from his holy hill. Psalm 3:3-4
I love that this Bible verse starts with the word "but." Though such a little word, it refers back to situations that are overwhelming the writer, to the trouble he was having with his enemies, and to the absolute hopelessness of his being able to survive just one more thing.
Instead of despairing about his troubles, and then sinking into a deeper depression, he begins to speak truth into his life. He focuses his next words on the only one who can help him. The Lord. He says: "But you, O Lord, are…" He reminds himself of who alone can help him—the Lord.
But you, O Lord, are a shield about me. The Lord is a protecting shield to us in our daily battles. Our enemy, Satan, is using anything and anyone he can to try to wear us down, to make our life difficult, and to destroy us. But the Lord is our shield. Ephesians 6:16 tells us: "In all circumstances take up the shield of faith." Our faith in the Lord is the shield that will protect us. Cling to this truth, and tightly hold onto your faith as you face your battles.
But you, O Lord, are my glory. It is the Lord who is his glory. It is the Lord who gives his life meaning. It is the Lord alone who makes him significant. It isn't the fact that this writer is the King of Israel, or that he has palaces, prestige or has many children. It is the Lord alone. In our lives today, in this modern world, it isn't fame, money, relationships or social standing that gives us value, but it is the Lord alone and his presence in our life that truly gives us significance.
But you, O Lord, are the lifter of my head. All too often, so much is thrown at us that our head just naturally bows down from its weight. Our hearts become heavy and we struggle to find the positive in our lives and thoughts. It is in times such as these that we must remind ourselves that it is the Lord alone who is the lifter of our head. He is the only one who can give us hope in the darkness, and the only one who can strengthen us as we trudge through our weary times.
But you, O Lord, answer me. How encouraging to remind ourselves that the Lord answers us. He answers us in truth, which ignites our faith, and gives hope to our future as we wait on Him to move in powerful ways in every area of our needs.
So as we go through our day, may we rest in this truth: the Lord is our shield, our glory, the lifter of our head, and He will hear our every cry and He will answer. We must speak these words of truth and strengthen our faith based on our understanding of who God is and how He has helped us in the past.
Let's pray:
Dear Lord,
Thank you for the words of this verse. Thank you that you are my protection, my meaning for living, my hope giver in the midst of my struggles. Thank you that I can cry out to you and that you hear my prayer, that you listen to my words, and that you answer my cry to you. I love you Lord. I will cling to the promise of these words and move forward in my day resting in your protection, in my significance to you and in the hope that you fill my heart with. Flood me with your peace and open my eyes to opportunities to share the truth of this scripture with those around me.
In your name I pray, Amen
This Is the Assurance of Answers to Your Prayers – Matthew 7:7-11
Ask, and it will be given to you; seek, and you will find; knock, and it will be opened to you. For everyone who asks receives, and the one who seeks finds, and to the one who knocks it will be opened.

Or which one of you, if his son asks him for bread, will give him a stone? Or if he asks for a fish, will give him a serpent? If you then, who are evil, know how to give good gifts to your children, how much more will YOUR FATHER WHO IS IN HEAVEN GIVE GOOD THINGS TO THOSE WHO ASK HIM!
Please pray with faith in your heart and remember to lead someone to pray with these prayer points!
Click here to See More Prayers
Prayers for today is written by Believers from "ibelieve", a daily life audio podcast. Want to experience life-changing spiritual growth, then make use of these daily prayers. Read more.