DAILY PRAYER AND SCRIPTURE FOR TODAY.
When we pray, God hears and answers! Engaging in Daily Prayer and Scriptures is our unfailing platform for bringing to God all that pertains to us, while we watch restfully as he steps into situations to bring out beauty and colour in our lives. Today, as you commune with God, we urge you to know that God has settled all that concerns you, Just believe and pray with faith in your heart. Remain blessed in Jesus name, Amen.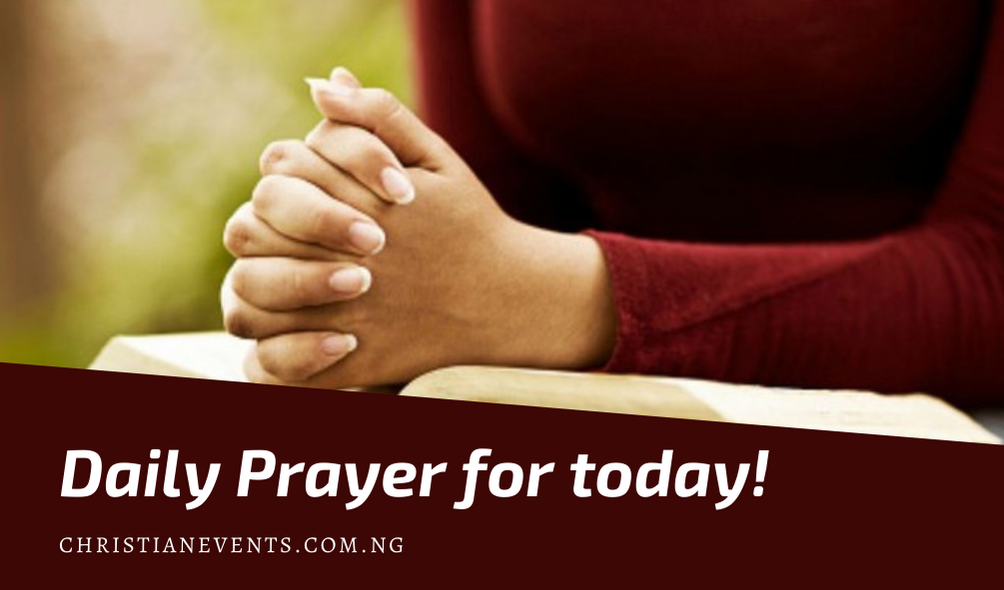 Today's Prayer is written by: Emma Danzey
Prayer Focus For Today 31st July 2022: A Prayer for Wisdom
James 1:5 says, "If any of you lacks wisdom, you should ask God, who gives generously to all without finding fault, and it will be given to you."
There is an entire book of the Bible dedicated to wisdom. The book of Proverbs is a compilation of Christian wisdom. It provides advice and guidance, but not promises. Solomon was given the opportunity to ask God for whatever he wanted and Solomon requested wisdom. The Lord happily gave him his request and more. God was delighted to give wisdom to King Solomon because he asked for it and He delights to give us His wisdom today.
God, tells us that if we lack wisdom that we should ask Him for it. Praise the Lord that He generously gives us wisdom. We do not earn wisdom or achieve wisdom, the Holy Spirt reveals His wisdom to us. Wisdom is a spiritual gift and even if this is not our strongest gift, we all have the invitation in James to ask for wisdom. This is a good and perfect gift that God desires to give to us because He loves us and wants the best for us.
PRAYER FOR TODAY.
Let's Pray:
Dear Lord,
We confess that we have many times gone our own ways and done what we thought was wise in our own eyes, however we have lived foolishly like the world. Please help us to be humble and receive Your wisdom today. Forgive us for relying on our on strength and not seeking You for answers. You hold perfect wisdom and are readily willing to share it with us, but we need to ask. Today, we are asking for Your wisdom to be revealed in our particular life circumstances. Help us to navigate what You have put in front of us with focus and understanding. Lead us to a greater love of Your Scriptures and help us to hide Your word in our hearts.
Proverbs 19:8 says, "The one who gets wisdom loves life; the one who cherishes understanding will soon prosper." Help us to love life and to cherish understanding by seeking Your wisdom. You have entrusted us to our life circumstances and we ask for Your guidance in what we say yes and no to. We pray that You would guide our mouths and our minds in all ways. Help us to know that any ways that we experience blessings from wise choices is a gift from You and not our own doing. Thank You for giving us grace as we learn to walk with You.
Matthew 7:24 says, "Therefore everyone who hears these words of mine and puts them into practice is like a wise man who built his house on the rock." God You tell us that placing our faith and our hope in You is like building our house on a sturdy rock. The greatest wisdom that we could ever have is to accept Your gift of salvation. Help us to remember that we are always steady because of You. Even when winds blow and challenges arise, thank You for being the Rock who does not move. Forgive us for our foolishness to desire and choose sin. Help us to turn from the areas of folly in our lives. Give us a renewed sense of desire to live lives for Your glory. Guide us with Your Word to teach us Your ways and Your truths. Help us to share this wisdom with others so that they too can be saved. We pray for a heart to tell Your gospel to others. Give us Your wisdom in how we can share of the hope that we have in You with others.
God You are our Rock and our Wisdom. We thank You for not leaving us in our sin, but coming down to us and making a way back to You. We need Your help to have Biblical and spiritual understanding in this dark world. Help us to have confidence in Your Words as we apply them to our daily lives. Give us wisdom to follow You and to make decisions that will honor You and bless others. Amen.
This Is the Assurance of Answers to Your Prayers – Matthew 7:7-11
Ask, and it will be given to you; seek, and you will find; knock, and it will be opened to you. For everyone who asks receives, and the one who seeks finds, and to the one who knocks it will be opened.

Or which one of you, if his son asks him for bread, will give him a stone? Or if he asks for a fish, will give him a serpent? If you then, who are evil, know how to give good gifts to your children, how much more will YOUR FATHER WHO IS IN HEAVEN GIVE GOOD THINGS TO THOSE WHO ASK HIM!
Please pray with faith in your heart and remember to lead someone to pray with these prayer points!