DAILY PRAYER AND SCRIPTURE FOR TODAY.
When we pray, God hears and answers! Engaging in Daily Prayer and Scriptures is our unfailing platform for bringing to God all that pertains to us, while we watch restfully as he steps into situations to bring out beauty and colour in our lives. Today, as you commune with God, we urge you to know that God has settled all that concerns you, Just believe and pray with faith in your heart. Remain blessed in Jesus name, Amen.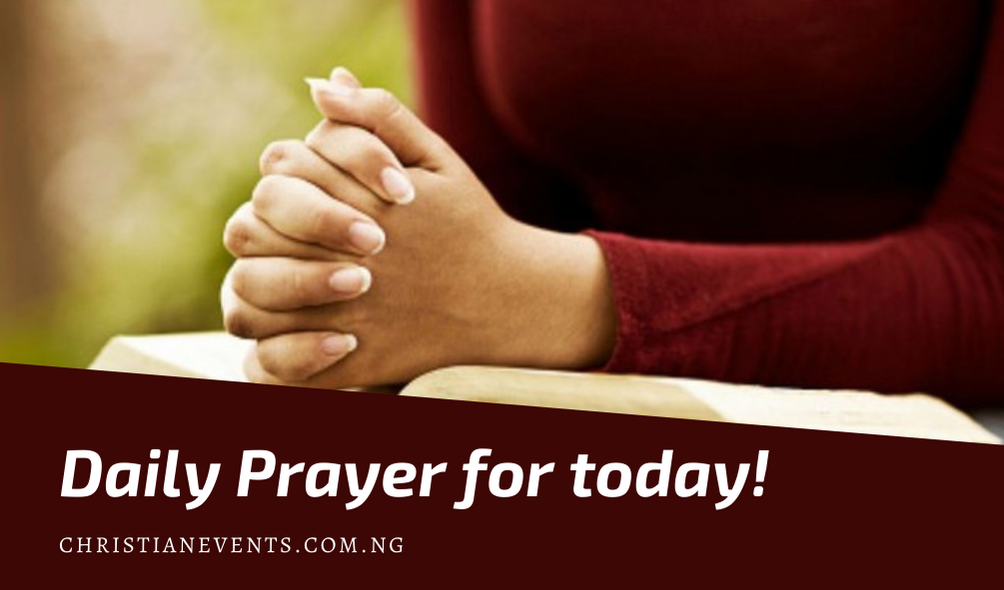 Today's Prayer is written by: Victoria Riollano
Prayer Focus For Today 24th July 2022: A Prayer to Remember His Thoughts toward Me
"How precious to me are your thoughts, God! How vast is the sum of them! Were I to count them, they would outnumber the grains of sand— when I awake, I am still with you." – Psalm 139:17-18
I remember the day I saw my husband for the first time.
Within moments, I had the biggest crush of my life. It would be fair to say that I thought about him a lot. I wondered what he was doing, thought about his freckles, memorized the tone of his voice, and even wondered how our future children could look. Like any teenage girl, I found myself spending hours thinking of my newfound love. Yet, as much as he was a thought on my mind, these thoughts were minuscule compared to God's thoughts about me. They couldn't compare to what Psalm 139:18 describes.
The Bible says that the Lord has more thoughts about us than the grains of sand. The truth is that our minds cannot fathom this vast number. Scientists believe that this number alone is at least a billion to the billionth power! Yes, God's thoughts about us are no comparison to what we could ever think about a human being. This should cause us to stop and simply be in awe. What marvelous love that the same God who put the stars in the sky would have such intimate thoughts about us individually.
In Psalms 139, the author says it like this,
"You know when I sit down and when I rise up;
you discern my thoughts from afar.
You search out my path and my lying down
and are acquainted with all my ways.
Even before a word is on my tongue,
behold, O Lord, you know it altogether." (Psalm 139:2-4)
My prayer today is that you would know that you serve a God who cares about us. He is mindful of what concerns us, what delights us, our future, and all we have been through. Not only is this the case for us, but for all of His creation. This is an aspect of God that we cannot take for granted or lightly. It reminds us that He is with us and a part of our daily experience. In this we can rest and know that the God of the universe has His loving eyes on us.
May you be comforted by the God who sees all and knows all.
PRAYER FOR TODAY.
Let's pray.
Lord, I cannot fathom your love for me. God, I am an imperfect human. Yet, you love me. You think of me. You know me more than I know myself. You watch over me with great intentions. You have amazing plans for me and think of me more than the grains of the sea. Lord, I thank you for loving me when it was hard for me to love myself. I praise you for being a God who is big enough to put the stars in the sky but intimate enough to know my name. I surrender my life to you completely for I know that you have my best interest in mind. Lord, help me to receive this truth and remember your great love toward me in difficult moments. In Jesus' name. Amen.
This Is the Assurance of Answers to Your Prayers – Matthew 7:7-11
Ask, and it will be given to you; seek, and you will find; knock, and it will be opened to you. For everyone who asks receives, and the one who seeks finds, and to the one who knocks it will be opened.

Or which one of you, if his son asks him for bread, will give him a stone? Or if he asks for a fish, will give him a serpent? If you then, who are evil, know how to give good gifts to your children, how much more will YOUR FATHER WHO IS IN HEAVEN GIVE GOOD THINGS TO THOSE WHO ASK HIM!
Please pray with faith in your heart and remember to lead someone to pray with these prayer points!