DAILY PRAYER AND SCRIPTURE FOR TODAY.
When we pray, God hears and answers! Engaging in Daily Prayer and Scriptures is our unfailing platform for bringing to God all that pertains to us, while we watch restfully as he steps into situations to bring out beauty and colour in our lives. Today, as you commune with God, we urge you to know that God has settled all that concerns you, Just believe and pray with faith in your heart. Remain blessed in Jesus name, Amen.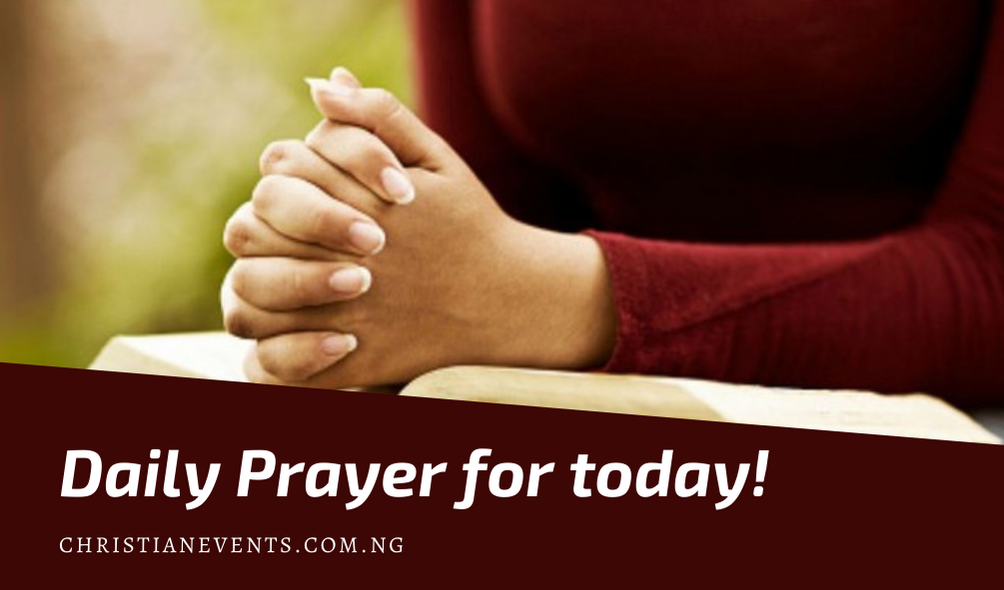 Today's Prayer is written by: Kristine Brown
Prayer Focus For Today 17th July 2022: A Prayer to Help Us Listen to God's Voice
"My child, listen to what I say, and treasure my commands. Tune your ears to wisdom, and concentrate on understanding." (Proverbs 2:1-2 NLT)
"Why isn't anyone listening to me?" I stomped through the house, picking up empty glasses off tables and socks off the floor. I wondered how I could give the same directions ten different times and still be ignored. Frustration ensued, and I threatened once again to take away all cell phones and electronics until everyone paid attention to my voice!
I retreated to my room in a huff, ready for some quiet time to calm my rising heart rate. In that moment, I remembered part of a verse I'd read before, "Tune your ears to wisdom…" I expected God to do something. To make others listen to me. Instead, I now sensed his gentle voice revealing truth from his Word that I desperately needed to hear. In the same way I want others to listen to me, God wants me to listen to him.
It hurts to feel like no one is listening. As a parent, spouse, co-worker, friend, or family member, we all want our voices heard by those around us. We long to have someone really pay attention when we're talking— to value what we say. As I struggled with my own longing to be heard by my family that day, I imagined God in all his glory, with the same longing to be heard by his children. Yet in the rush of daily life, we tune him out. Until his loving voice becomes a faint sound in the background of all the other things we hear.
The first two verses of Proverbs 2 speak to my struggle to listen for God's voice, "My child, listen to what I say, and treasure my commands. Tune your ears to wisdom, and concentrate on understanding."
God knew from the beginning of time that with all the noise of this world, we would need help discerning his voice. When we listen, his commands become a treasured possession to guide us through every part of our lives. If you've struggled to hear God, let today's prayer guide you into giving him your full attention. He is faithful.
PRAYER FOR TODAY.
Let's pray together for help listening to God's voice.
Dear Lord,
Forgive me for letting the noise of this world drown out your voice. I've felt distant from you, and I long to draw near to my Heavenly Father once again. I know you are here with me now as I pray. Help me sense your loving presence and listen as you speak.
In the busyness of daily life, I sometimes forget to stay connected to you through prayer. Help me align my heart with yours. I choose to find moments throughout my day to spend with you, listening to what you have to say. Help me tune into your voice above all else. Thank you for the peace that comes when I take the time to really listen. In Jesus' name, I pray, Amen.
This Is the Assurance of Answers to Your Prayers – Matthew 7:7-11
Ask, and it will be given to you; seek, and you will find; knock, and it will be opened to you. For everyone who asks receives, and the one who seeks finds, and to the one who knocks it will be opened.

Or which one of you, if his son asks him for bread, will give him a stone? Or if he asks for a fish, will give him a serpent? If you then, who are evil, know how to give good gifts to your children, how much more will YOUR FATHER WHO IS IN HEAVEN GIVE GOOD THINGS TO THOSE WHO ASK HIM!
Please pray with faith in your heart and remember to lead someone to pray with these prayer points!