DAILY PRAYER AND SCRIPTURE FOR TODAY.
When we pray, God hears and answers! Engaging in Daily Prayer and Scriptures is our unfailing platform for bringing to God all that pertains to us, while we watch restfully as he steps into situations to bring out beauty and colour in our lives. Today, as you commune with God, we urge you to know that God has settled all that concerns you, Just believe and pray with faith in your heart. Remain blessed in Jesus name, Amen.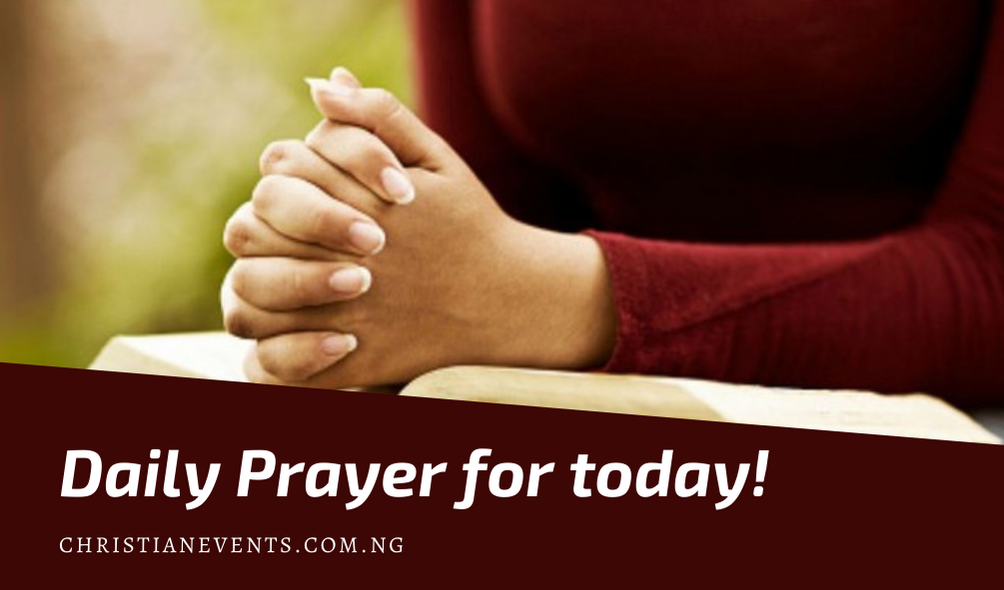 Today's Prayer is Authored by: Laura Bailey
Prayer Focus For Today 26th December 2022: A Prayer to Practice Christmas Cheer All Year Around
"Put on then, as God's chosen ones, holy and beloved, compassionate hearts, kindness, humility, meekness, and patience, bearing with one another and, if one has a complaint against another, forgiving each other; as the Lord has forgiven you, so you also must forgive. And above all these put on love, which binds everything together in perfect harmony." – Colossians 3:12-13, ESV
There's no denying that the Christmas season brings a mixture of emotions; within minutes, we can feel joy, excitement, anxiousness, irritation, and loneliness. But year after year, among the hustle and bustle, I've noticed that people are kinder, more patient, and generally in a better mood, which I attribute to the gift of Christmas cheer.
As I pulled out of the parking lot the other day, my car loaded with Christmas gifts and goodies, I neglected to see a woman putting up her cart. In my haste, I almost hit her; thankfully, she saw me and quickly jumped out of the way. I leaped out of the car, apologizing profusely, anxious about what words she might have for me. Instead of scolding me, she smiled warmly, "it's okay; I know it was just an accident." I apologized again, gratefully got back in my car, and headed home.
I replayed that incident, shocked at the woman's response. Then, I began to think about the last few weeks, how it seemed as soon as the calendar flipped to December, for the most part, people were just nicer to each other.
"You have less in your cart than me; why don't you go ahead of me?"
"Can I help you to your car? I see you have your hands full with your kids?"
"Your coffee was paid for by the customer in front of you; Merry Christmas!"
Everyone's in a rush but offers to let others check out first or take their spot in the pick-up line. A long line typically results in irritation but instead provides an opportunity to bless someone else whose been waiting patiently. Total strangers lend a helping hand to a young mother when they would have walked past her the weeks before.
The Christmas season is magical, with snow-covered trees, twinkling lights, and favorite traditions shared with family and friends. Yet, we often put up our Christmas cheer too. We forget why we celebrate Christmas, the birth of our Savior, Jesus Christ. This truth should encourage us to be joyful at Christmas and every day.
I encourage us this year to keep our Christmas cheer present in our hearts year around. We can practice patience and forgiveness and extend grace during the holidays and beyond. Let's treat each day as a gift and remember that every day is an opportunity to share the Good News and show Christ's love to a broken world.
PRAYER FOR TODAY.
Dear Heavenly Father, no words describe how incredibly grateful we are for the gift of your son, Jesus Christ. So many distractions in this world, especially during Christmas, keep us focused on You. Thank you for preparing our hearts and minds as we celebrated the arrival of your son and, ultimately, the second coming, when all will be made new.
We pray for those who have lost loved ones and deeply feel the weight of grief during the holiday season. We pray for those experiencing family tension and strife, that their conversations may be filled with compassion, and forgiveness is offered quickly to those who offend. We pray for those experiencing health issues, financial crises, wayward children, and general unrest. May you quiet their hearts and minds, comforting and offering peace only you can give.
We ask, Lord, that we practice patience, humility, love, and forgiveness to all who cross our paths, not just in December but year around. May our actions draw people closer to You, let our words be a calming balm to a hurt soul, let us give generously to those in need, and bear one another's burdens, always remembering to pray in your name.
We love you, Lord; forgive us when we sin against you; help us to be more like you tomorrow than we were today. In Jesus' Name, Amen.
Matthew 7:7-11
Ask, and it will be given to you; seek, and you will find; knock, and it will be opened to you. For everyone who asks receives, and the one who seeks finds, and to the one who knocks it will be opened.

Or which one of you, if his son asks him for bread, will give him a stone? Or if he asks for a fish, will give him a serpent? If you then, who are evil, know how to give good gifts to your children, how much more will YOUR FATHER WHO IS IN HEAVEN GIVE GOOD THINGS TO THOSE WHO ASK HIM!
Please pray with faith in your heart and remember to lead someone to pray with these prayer points!