Engage these Daily Prayer and Scriptures for today. Take to God all that you desire in prayers, while you watch restfully as he steps into situations to bring out beauty and colour in your live. Today, as you commune with God, know that God has settled all that concerns you, Just believe and pray with faith in your heart. Remain blessed in Jesus name, Amen.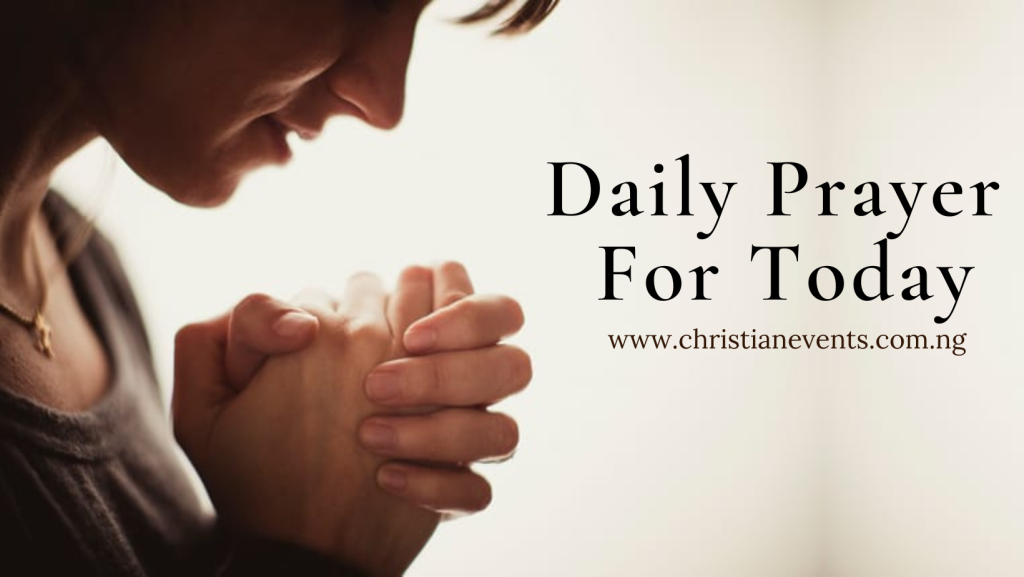 Today's Prayer is Authored by: Tiffany Thibault
"Because he holds fast to me in love, I will deliver him; I will protect him, because he knows my name. When he calls to me, I will answer him; I will be with him in trouble, I will rescue him and honor him." – Psalm 91:14,15 (ESV)
You may have heard it said that the only things guaranteed in life are death and taxes. I must say that something was left out of that list. Difficulties, troubles, tough times, and really hard situations. It seems that not a day goes by when someone I know faces some sort of hard, some sort of difficult struggle. Whether small and irritating or absolutely devastating and life-changing, we all have many moments in our lives that drop us to our knees as we pour out our cries to the Lord.
A few days ago, I heard someone speak words that sent me to the depths of despair. There seemed no hope in this medical diagnosis. I felt my heart drop, my thoughts began to spin, my breathing became shorter and shallower. Cries of no, and why swirled around my head as they crashed into the more focused thoughts of there must be another way through this, there has to be a solution!
No matter what life throws at us, we can find strength in this Bible verse. These words from Psalm 91, penned so long ago, by a man who lived a life filled with many troubles, can fill our hearts with hope. The way through the darkness, the troubled times are found in the beauty of these words.
Because he holds fast to me in love, I will deliver him. Know the Lord, seek to grow closer to Him, search to find Him in the pages of the Bible. Hold to the promises found in Scripture, make them a part of your every breath and He will deliver you in the midst of that fear of the diagnosis, the pain of your broken heart, the worry of your thoughts.
I will protect him, because he knows my name. These powerful words are a reminder to us that we must know God. We must know the power of His name and understand His character. Each moment of our lives, whether filled with good or with pain, we must learn to know Him more, to cling to Him deeper, to pray to Him in sincerity and humility, and to fall more in love with Him. He is a good Father, and He will protect those who are His children.
When he calls to me, I will answer him. When we call on Him, when we pray to Him, He will answer! When the answer comes, trust Him. Perhaps he doesn't answer in the way that you want but remind yourself that it's in the way that He deems best. He alone knows the future; He is God.
I will be with him in trouble, I will rescue him and honor him. He will rescue you and He will honor you. That honor could be fulfilled by answering your prayer in exactly the way that you want, or it could be that He honors you in some other way, in a way that glorifies Him as it brings you peace, a deeper understanding of who He is and an opportunity to become more like Jesus. No matter the news, the relationship struggles, the pain and turmoil that you are walking through, He promises that He will be with you in your trouble.
So, in the midst of the unknowns and the 'what next' questions that flood your mind, turn your eyes back to Jesus. Rest in Him, trust Him. He promises to deliver you, protect you, answer you, be with you, rescue you and honor you. Those are the truths that you can know that you can focus on as you go into your next moments and into every situation that stands before you. He is God, and He is a good God who loves you, hears you and stays with you through every single breath of your life. Remind yourself that you are never alone in the midst of your troubles when you have the God who created everything and who loves you so incredibly right there by your side holding you through them.
Let's pray:
Dear Lord,
Thank you for these words of promise. You are a God who keeps your word. Be with me today as I cling to you in every one of my situations. Deliver me from the traps and lies of the enemy. Protect me from the fiery arrows that are falling down upon me. Answer me Lord when I call. Rescue me and honor me Lord as I cling to you, as I look to you, and as I love you with every cell in my body. May others see you through the way that you fulfill your promises in my life.
In Your name, I pray, Amen
This Is the Assurance of Answers to Your Prayers – Matthew 7:7-11
Ask, and it will be given to you; seek, and you will find; knock, and it will be opened to you. For everyone who asks receives, and the one who seeks finds, and to the one who knocks it will be opened.

Or which one of you, if his son asks him for bread, will give him a stone? Or if he asks for a fish, will give him a serpent? If you then, who are evil, know how to give good gifts to your children, how much more will YOUR FATHER WHO IS IN HEAVEN GIVE GOOD THINGS TO THOSE WHO ASK HIM!
Please pray with faith in your heart and remember to lead someone to pray with these prayer points!
Click here to See More Prayers
Prayers for today is written by Believers from "ibelieve", a daily life audio podcast. Want to experience life-changing spiritual growth, then make use of these daily prayers. Read more.