DAILY PRAYER AND SCRIPTURE FOR TODAY.
When we pray, God hears and answers! Engaging in Daily Prayer and Scriptures is our unfailing platform for bringing to God all that pertains to us, while we watch restfully as he steps into situations to bring out beauty and colour in our lives. Today, as you commune with God, we urge you to know that God has settled all that concerns you, Just believe and pray with faith in your heart. Remain blessed in Jesus name, Amen.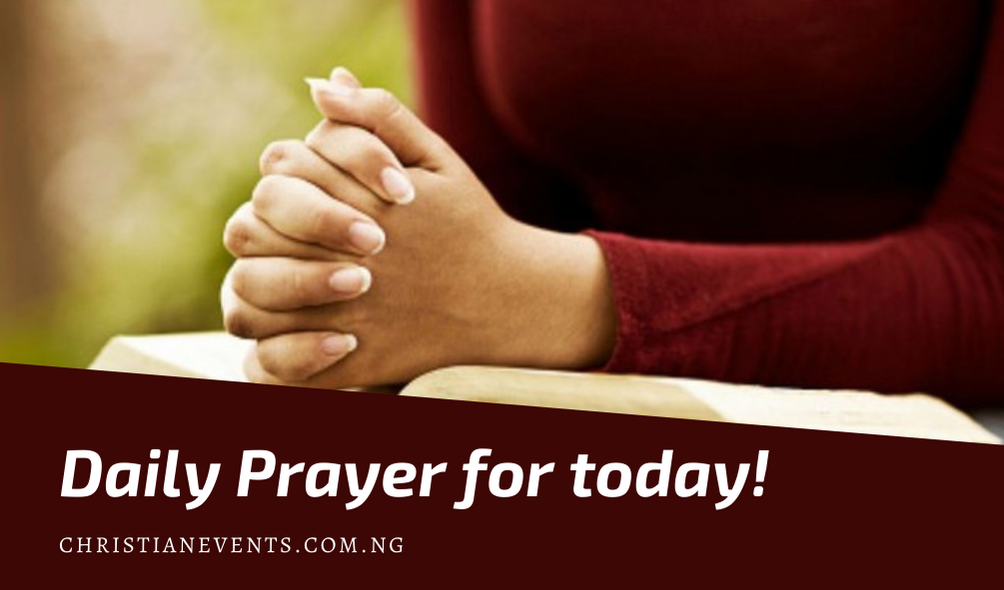 Today's Prayer is written by: Kristine Brown
Prayer Focus For Today 19th August 2022: A Prayer for Direction
Psalm 32:8 says, "I will instruct you and teach you in the way you should go; I will counsel you with my loving eye on you."
Our lives are perpetual experiences of trusting God and taking steps towards the plans that He has for us. Whether we are in a season of trusting the Lord which college to choose, or who to marry, or where to live, He is always working and moving us towards His greater plan for our lives. The beautiful part is that the Lord does not just make decisions for us, He invites us in to have choices.
As challenging as it is to be seeking Christ's will for our lives, we can consider it a glorious invitation to walk with Him daily and follow His leading. The unknowns draw us to listen to our Savior's voice. The question marks in life put us on a quest to know God more. The confusion takes us to the One who is the unchanging God.
PRAYER FOR TODAY.
Let's Pray:
Our Great God,
Thank You that You have everything under control. Thank You that You are perfect and Your ways are perfect. Thank You that even in my past mistakes, You have worked them out for my good and Your glory. You can use the poor decisions as testimonies of Your grace and mercy. Thank You that You already know what is next, and I do not have to be afraid. Thank You that You walk with me and never leave my side. Thank You that You want me to seek you in this decision and in everything.
Forgive me for the times when I have not looked to You in making decisions. Forgive me for going my own ways and thinking that I knew best. Remind me today of Your great compassion and help these past sins point me to the joys of following You in the future. Psalm 86:5 says, "You, Lord, are forgiving and good, abounding in love to all who call to you." I haven't always done this right before, and know that I am likely to choose my own path today. Help my heart to align with Your will! Open my mind to Your best and Your ways.
Lord, You say in Proverbs 3:5-6, "Trust in the LORD with all your heart and lean not on your own understanding; in all your ways submit to him, and he will make your paths straight." Would You help me not just to hear that or read that, but to truly believe that? Help me to place my full trust in You. Holy Spirit, give me the strength to believe You and not what my human eyes can see and my human mind can comprehend. Give me the ability to do this in all my ways. Thank You for promising to make my path straight if I trust in You.
God, You told Isaiah in Isaiah 30:21, "Whether you turn to the right or to the left, your ears will hear a voice behind you, saying, 'This is the way; walk in it.'" Would You please open my ears to Your voice? You are still speaking and guiding Your people in this world today. Would you help me to take time to listen and be still and know that You are my God? There are so many voices around me competing for Your place in my life. Help me not to focus on the voices around me; help me to hear Your voice alone as my authority. Then, as I seek wise counsel and ask trusted advisors in life, may I always sift through their words with You and with Your Word.
Lord, thank You for giving me the gift of Your Bible. I am grateful for Your holy and perfect words. Help me to remember that You have many answers for me just waiting within the Bible. Give me the drive and the urgency to seek You out in Your Word. Help me to love the Scriptures and learn from the people within them. Thank You for this beautiful map of guidance in life. Help me to use it every day to grow in my love for You. Amen.
This Is the Assurance of Answers to Your Prayers – Matthew 7:7-11
Ask, and it will be given to you; seek, and you will find; knock, and it will be opened to you. For everyone who asks receives, and the one who seeks finds, and to the one who knocks it will be opened.

Or which one of you, if his son asks him for bread, will give him a stone? Or if he asks for a fish, will give him a serpent? If you then, who are evil, know how to give good gifts to your children, how much more will YOUR FATHER WHO IS IN HEAVEN GIVE GOOD THINGS TO THOSE WHO ASK HIM!
Please pray with faith in your heart and remember to lead someone to pray with these prayer points!