Salvation Ministries Online Morning Devotion for Today with Pastor David Ibiyeomie.
Begin your day in God's Presence. Join the Online Morning Devotion every day from 7:00 AM – 7:30 AM (GMT+1) via any of the SMHOS streaming platforms (Facebook and YouTube). It holds every Monday to Friday at 7:00 AM WAT. Pastor David Ibiyeomie the set man is God's able hand in His vineyard, committed to leading you through a transformational experience. Find details and watch below.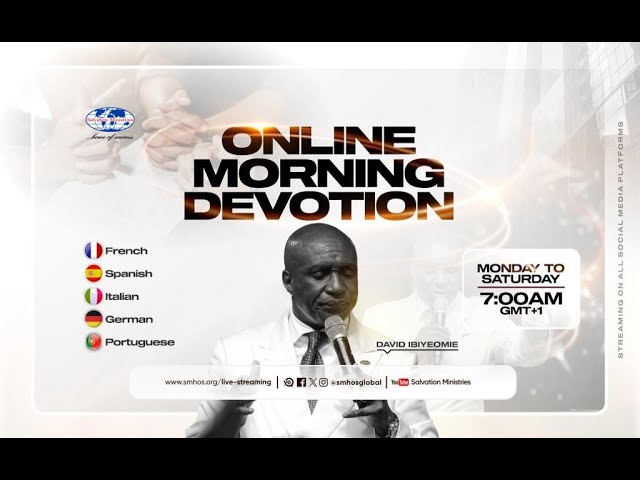 Click PLAY below to watch and be gratefully refreshed
Unless we determine to put God first, we can easily lose days, weeks, or years to lesser things.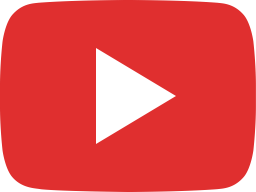 Keep your Hope Alive | Midweek Service | Thursday, 7th December 2023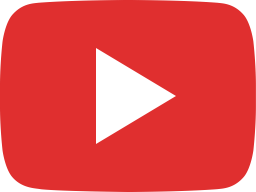 12 Noon Prayers | Friday, 8th December 2023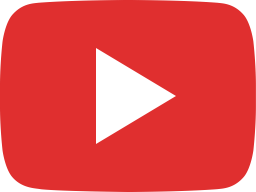 Online Morning Devotion | Friday, 8th December 2023

You are watching Online Morning Devotion with Pastor David Ibiyeomie
WHAT IS SMHOS ONLINE MORNING DEVOTION ALL ABOUT?
Online Morning Devotion is a daily devotion service convened by Salvation Ministries International (SMHOS). It is 60 minutes of Power with David Ibiyeomie – the Presiding Pastor. This spiritual experience is God's laid down platform to enable you to encounter moments of transformation, elevation, and direction for the day. The deep things of God are revealed even as we get closer to God in prayers via the service.
There is interpretation in French, German, Spanish, Dutch and Italian.
WHAT TIME IS THE ONLINE MORNING DEVOTION FOR TODAY?
Online morning devotion begins by 7AM Prompt (GMT +1). This devotion would last for an hour, as God's servant leads us through God's word and prayer sessions.
Invite your friends and family to join in and don't miss out on an opportunity to be a recipient of breakthroughs, miracles and incredible testimonies. Jesus will be glorified!
HOW TO WATCH ONLINE MORNING DEVOTION LIVE ONLINE?
The Online Morning Devotion is streamed live online to viewers/worshippers across the world via SMHOS Official Live Services platforms: Youtube and Facebook channel which you can also watch on this page (above).
Take note also that this website is here to serve you. Therefore, you can watch the live event HERE- (Online MORNING DEVOTION LIVE ONLINE).
Salvation Ministries also known as the Home of Success (SMHOS), is an evangelical Christian denomination. The church presently has well over 1,000 pastors (Full time and part-time) and many missionaries assisting in fulfilling the God-given mandate. The church is presided over by Pastor David Ibiyeomie. The Church's worship center is known as the Hand of God Cathedral… Read more.