KICC Daily Prayer, Prophecy, and Power for Today with Pastor Matthew Ashimolowo.
Start Your day with power and direction as you connect to the Morning Glow, a daily one-hour morning prayer with Pastor Matthew Ashimolowo which holds every Monday to Friday at 6:00 AM WAT. Pastor Matthew Ashimolowo the set man is God's able hand in His vineyard, committed to leading you through a transformational experience. Find details and watch below.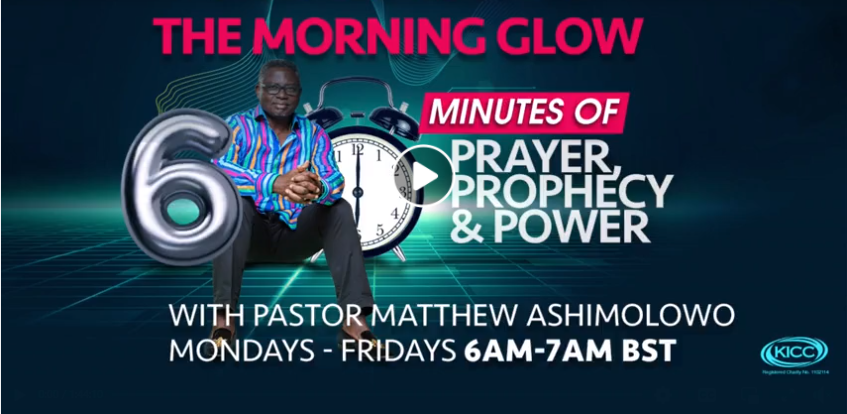 Click PLAY below to watch and be gratefully refreshed
Unless we determine to put God first, we can easily lose days, weeks, or years to lesser things.
You are watching KICC The Morning Glow with Pastor Matthew Ashimolowo
WHAT IS KICC MORNING GLOW ALL ABOUT?
KICC morning Glow is a daily devotion service convened by the Kingsway International Christian Centre (KICC). It is tagged 60 minutes of Prayer, Prophecy, and Power with Matthew Ashimolowo – the Presiding Pastor. This spiritual experience is God's laid down platform to enable you to encounter moments of transformation, elevation, and direction for the day. The deep things of God are revealed even as we get closer to God in prayers via the service.
WHAT TIME IS KICC MORNING GLOW FOR TODAY?
KICC morning glow begins by 6AM Prompt (GMT +1). This devotion would last for an hour, as God's servant leads us through God's word and prayer sessions.
HOW TO WATCH KICC MORNING GLOW LIVE ONLINE?
KICC Morning Glow is streamed live online to viewers/worshippers across the world via KICC Official Youtube and Facebook channel which you can also watch on this page (above)
Take note also that this website is here to serve you. Therefore, you can watch the live event HERE- (KICC MORNING GLOW LIVE ONLINE).
The Kingsway International Christian Centre (KICC) is an international church ranking as the largest growing church in Western Europe. The Ministry is presided by Pastor Matthew Ashimolowo. The church is predominantly of West African origin but recognizes the presence of worshippers from across 46 nations of the world. KICC is where you experience total Worship, Word, and Warmth… Read more.