Welcome to the Eternity Network International. It is your time for a dynamic and spiritual upliftment. In this blog you will find details on Koinonia Abuja services, helping you differentitate it from Koinonia Zaria service. Please see below.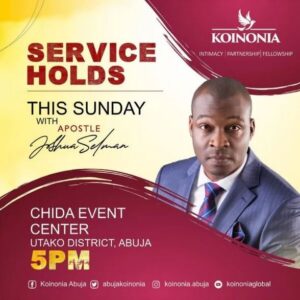 The Eternity Network International Koinonia Abuja Service is a weekly service that promotes an experience of God's presence and an expository moment into the secrets of God for righteous living. This spiritual event holds at the Chida Event Center, Utako District, Abuja.
Kindly note that Koinonia resumes in the Last week of January and closes in the second week of December Annually
Click Here to watch the Koinonia Services
KOINONIA ABUJA PROGRAMME
DATE: Every Sunday
VENUE: The Koinonia Abuja Services holds at Chida Event Center, Utako District, Abuja.
TIME: 5PM.

Save the date, and be a partaker of the blessings.
The Eternity Network International aka Koinonia Global is an apostolic ministry. The ministry has continued to impact lives across the globe through crusades, uplifting messages, and new dimensions of true worship. The ministry is presided by Apostle Joshua Selman Nimmack. Read more
Remember you can always get information on Koinonia Abuja and other christian events like this on the CHRISTIAN EVENTS website.