WATCH DUNAMIS MIRACLE CRUSADE, WORSHIP, WORD & WONDER NIGHT APRIL 2022 WITH PASTOR PAUL ENENCHE – LIVE ONLINE
You are on to the live stream for The Worship, Word & Wonder night at Dunamis International Gospel Centre with Dr Paul Enenche. Find details of the event below.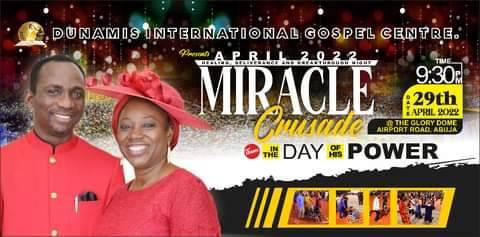 The Monthly vigil of the Dunamis International Gospel Centre (DIGC) holds on Friday 29th April 2022. This miracle crusade night is one to be desired, as God would be unleashing upon every believer a new dimension of  wonders without number.
DIGC MIRACLE CRUSADE APRIL 2022 PROGRAMME
Date: Friday 29th April 2022
Time: 9:30pm
Venue: The Glory Dome, Dunamis International Gospel Centre, Airport Road, Abuja.
THEME: As In The Days Of His Power
You can now join the event by clicking play below.
You are watching Dunamis International Gospel centre April 2022 -Worship, word & Wonder Night
Remember you  can always get information on Dunamis Vigils and other christian events like this on CHRISTIAN EVENTS website.