Read DCLM Daily Manna devotional here. Pastor Kumuyi writes this daily devotional to secure your spiritual walk with God. Believers and unbelievers who truly seek God and desire to experience his divine nature are encouraged to read this devotional daily.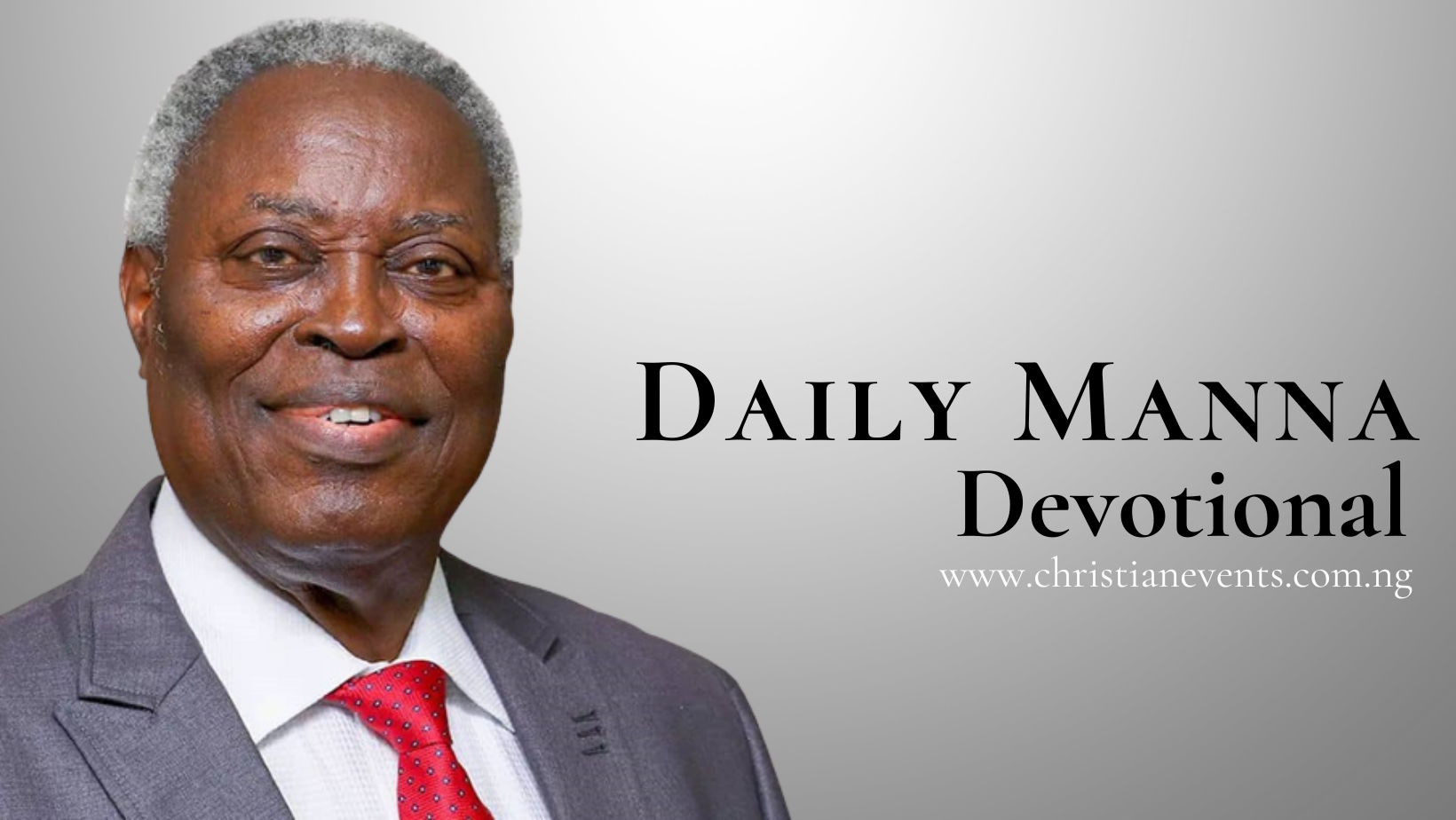 The Topic for Today 26Th March 2023 Is "Stiff-Necked "
Text:  Numbers 16:23-35 (KJV)
23 And the Lord spake unto Moses, saying,
24 Speak unto the congregation, saying, Get you up from about the tabernacle of Korah, Dathan, and Abiram.
25 And Moses rose up and went unto Dathan and Abiram; and the elders of Israel followed him.
26 And he spake unto the congregation, saying, Depart, I pray you, from the tents of these wicked men, and touch nothing of their's, lest ye be consumed in all their sins.
27 So they gat up from the tabernacle of Korah, Dathan, and Abiram, on every side: and Dathan and Abiram came out, and stood in the door of their tents, and their wives, and their sons, and their little children.
28 And Moses said, Hereby ye shall know that the Lord hath sent me to do all these works; for I have not done them of mine own mind.
29 If these men die the common death of all men, or if they be visited after the visitation of all men; then the Lord hath not sent me.
30 But if the Lord make a new thing, and the earth open her mouth, and swallow them up, with all that appertain unto them, and they go down quick into the pit; then ye shall understand that these men have provoked the Lord.
31 And it came to pass, as he had made an end of speaking all these words, that the ground clave asunder that was under them:
32 And the earth opened her mouth, and swallowed them up, and their houses, and all the men that appertained unto Korah, and all their goods.
33 They, and all that appertained to them, went down alive into the pit, and the earth closed upon them: and they perished from among the congregation.
34 And all Israel that were round about them fled at the cry of them: for they said, Lest the earth swallow us up also.
35 And there came out a fire from the Lord, and consumed the two hundred and fifty men that offered incense.
Key Verse: "So they gat up from the tabernacle of Korah, Dathan, and Abiram, on every side: and Dathan and Abiram came out, and stood in the door of their tents, and their wives, and their sons, and their little children." – (Numbers 16:27)
Read yesterday's Message by Pastor Kumuyi
The name Stalin which means 'steel' was not the real name of Joseph Stalin, the authoritarian and maximum leader of the defunct Soviet Union during World War 2. It was given to him by his contemporaries who fell under the steel-like determination of his will. Historians estimate that the number of Russians killed during the regime of Stalin were over 20 million.
Many died by summary executions, and in the Gulag- a system of labour camps maintained in the Union from 1930 to 1955. As Stalin lay dying on March 5, 1963, his one last gesture was a clenched fist toward God, his heart as cold and hard as steel. Those who knew how brutal and wicked he was, could not believe he was truly dead and gone forever.
From our text, we see the attitude of Korah, Dathan and Abiram, who led a civil rebellion against Moses, the servant of God. They remained defiant till death. When Moses asked the Israelites to separate from their tents, there was no sign of repentance in them, even in the face of death. They came out with members of their families and stood in front of their tents in a perilous display of rebellion. The judgment of God eventually came. The earth underneath them opened and they went down into hell.
While we ponder on this incident, we must ask ourselves what we think was behind their defiance. Perhaps, they simply believed they were doing the right thing. They took the support they got from the public as justification for their actions.
We see the same attitude today as some campaigners fight for the legalization of same-sex marriage and abortion rights. Others want schools to be free to teach young children that they could change their gender anytime they feel like. This is the mindset of the depraved, whose feelings have been perverted and whose minds are completely possessed by Satan. But our God cannot be mocked.
THOUGHT FOR THE DAY: Resisting God is a most futile effort.
BIBLE IN ONE YEAR: Deuteronomy 17-20
Daily Manna is the daily devotional written by Pastor W.F. Kumuyi, who is the founder of the Deeper Christian Life Bible Ministry (DCLM). It is rooted in the Word of God and designed to help you experience a deeper walk with God. Read More...
DCLM Official Website: https://dclm.org/
You May Also Check Out: