FREEDOM CONFERENCE 2021: DATES, THEME, EVENTS SCHEDULE.
Freedom conference 2021: Everything you need to know about Citizens of light church annual spiritual gathering "Freedom conference"  for this year 2021.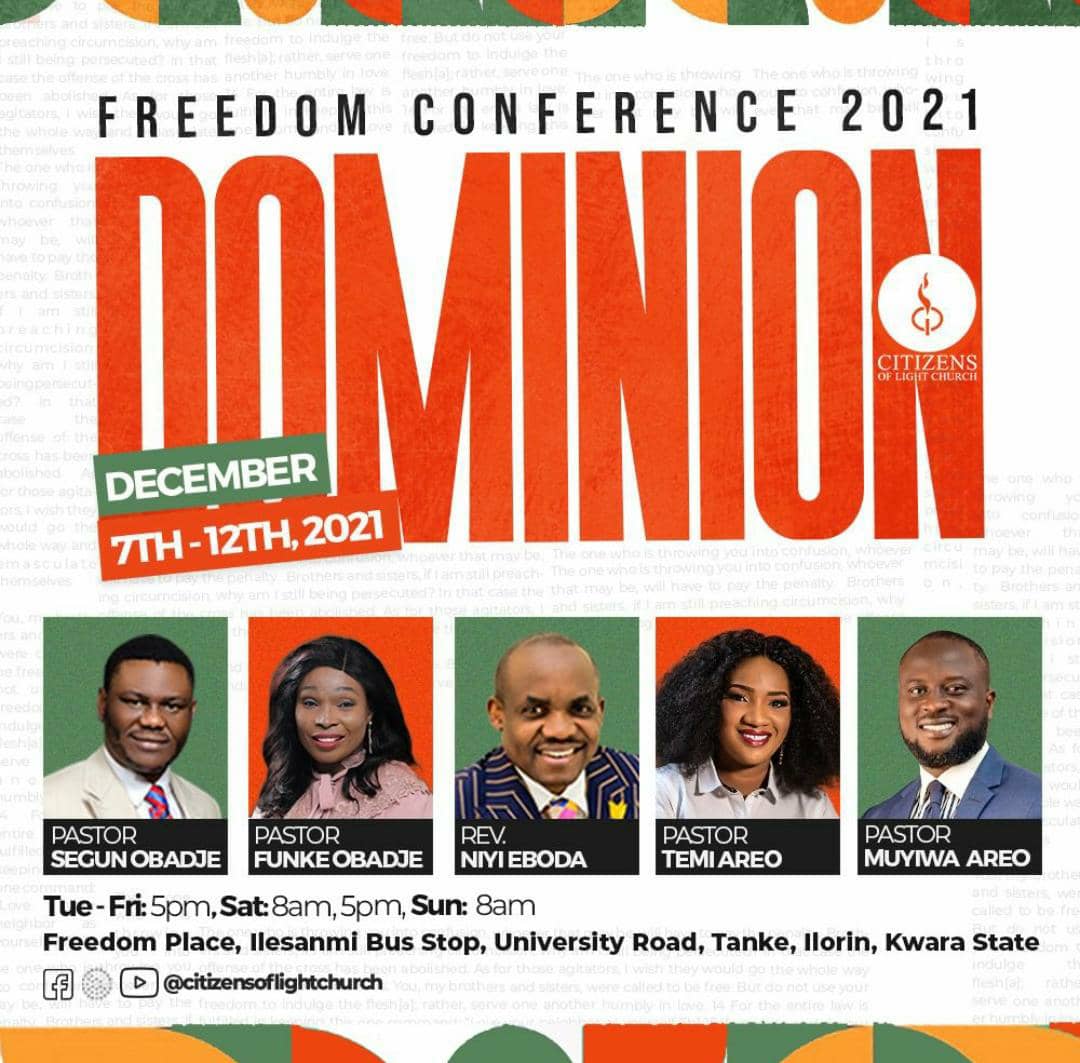 FREEDOM CONFERENCE 2021 MINISTERS
Below is the list of people ministering at Freedom conference, 2021;
PASTOR Muyiwa Areo
PASTOR (MRS) Temitope Areo
PASTOR Segun Obadje
PASTORFunke Obadje
PASTORNiyi Eboda
WHEN WILL FREEDOM CONFERENCE 2021 START?
Freedom conference 2021  will start on Tuesday the 7th of December, 2021 with a worship Experience Night. The event runs for a period of six days.
The event ends with a native Thanksgiving Sunday service on the 12th of December, 2021.
FREEDOM CONFERENCE 2021 PROGRAMMES
CLC Freedom Conference Order of events or schedule of activities.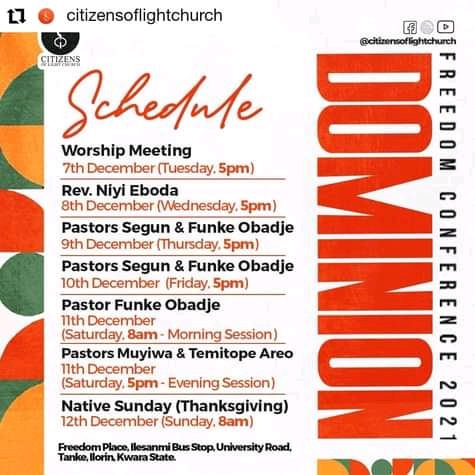 WHERE / HOW TO WATCH FREEDOM CONFERENCE 2021.
The best place to be during Freedom Conference is no other place than the Freedom place itself. You can watch the freedom conference 2021 event live at the Citizens of Light Church, Ilesanmi, university road, Tanke, Ilorin, Nigeria.
You can watch FREEDOM Conference 2021 online. Click here to watch Freedom Conference 2021.
About Citizens Of Light Church 
Citizens of Light Church (CLC) aka Freedom Place is a Charismatic ministry given to true worship, praise and the exposition of the word of God, to bless individuals of all categories and walks of life. The Church sees a weekly attendance of about 3000 persons within her campus. The Ministry is presided by Pastors Muyiwa and Temitope Areo.
Remember, you can always get information on Winners Chapel International Shiloh and other Christian events like this on CHRISTIAN EVENTS website.