WATCH THE CHRISTMAS SERVICE  DECEMBER 2020 LIVE WITH PASTOR CHRIS OYAKHILOME
Behold, the Lamb of God, who takes away the sin of the world! (John 1:29)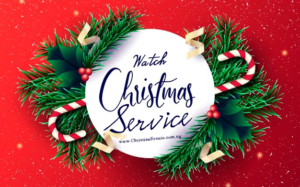 The blinding glory of Jesus was so very much intense that it enlightened the world and Christmas teaches us to keep learning the art of giving and receiving and making family, friends and acquaintances happy. Come rejoice the celebration of Christ with the Family of CHRIST EMBASSY.
Christ Embassy 2020 Christmas Service will be streamed live to all  Christ Embassy Churches; the LoveWorld Networks and Web/Mobile platforms; and, on major satellite, terrestrial and local TV and Radio Stations around the world.
To join PASTOR CHRIS OYAKHILOME 2020 Christmas Service, please press the play button below.
(Video available here)
DATE: FRIDAY 25TH DECEMBER, 2020
TIME: 8:00 AM
Click Here to Watch Other Churches  Christmas Service Live Online