10 Reasons nobody wants to attend your Christian Concert.
You got your event planned but nobody showed up or the attendance was not way up to your list expectation?. Well, I understand how terribly you feel about that. You should not worry, I have a balm for your wound. You are not a bad person!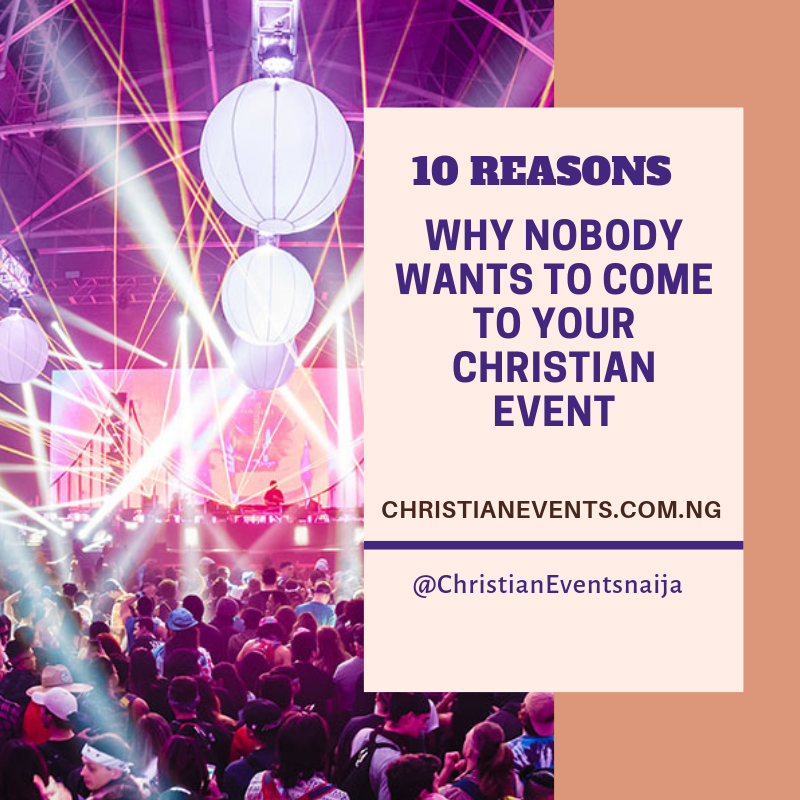 I was snooping around and I have 10 concrete reasons why nobody showed up at your event or why they still won't show up.
Here is my list of 10 things you do and don't that are really killing your event and why nobody wants to be your guest. 
1. YOU DID NOT INVITE OR INFORM THEM.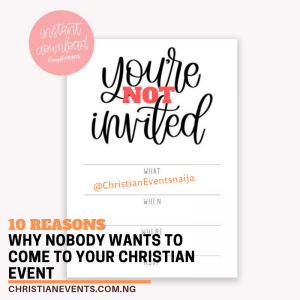 This is really one of the reasons nobody turned up for your Christian gathering, musical concert, and your birthday. You failed to invite them. Nobody wants to be an interloper. Aside that, people want to feel respected. They heard about your event from a third party and were waiting for you to tell them, unfortunately, you didn't! and they became mad, really mad that choose to swim in an icy pool on a rainy day than have a steamy bath at your event.
Forget about your ego now, I know you are the big artiste in town but your event will lack numbers if you don't tell people about it.
No matter who you are, and who your friends are, never forget to extend an IV to them except if it is a private event.
Send the invite!
2. YOUR PAST EVENT WAS HORRIBLE.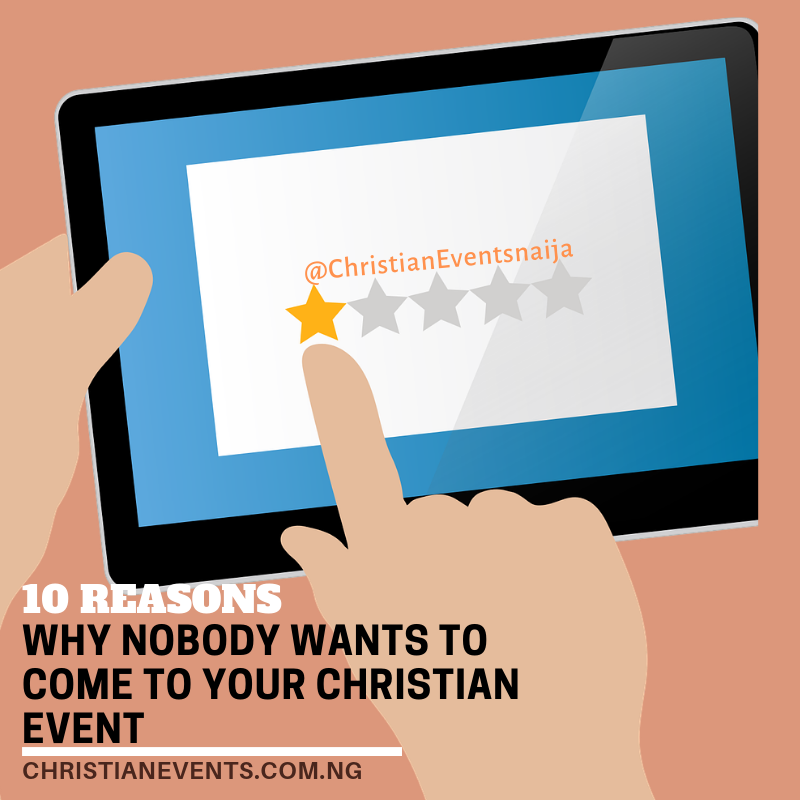 Once bitten, twice shy. After your last event, everyone literarily sworn never to be part of any of your gathering because it was just too horrible!
People will rather pass on social media than get themselves locked in your event because it just didn't excite them. If your event was not properly planned or delivered people won't come again. Consider your event as a business. Do it diligently treat your guest like customers.
I remember talking to a friend on Sunday about an evening concert in church, he asked, who is organising the event, I told him it was the youth fellowship and guess what, he hissed! " I can't just waste my time!" that what exactly what he told me. His reason was that the last youth concert flopped, the guest artistes 
3. YOUR EVENT IS BORING.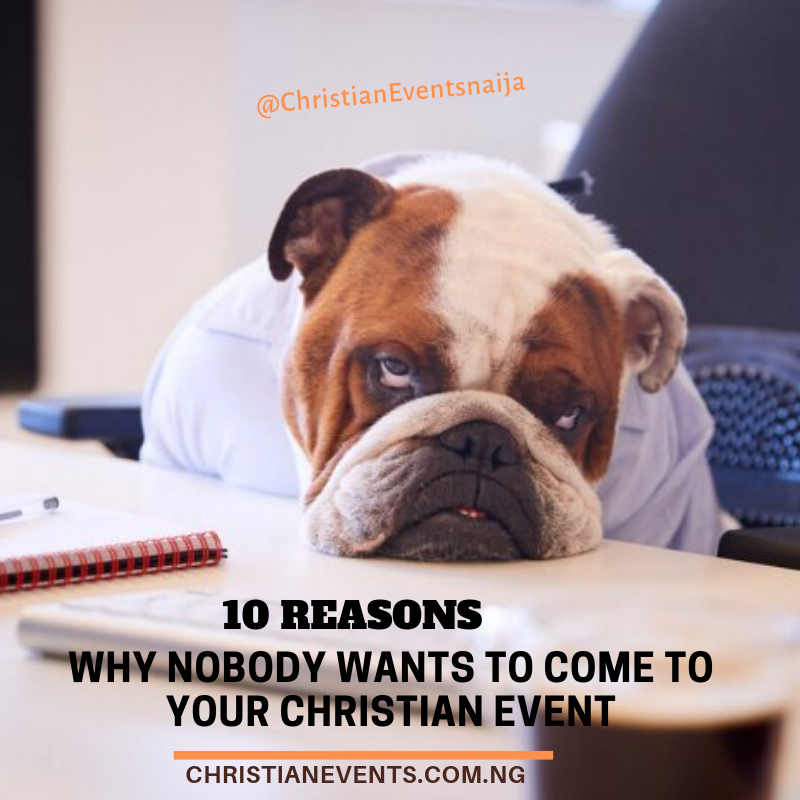 This is and remains the primary reasons why nobody wants to go for Christian events. They are often boring. No matter who you are and how well you promote your event, if the past ones were packed with boredom, i can tell you to expect lesser humans in your hall. People find entertainment everywhere this day but not at christian events. Thank god for events like Experience, TAPE, etc.
To get people come to your next event, ensure you give them the best. Let your quest ( fans) have a good take home from your event.
4. YOUR EVENT IS NOT UNIQUE AND THEY ARE JUST TIRED OF SEEING THE SAME THING
This is another turn of. If there is no dynamism  in the way your event is delivered, you will definitely loose crowd.  Sadly, many christian event host are not failing at this, enough of following the 1980 forever's order of programme, a concert should not be delivered like church or Sunday school service. As a matter of fact, a musical concert is not supposed to have another 30minutes of sermon. Your music should do the teaching.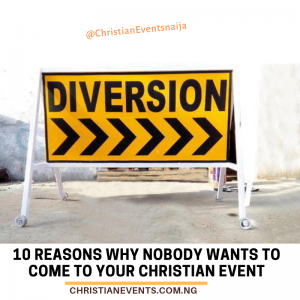 5. YOU INVITED THEM TO A CONCERT BUT GAVE THEM "3RD SERVICE".
Another popular mistakes being practised by many gospel hosts especially musicians is turning their musical concert to Church service. Christian musicians need to wake up! You have to understand that music has more than enough power to touch the unsaved soul and lead them to Christ. Not until your youth pastor or region pastor preach for the next 45minutes ( heaven no!!!) .
You can arrange songs for this kind of session ( check out my article on how to make  your concert memorable for more on this). Remember, if you are on the right stand with god, he can touch heal, deliver and save through your music ( this should be the focus).
If you continue to reserve 40 minutes for sermon in your concert, you will surely loose audience, especially the ones the gospel is meant for. Your church members and other friend can still come around since they all love Pastor ABC, while the die-hard fans of non christ related contents keep going (astray).
6. YOUR VENUE – Security, location & neatness.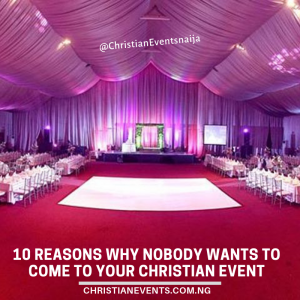 Another reason why many people or expected guest will not turn up for your next gospel event is owning to your venue choice. This might be in terms of security/safety. No matter how much I like you, if your event is taking place in a "rugged" venue, I won't show up. Nobody wants to get harassed by street boys on their way to your event venue.
Also, if your venue is not where people can easily navigate, especially if you live in Ibadan, many people will not show up! Your venue should be descriptive and easy to reach. That your pastor friend allows you plan your concert in his end-of the world cited church does not mean a good thing. You might be killing your carrier with this cheap or free offer.
Think about it, have you heard of any major circular event holding in that far away region?.
Also, many people don't want to come to your event because their kitchen is cleaner than your venue. If you are dreaming big, then big plan should be in place. Apart from your kinsmen, 21st century youth will not attend Christian events in a sub-standard venue, by sub-standard venue, I mean, under-construction church building,  among others. Ensure your venue is as neat as possible.
7. POOR TIMING / TERRIBLE TIME MANAGEMENT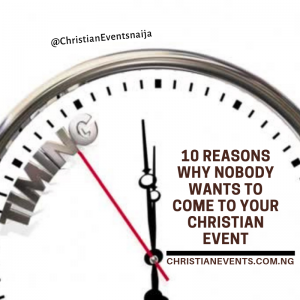 Many Christian event organizers are at fault when it comes to this. Even many church services fail this test. Winners' Chapel is one of the few churches in Nigeria that KEEP TO TIME. When they tell you event starts by 5am, believe me, it is a deal. I have never experienced African time at Winners' Chapel and few other churches like, COZA, Daystar, Chris Embassy, Salvation Ministries.
People don't like to come for gospel events because you are not time conscious!
8. YOUR HOST/ MC/ ANCHOR IS NOT LIVELY OR PROFESSIONAL.
This is a dream killer. Many people hate going to christian event not for one thing but the hosts or simply say, the emcees. If you refuse to hire professionals to anchor your event you are doing yourself something really bad. That good looking fellow at your choice is not a fit for trained mc, why engage them. You need to understand that a good mc is also the life of an event. Even if the performances are not that amazing,  a skilled mc has the power to make it feels AMAZING! So, get a professionals for your next events and see the impact yourself.
9.YOU LIKE FREE THINGS!
Awoof they run belle! that what they say. Your gospel event is taking the first position in among the less attended events in your cities because you are just a freeloader . If you don't check this attitude, your event will keep struggling. How? you don't pay for the good graphic guy to design your banner, your handbill were more like photocopied document, you won't hire professional sound engineer, photographer, all this detail are event killer. This kind of attitude will never make people to show up at your event.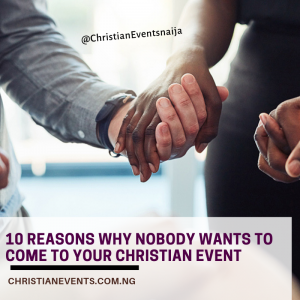 10. YOU NEVER PRAYED ABOUT YOUR EVENT, ESPECIALLY THE GUEST ASPECT.
In conclusion, people don't come to your event because you never prayed about it! As christians, we can never over emphasize  the significance of prayers. You must have your event settled before God and pray accordingly because on our own, we can do just nothing!!!