WHAT TO KNOW ABOUT WORD CELEBRATION CONFERENCE 10TH ANNIVERSARY
Join The Redeemed Evangelical Mission (TREM) as they celebrate the Word of God. Time, Date, Venue and other details regarding the conference are available here.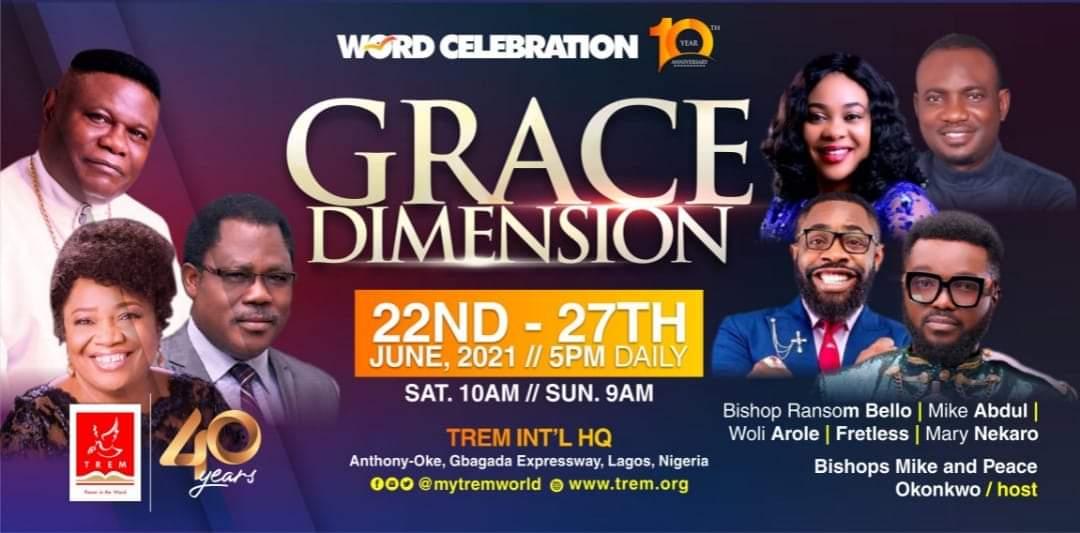 Have you heard? Have you seen? The Redeemed Evangelical Mission(TREM) is cooking something….. Its Her word celebration 10th year anniversary….. Are you ready???
Join The Redeemed Evangelical Mission (TREM) at Word Celebration Conference 2021. As they celebrate their 10th year Anniversary while the Spirit of the Mission's 40th anniversary is still on.
Word Celebration is an annual mid-year conference of The Redeemed Evangelical Mission (TREM) Worldwide. A festival of feasting on the flawless, clean, and authentic word of God.
THEME: GRACE DIMENSION
DATE: 22ND – 27TH JUNE 2021
TIME: TUE – FRI 5 PM DAILY, SAT – 10 AM, SUN – 9 AM
VENUE: TREM INT'L HQ, ANTHONY-OKE, GBAGADA EXPRESS WAY LAGOS, NIGERIA
MINISTERING: Bishop Mike Okonkwo, Bishop Peace Okonkwo, Bishop Ransome Bello, and other ministers.
In the course of the conference there will be a "radical praise concert" featuring song ministers like Mike Abdul, Woli Arole, Uloma Chiboka and other anointed ministers.
You can also be a part of this life changing conference online. Click here to watch the livestream.