THE REDEEMED EVANGELICAL MISSION (TREM) 2021/2022 CROSS OVER SERVICE NIGHT LIVE BROADCAST WITH BISHOP MIKE OKONKWO
You are on to the live stream 2021/2022 Cross Over Night Service for The Redeemed Evangelical Mission (TREM) December 2021. Kindly find out more about this event below.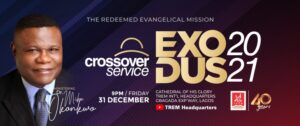 The REDEEMED EVANGELICAL MISSION (TREM) will be holding her Crossover service December 31st 2021 with BISHOP MIKE OKONKWO. It is another moment to experience the mercies and grace of God, as we lauch triumphantly into the new Year – 2022.
To join TREM 2021/2022 Cross over Service, please click the play button below.
Remember you can always get information on a variety of christian events happening around you and globally on
CHRISTAINEVENTS.COM.NG