Matthew 20:17-19 KJV
And Jesus going up to Jerusalem took the twelve disciples apart in the way, and said unto them, Behold, we go up to Jerusalem; and the Son of man shall be betrayed unto the chief priests and unto the scribes, and they shall condemn him to death, And shall deliver him to the Gentiles to mock, and to scourge, and to crucify him: and the third day he shall rise again.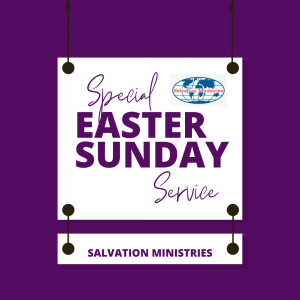 Worship the KING OF KINGS, Come fill your heart with His celebration @ SALVATION MINISTRIES with PASTOR DAVID IBIYIOMIE This Easter.
To join SALVATION MINISTRIES 2021 Christmas Service, please press the play button below.
(Video available here)
WE WISH YOU A HAPPY EASTER CELEBRATION  (From all of us at Christianevents.com.ng)
Click Here to Watch Other Churches  Easter Service Live Online
Remember you can always get information on a variety of Christian events happening around you and globally on
CHRISTAINEVENTS.COM.NG