SALVATION MINISTRIES  21 DAYS FASTING AND PRAYER 2022.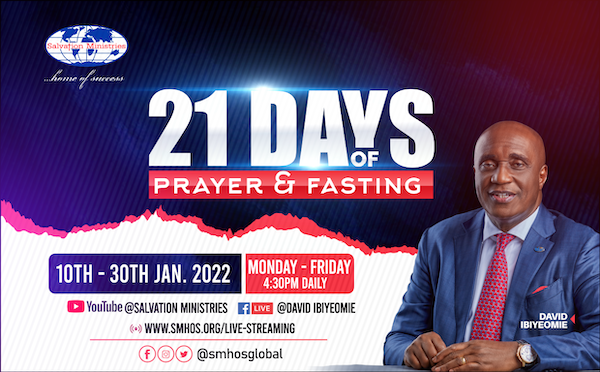 Fasting demonstrates the depth of your desire when praying for something. It shows you that you are serious enough about your prayer request to pay a personal price. God honors deep desire and praying in faith.
Salvation Ministries annual 21-days of fasting and prayer for the year 2022 is here again. This period is targeted to prepare every member of the ministry for the year ahead. Seeking the face of the Lord daily in prayer and fasting.
GLORY REIGN WITH PASTOR DAVID IBIYEOMIE.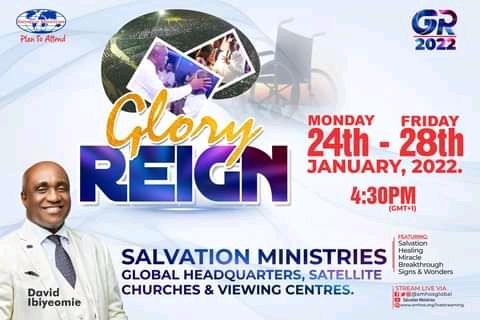 This is a night of healing, miracles, breakthroughs, signs, and wonders.
SMSOH 21 DAYS FASTING & PRAYER / GLORY REIGN 2022 DETAILS
DATE: Monday 10th –  Sunday 30th January 2022
TIME: Evening prayer time – 4:30PM
VENUE: Salvation Ministries, Home of Success, Plot 17 Birabi Street, GRA Phase 1, Portharcourt And all her Satellite Churches Worldwide.
MINISTERING: Pastor David Ibiyeomie and other anointed ministers of God.
Click Here to Watch the 2021 Smhos 21 Days Fasting and Prayer Live Broadcast