RCCG Sunday School Teacher's Manual 17th July 2022 (Lesson 46) – Suicide Forbidden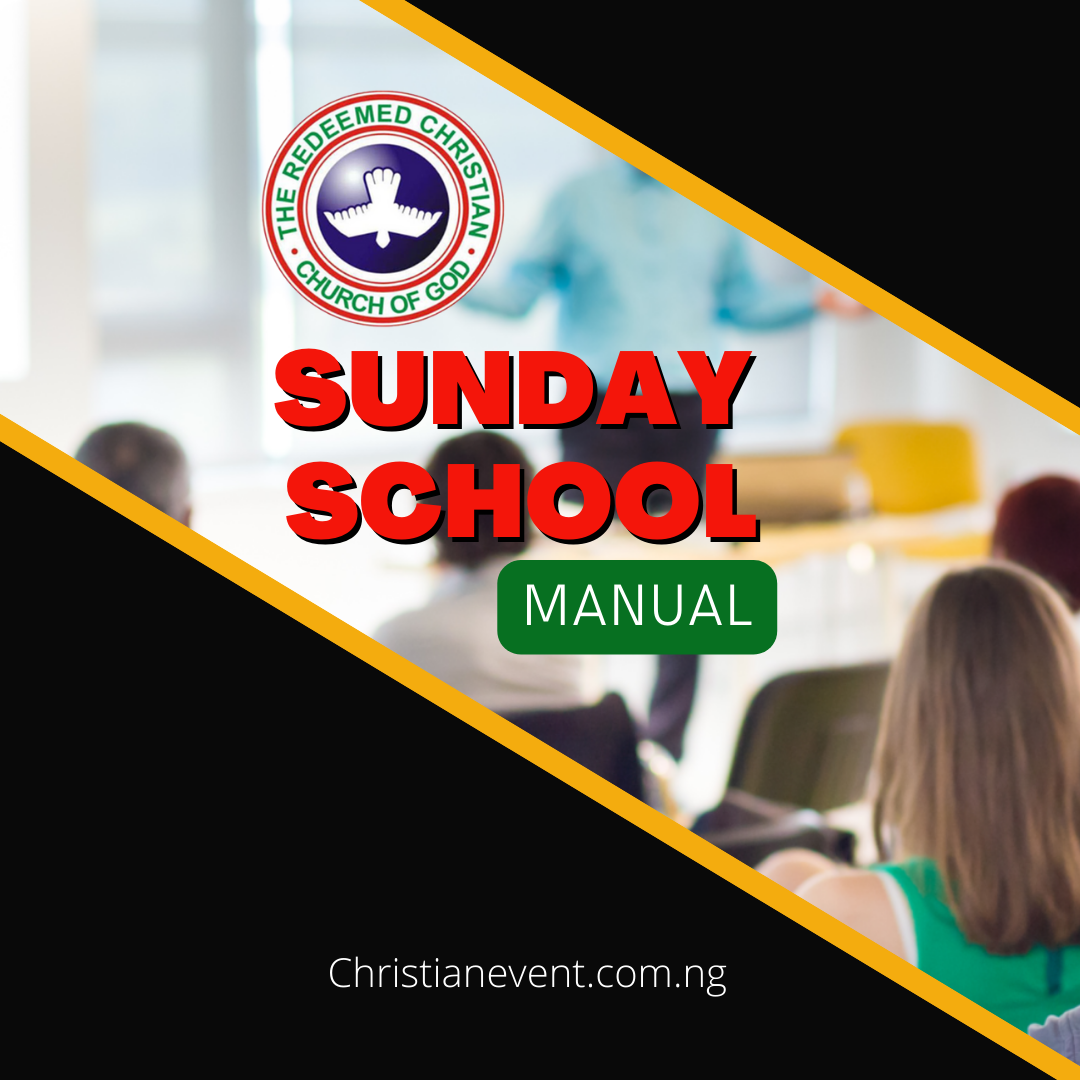 TOPIC: Suicide Forbidden
OPENING PRAYER: Almighty Father, as we cast our cares and burdens to You, please come and attend to them all. Please don't let us be ashamed. (Scroll down for RCCG Sunday School 17 July 2022 HYMN)
PREVIOUS KNOWLEDGE:
Teacher should allow students to review the previous week's lesson.
MEMORY VERSE: 1 Peter 5:7 (KJV)
"Casting all your care upon him; for he careth for you."
BIBLE PASSAGE: Romans 5:1-8 (King James Version)
1 Therefore being justified by faith, we have peace with God through our Lord Jesus Christ:
2 By whom also we have access by faith into this grace wherein we stand, and rejoice in hope of the glory of God.
3 And not only so, but we glory in tribulations also: knowing that tribulation worketh patience;
4 And patience, experience; and experience, hope:
5 And hope maketh not ashamed; because the love of God is shed abroad in our hearts by the Holy Ghost which is given unto us.
6 For when we were yet without strength, in due time Christ died for the ungodly.
7 For scarcely for a righteous man will one die: yet peradventure for a good man some would even dare to die.
8 But God commendeth his love toward us, in that, while we were yet sinners, Christ died for us.
LESSON INTRODUCTION: Suicide is the act of intentionally causing one's own death or deliberately killing one's self. Research shows that approximately 90% of people who have died by suicide were suffering from a mental illness at the time. The most common mental illness reported is depression. Also, many suicides happen impulsively in moments of crisis with a breakdown in the ability to deal with life stresses, such as financial problems, relationship break-up or chronic pain and illness.
In addition, experiencing conflict, disaster, violence, abuse (physical, sexual, emotional, verbal, and so on), discrimination or loss and a sense of isolation are strongly associated with suicidal behaviour. Intense sadness and/or hopelessness; not caring about activities that used to matter; withdrawal from family, friends, sports and social activities; substance (drug, alcohol) abuse are some of the common signs of suicidal thoughts.
TEXT REVIEW:
i. Believers through their faith in the Lord Jesus Christ are blessed with peace.
ii. Through the same faith, believers have opportunity to rejoice in hope of the glory of God.
ACTIVITY: Teacher should identify four other privileges believers could access through their faith in the Lord Jesus Christ according to the Bible passage to the lesson.
i. ————————————————————–
ii. ————————————————————
iii. ————————————————————
iv. ————————————————————
LESSON OUTLINES:
THE BIBLICAL VIEW OF SUICIDE
ANTIDOTES TO SUICIDAL THOUGHTS/ATTEMPTS
1. THE BIBLICAL VIEW OF SUICIDE
i. The Bible views suicide as the same as murder, i.e. self-murder which is contrary to God's commandment. (Exodus 20:13).
ii. God gives and takes away life. No one has the right to do this. (Job 1:21).
iii. The Bible mentioned six examples of people who committed suicide. They were:
a. Abimelech (Judges 9:54).
b. Saul (1 Samuel 31:4).
c. Saul's Armour-bearer (1 Samuel 31:4-6).
d. Ahithophel (2 Samuel 17:23).
e. Zimri (1 Kings.16:18).
f. Judas (Matthew 27:5).
iv. The actions of these six people were in contravention of the word of God which says "thou shall not kill". (Exodus 20:13).
v. Some circumstances had led people in the past to the point of almost taking their lives. For instance,
a. Solomon's endless pursuit of vanities led him to the point where he hated life. (Ecclesiastes 2:17).
b. Elijah was pressurised by Jezebel to the point that he prayed that God would take his life. (1 Kings.19:4).
c. Prophet Jonah was very angry when the sun scourged his head that he fainted and wished in himself to die. (Jonah 4:8).
d. Apostle Paul was pressed out of measure and was despaired of life. (2 Corinthians 1:8-10).
vi. These four people did not commit suicide despite their prevailing circumstances because:
a. Solomon feared and kept the commandment of God (not to take life). (Ecclesiastes 12:13).
b. Elijah was comforted by an angel of the Lord. (1 Kings 19:5;15).
c. Jonah received admonition from the Lord. (Jonah 4:1-3; Jonah 8:11).
d. Paul depended on God who was able to sustain him. (2 Corinthians 1:9-10).
CLASS ACTIVITY 1: Why did the six people in this lesson commit suicide?
2. ANTIDOTES TO SUICIDAL THOUGHTS/ATTEMPTS
i. Allow God to prove His love to you. (Romans 5:5).
ii. Remember that Jesus identifies with you in your time of troubles and humiliation. (Isaiah 53:2-6).
iii. Recall that Jesus suffered and died to remove your guilt and weight of sin. (Romans 5:7-8; Romans 8:32).
iv. Believe and be assured that Jesus will forgive and repair your brokenness and restore your joy. (Isaiah 1:8; 2 Corinthians 5:17).
v. Review your hope that Jesus will definitely rescue you if you trust Him and call on Him to help you. (Psalm 61:1-2; Jeremiah 33:3).
vi. Learn to say my "times are in Your hand" whether tough or easy. (Psalm 31:15).
CLASS ACTIVITY 2: Despite the above-stated six points which provide ways to escape from suicide, why do people still take their lives?
SUMMARY: Do not kill yourself.
CONCLUSION: No matter how bad things are in your life, there is the God of love who is waiting for you to guide you through your tunnel of despair and out into His marvellous light.
EVALUATION:
i. What are the antidote to suicide?
ii. What is the Bible's view on suicide?
CLOSING PRAYER: Almighty Father, we pray that those who are depressed and are planning to commit suicide will be healed in the name of Jesus.
ASSIGNMENT: From the lesson introduction and contemporary environment, identify any five (5) sources of suicide.
HYMN
O Sunday School, on the Lord's day,
O how I love Thee well,
I am happy, it makes me glad
To rejoice at Thy birth.
O Sunday School, on the Lord's day,
Thy friendship suits me well,
Both young and old will sing Thy song,
We long for Sunday School.
O Sunday School, on the Lord's day,
Christ was Thy first teacher,
The Holy Spirit, great teacher,
Does manifest in thee.
O Sunday School, on the Lord's day,
This testimony is sure,
That God, the Father Almighty,
Poured His blessing on Thee.
O Sunday School, on the Lord's day,
Though the sun be so bright,
Or if the clouds black with rain,
I'll be in Sunday School.
O Sunday School, on the Lord's day,
I rejoice to see Thee,
Will thou pass over me today?
Without my being blest?
RCCG Sunday School manual is used in Sunday School Classes in the RCCG. 
The RCCG Sunday school manual is written by Pastor E.A. Adeboye and is available online for easy access. See the previous RCCG Sunday school Manual for 2022 here